Food slicers come in various shapes and sizes, each offering different advantages. The most common types are manual, electric, and commercial. Manual food slicers are the simplest type, consisting of an angled blade attached to a handle or crank. They require some skill to use and can be used to slice a variety of products such as cheeses, vegetables, and meats.
Electric food slicers offer convenience in slicing foods quickly and uniformly. This type is ideal for slicing large amounts of food or multiple types simultaneously. There are also models available with adjustable blades for controlling the thickness of the slices.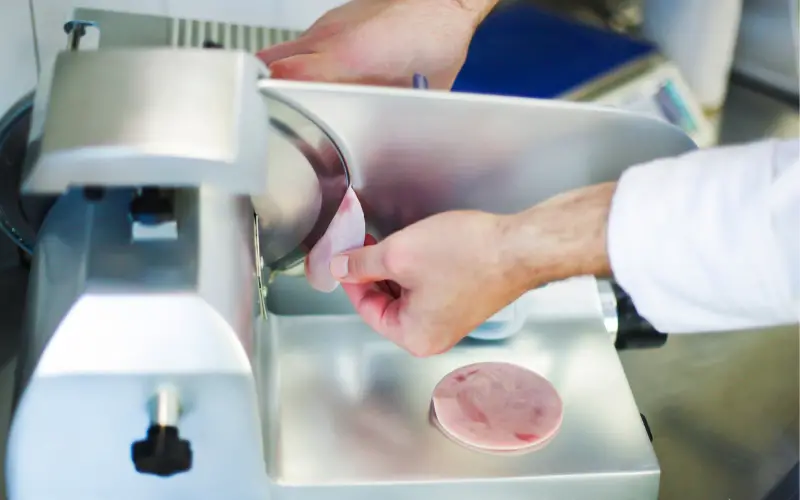 A food slicer is a kitchen appliance that uses a rotating blade to slice food items, such as cheese and charcuterie, precisely. Food slicers are designed to make slicing meats and cheeses easier, faster, and more uniform than cutting them by hand.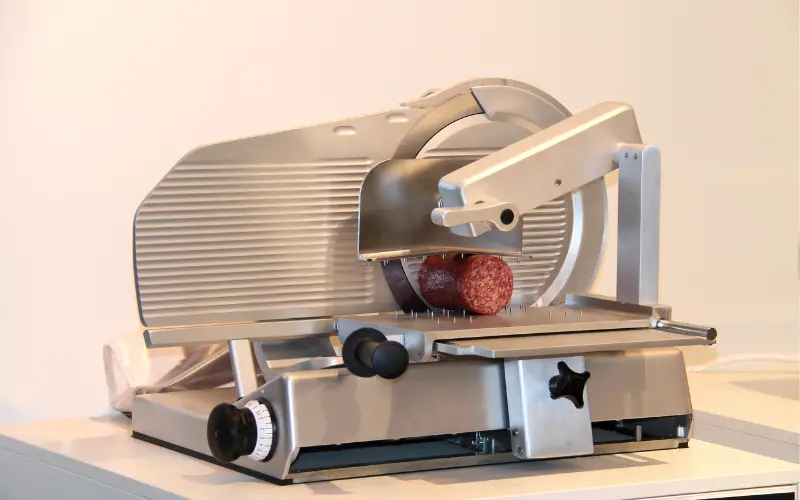 Manual food slicers are an affordable and convenient option for occasional slicing needs. They require no electricity and offer a hands-on approach to slicing meats, cheeses, and vegetables. Manual slicers typically have a simple design and often include a sharp blade and a sliding mechanism to guide the food across the blade.
Mandoline slicers: Ideal for slicing fruits and vegetables, these slicers feature an adjustable blade to produce various thicknesses.

Mandoline Slicer Vegetable Cutter

Meat slicers: Designed for slicing meats and cheeses, these slicers often include serrated blades and adjustable thickness settings.

Commercial Meat Slicers
Types Of Mandolin Slicers
Adjustable Mandolin Slicer: This type of slicer is designed to adjust for different thicknesses, so it can be used to make thin julienne strips or thick slices. The blades are usually stainless steel, and the body may be plastic or other materials.

Adjustable Hand-Held Mandoline Slicer

Platform Mandolin Slicer: This type of slicer offers a convenient and efficient option for slicing vegetables. It features an adjustable platform with several blades set to different thicknesses to quickly create thin, uniform slices. The blades are typically made from stainless steel, and the slicers come with different attachments, including julienne cutters and even shredders for making crinkle cuts. This slicer type creates uniform vegetable slices for stir-fries, soups, and salads.

Mandoline Slicer Food Cutter For Kitchen

Flat Board Mandolin Slicer: This type is the most common and versatile. It has a flat board with an adjustable blade to make thin or thick slices. It also has julienne blades for making French fries or other uniform cuts.

Flat Board Mandolines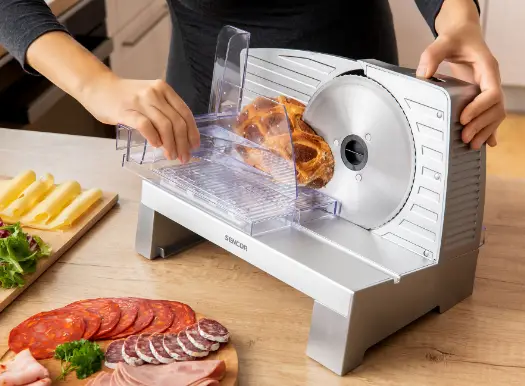 Electric food slicers are popular for those who need to regularly slice large quantities of food. These slicers utilize a motor to drive the blade and create consistent, precise cuts. They are available in various sizes, styles, and power levels to suit various applications.
Types of Electric Food Slicers
Entry-level slicers: Perfect for home use or small businesses, these slicers offer moderate power and durability.

Sirman Smart 300 Entry Level Slicer

Mid-range slicers: Designed for heavier use, these slicers provide a balance between power and price.

Commercial Meat Slicers

Premium slicers: Intended for commercial use, these slicers boast powerful motors, high-quality construction, and advanced features.

Graters, Peelers &Amp; Slicers Premium Push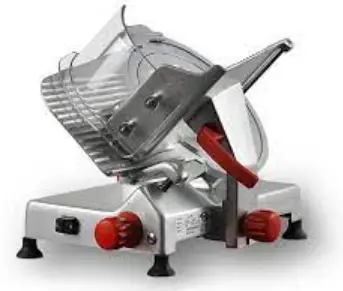 Gravity-fed slicers use the force of gravity to help move the food across the blade. The food carriage is set at an angle, allowing the food to slide down naturally. These slicers are suitable for slicing various foods, including meats, cheeses, and vegetables, and can be found in manual or electric varieties.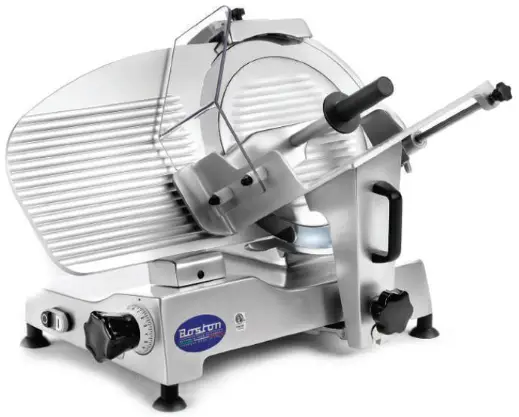 Belt-driven slicers use a belt and pulley system to transfer power from the motor to the blade. This design reduces strain on the motor, prolonging its life and allowing for quieter operation. Belt-driven slicers are common in entry-level and mid-range electric slicers.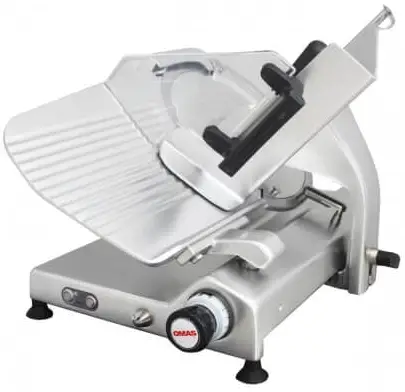 Gear-driven slicers use a gear system to transfer power from the motor to the blade, providing a more direct power transfer than belt-driven models. This increases torque and blade speed, making these slicers suitable for heavy-duty applications and commercial settings.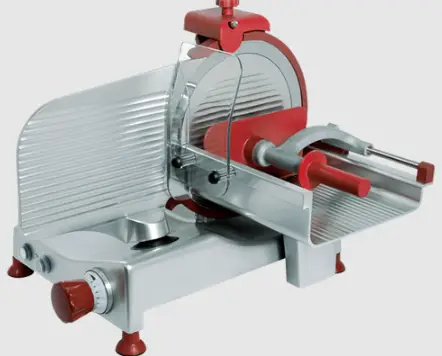 Vertical slicers feature a vertical blade and food carriage, providing a more ergonomic design that can help reduce user fatigue. These slicers are ideal for slicing large quantities of food and can be found in electric models, typically at mid-range and premium levels.
Specialized slicers are designed for specific types of food or slicing tasks, providing exceptional performance in those areas.
Types Of Specialized Slicers
Selecting The Right Slicer For Your Needs
When choosing a food or meat slicer, consider the following factors to find the perfect fit:
Frequency of use: Determine how often you'll use the slicer to help guide your decision between manual and electric models.
Type of food: Consider the food you'll be slicing and select a slicer with the appropriate features, such as serrated blades for bread or an adjustable thickness setting for meat.
Budget: Establish a budget and choose a slicer within your price range, considering that investing in a high-quality slicer can save you time and effort in the long run.
Space constraints: Consider the size of the slicer and ensure you have adequate counter space or storage for the appliance.
Maintenance: Assess the ease of cleaning and maintenance for the slicer, as proper care is essential for safe and efficient operation.
Cleaning And Maintenance Tips For Food And Meat Slicers
Proper cleaning and maintenance are essential to ensure your slicer's longevity and performance. Here are some tips to help you keep your slicer in optimal condition:
Step 1: Unplug the slicer: Always disconnect the slicer from the power source before cleaning.
Step 2: Remove loose food particles: Use a soft brush or cloth to remove any food residue from the slicer's components.
Step 3: Dismantle the slicer: Remove the blade, blade guard, and food carriage per the manufacturer's instructions.
Step 4: Clean the components: Wash the removable parts with warm, soapy water and a soft cloth, not damaging the blade. Rinse thoroughly and allow to air dry.
Step 5: Wipe down the slicer body: Use a damp cloth to clean the slicer's body, avoiding any electrical components. Dry with a clean cloth.
Step 6: Reassemble the slicer: Once all parts are dry, reassemble the slicer according to the manufacturer's instructions.
Inspect the blade: Regularly check the blade for damage or dullness. Sharpen or replace as needed to maintain optimal performance.
Lubricate moving parts: As the manufacturer recommends, apply food-grade lubricant to any moving parts, such as the food carriage and blade assembly.
Check belts and gears: For belt-driven and gear-driven slicers, periodically inspect the belts and gears for wear or damage. Replace as necessary.
Food And Meat Slicer Safety Tips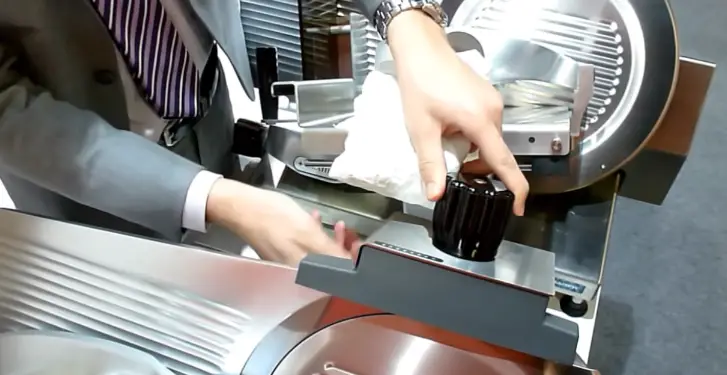 When using a food or meat slicer, follow these safety tips to protect yourself and others:
Read the user manual: Familiarize yourself with the slicer's operation, safety features, and cleaning instructions before use.
Wear cut-resistant gloves: Protect your hands by wearing cut-resistant gloves when operating, cleaning, or handling the slicer's blade.
Use a food pusher or guard: Never use your hands to push food through the slicer. Use the provided food pusher or guard to maintain a safe distance from the blade.
Maintain a clean workspace: Keep the area around the slicer clean and clutter-free to reduce the risk of accidents.
Store the slicer properly: When not in use, store the slicer with the blade guard in place and a secure location to prevent accidental injuries.
How To Use A Food Slicer?
Step 1: Read the slicer's manual before use to ensure you understand how it works and how to properly clean and care for your device.
Step 2: Plug the power cord to a power source if needed.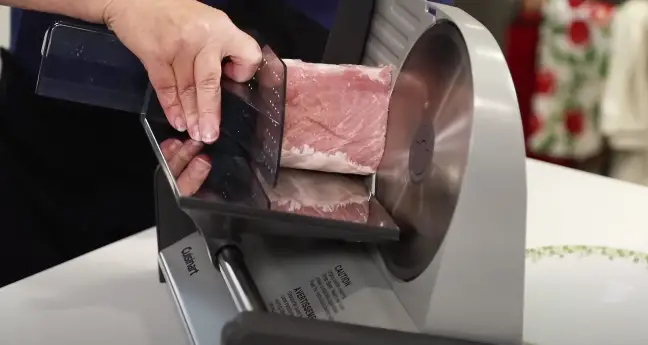 Step 3: Place food items into the feed chute and secure them with a pusher or guard as specific instructions require.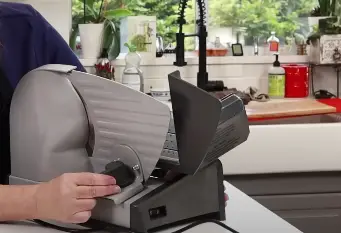 Step 4: Choose the desired thickness of your slice and adjust the blade to that size.
Step 5: Turn on the power switch and press down gently on the pusher or guard, guiding it along as you cut through the food item.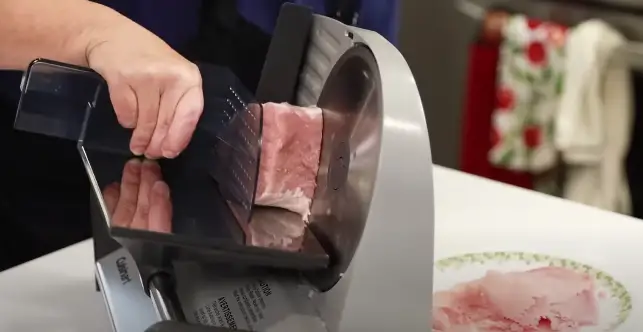 Step 6: Once all slices have been made, turn off the power switch and unplug from the source.
Step 7: Carefully remove any remaining food pieces from the slicer and clean them with a damp cloth or sponge.
Step 8: Wipe down all parts of the slicer with a dry towel and reassemble as needed before storing.
Is buying a meat slicer worth it?
It depends on your needs and preferences. If you're a frequent cook who enjoys preparing deli-style sandwiches, a meat slicer will help you achieve professional results quickly and easily. Meat slicers are also great for precision slicing vegetables, fruits, cheese, and other soft ingredients. However, if you don't need this accuracy or only cook occasionally, a meat slicer might not be your best option.
Can I sharpen the blades of a meat slicer?
Yes, depending on the type of meat slicer you have. Manual models typically come with interchangeable blades that can be sharpened by hand or replaced. Electric food slicers usually have a sharpening stone to maintain the blade's cutting edge.
Can I use a meat slicer to cut bones?
No, you cannot use a meat slicer to cut bones. Meat slicers are designed with sharp blades to slice meats, cheeses, and other food items easily cut by the blade. Bones are too hard for the blades of most meat slicers to safely cut through without damaging the blade or the machine itself.
Can I Slice Bread with a Food Slicer?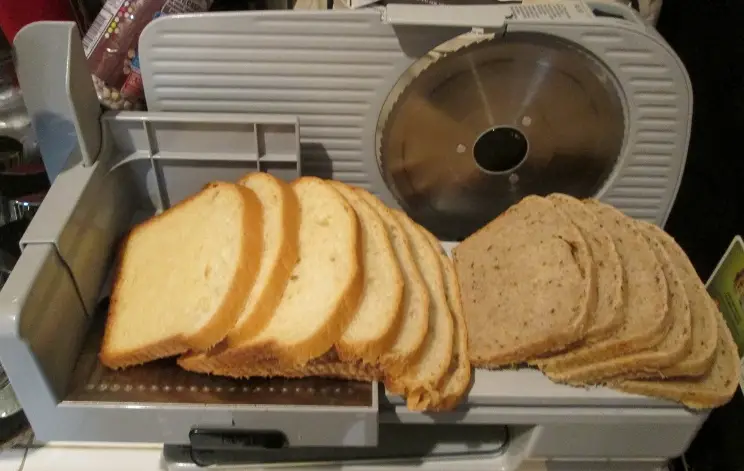 Yes, you can slice bread with a food slicer. Most food slicers are designed to handle slicing through vegetables, deli meats, and bread of various thicknesses. The key is finding the right type of food slicer that best suits your needs.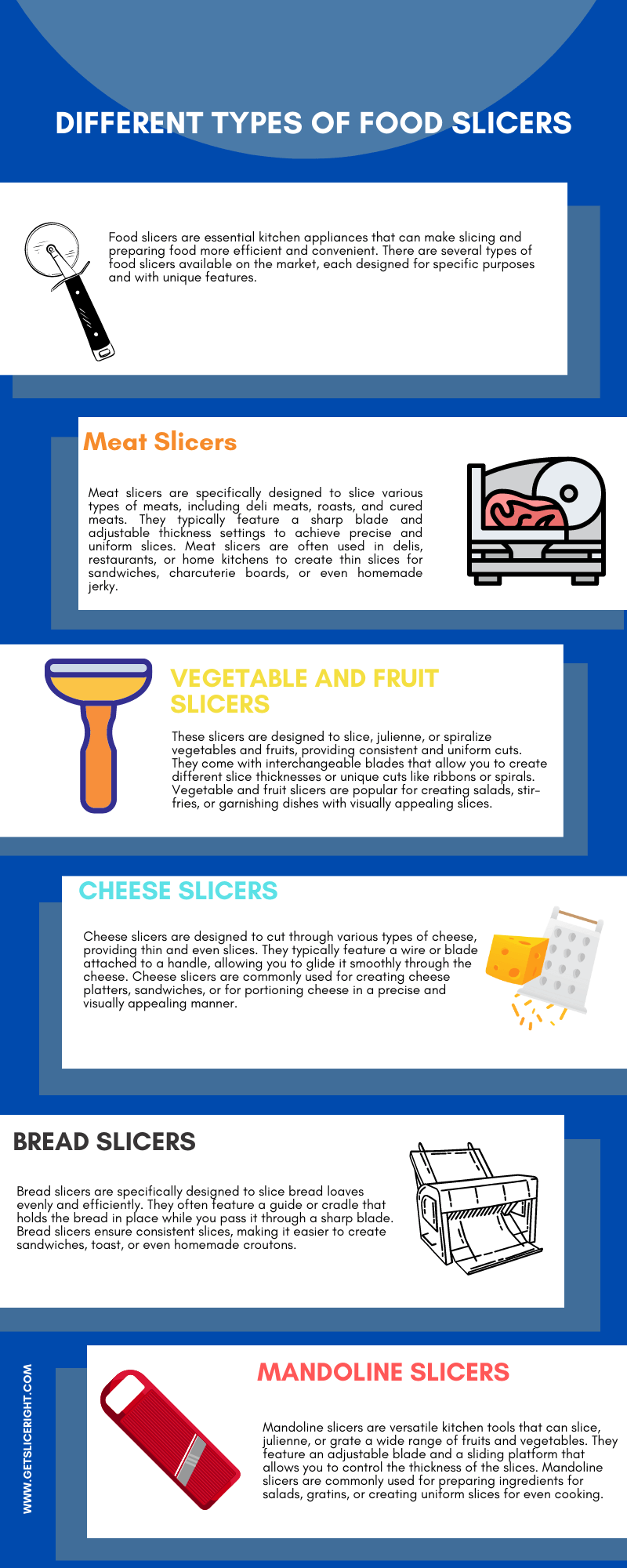 Food slicers are a great way to save time and energy when preparing meals. Many different food slicers are available, each with advantages and disadvantages. Some popular models include manual, electric, spiralizers, and mandolines. Manual food slicers can be used for basic slicing tasks but require more skill and effort than electric models. Electric slicers are more powerful and versatile, allowing for thicker cuts of meat or vegetables and more complex slicing tasks. Spiralizers can create decorative noodles from vegetables, while mandolines offer a fast and easy way to get perfectly uniform slices. Depending on your needs, the type of food slicer you choose will vary, but all of them can provide great convenience and help make meal preparation easier.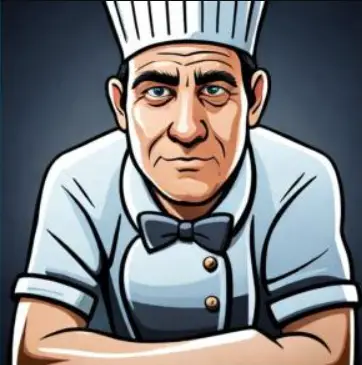 Mario Batali is a renowned author, food enthusiast, and passionate chef who has dedicated his life to exploring the world of culinary arts. With a love for sharing his knowledge and experiences, Mario has become a prominent figure in the food blogging community, inspiring countless readers with his creativity and expertise.
In addition to his culinary prowess, Mario Batali is also a talented writer with a flair for engaging storytelling. He launched his own food blog to share his recipes, cooking tips, and personal experiences in the kitchen. Over time, Mario's blog gained a loyal following of food enthusiasts who appreciate his unique approach to cooking and his dedication to using only the finest ingredients.
Mario Batali's passion for food and his commitment to sharing his knowledge with others have made him a true inspiration in the world of culinary arts. Through his blog, cookbooks, and public appearances, Mario continues to spread his love of food and the joy of cooking with his ever-growing fanbase.