Cooking is a part of our daily life. It takes a lot of time to prepare food for meals. Different utensils and tools are available in the market to cut, slice and chop food in no time. These tools are helpful and can save your time, but you can also enjoy cooking in the kitchen.
Pampered chef simple slicer and ultimate mandoline are among these most needed kitchen tools. You can use them for salads, shredding, and slicing vegetables and cheese.
What Is Pampered Chef Simple Slicer?
Slicing has never been easier than it is with a simple slicer. Pampered chef simple slicer slices food perfectly and greatly. It is all in one tool with interchangeable blades: crinkle cutting, v- shape slicing, and a grating blade.
It is simple to use. Just slide the food holder onto the track, attach the vegetables and slice back and forth for perfect slices. Three thickness blades are attached to it. 1/16, 1/8, and 3/16. Its safety lock helps you to store it.
You can cut ingredients with confidence and do the job quickly. Easy to clean up and store. It's safe to use. Just be careful when you are washing it. You can slice carrots, onions, and apples.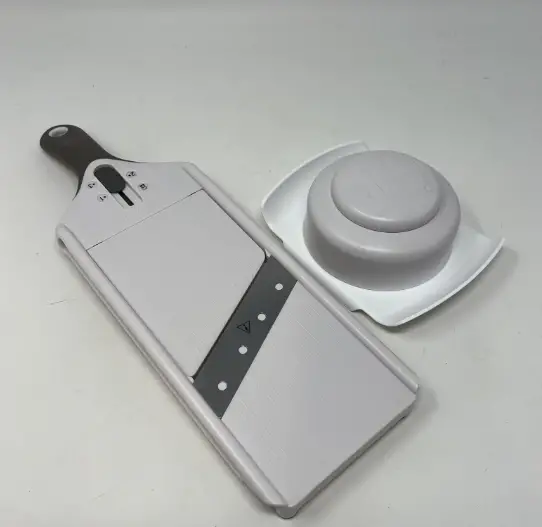 The Pampered Chef Simple Slicer is a small, handheld slicer that works well for thin slicing vegetables or fruits. It is less expensive than the more popular and well-known other Mandoline Slicers. However, the Simple Slicer does have some limitations, such as the need to hold it at a precise angle while slicing and its difficulty in removing slices evenly from the fruit or vegetable.
What Is The Ultimate Mandoline?
Ultimate mandolins do a lot of cooking and work like magic. It's easy to clean up and use. Its safety features make it more comfortable to use. The ultimate mandolin has to be attached to the base while using the blades.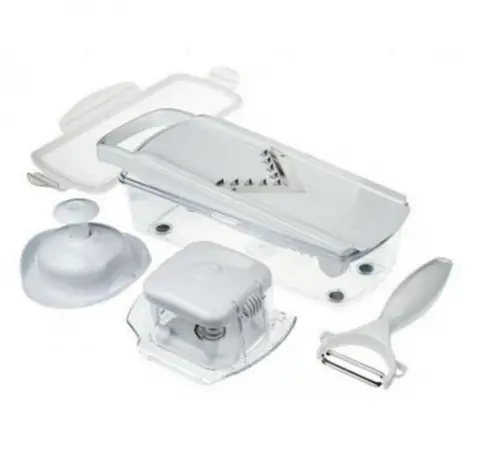 The ultimate mandoline has three interchangeable blades crinkle cutting, v-shaped slicing, and adjustable slicing. It remains flush until the holder passes over a unique mechanism. A fourth fixed grating blade adds versatility. You can also have great cheese.
Pampered Chef Simple Slicer Vs Ultimate Mandoline ( Similarities and Differences )
Pampered chef simple slicer and ultimate mandoline are handy tools for the kitchen.Here is a quick overview of the two slicers and their differences.
In a simple slicer, the food holder keeps your fingers safe. You can adjust the thickness by pressing the button. The prongs help you keep food in place, and the grooves fit over the bowl. Pampered chef's simple slicer will half your preparation time.
Ultimate mandoline helps produce and cut perfectly from thick to paper-thin. They are designed like a ramp platform that helps push the food quickly.
Slicer Blade Quality is important to find a mandoline with high-quality blades that can easily slice through vegetables without shredding them or causing them to become mushy.
Blade quality of Pampered Chef Simple Slicer: The Pampered Chef Simple Slicer has a stainless steel blade that is said to be of high quality. A lot of people have complained about the quality of the blade, saying that it chips and rusts easily. After some research on the matter, it is found that the quality of the blade really depends on how you use it.
Blade quality of Ultimate Mandoline Slicer: The Ultimate Mandoline Slicer offers superior blade quality. The blades are made of high-quality stainless steel, ensuring that they won't rust or corrode over time. They're also incredibly sharp, so they'll cut through even the toughest fruits and vegetables with ease. And because they're adjustable, you can choose from different slicing thicknesses to get the perfect results every time.
A good mandoline should have safety features in place that will protect your hands from getting cut while you are slicing vegetables.
Safety of of Pampered Chef Simple Slicer: The Pampered Chef Simple Slicer is made of plastic and has a stainless steel blade.
Safety of Ultimate Mandoline Slicer: Ultimate Mandoline Slicer is actually quite safe when used as directed. In fact, it may be even safer than many other kitchen tools on the market.
Versatility and Durability
Versatility and Durability of Pampered Chef Simple Slicer: Pampered Chef's Simple Slicer is a versatile and durable kitchen tool. The simple slicer is also dishwasher safe and comes with a cleaning brush which makes it easy to clean.
Versatility and Durability of Ultimate Mandoline Slicer: The Ultimate Mandoline Slicer is also incredibly durable. Its stainless steel construction means it can withstand even the roughest treatment.
Can you sharpen the blades of pampered chef simple slicer?
Unfortunately, you cannot sharpen the blades.
What can you make with pampered chef mandolin?
It is a safe and straightforward way to prepare your veggies. It helps you to create different cuts for salads.
Can you shred cheese with the pampered chef mandoline?
No, it is for fruits and vegetables. You can use it to slice firm cheese only.
How pampered chef simple slicer is different from the ultimate mandoline?
The simple slicer has only one blade that can be adjusted to3 different thicknesses. On the other hand, the mandolin comes with four interchangeable blades.
Is a mandoline slicer worth it?
The ultimate slicer has sharp and large blades at an affordable price.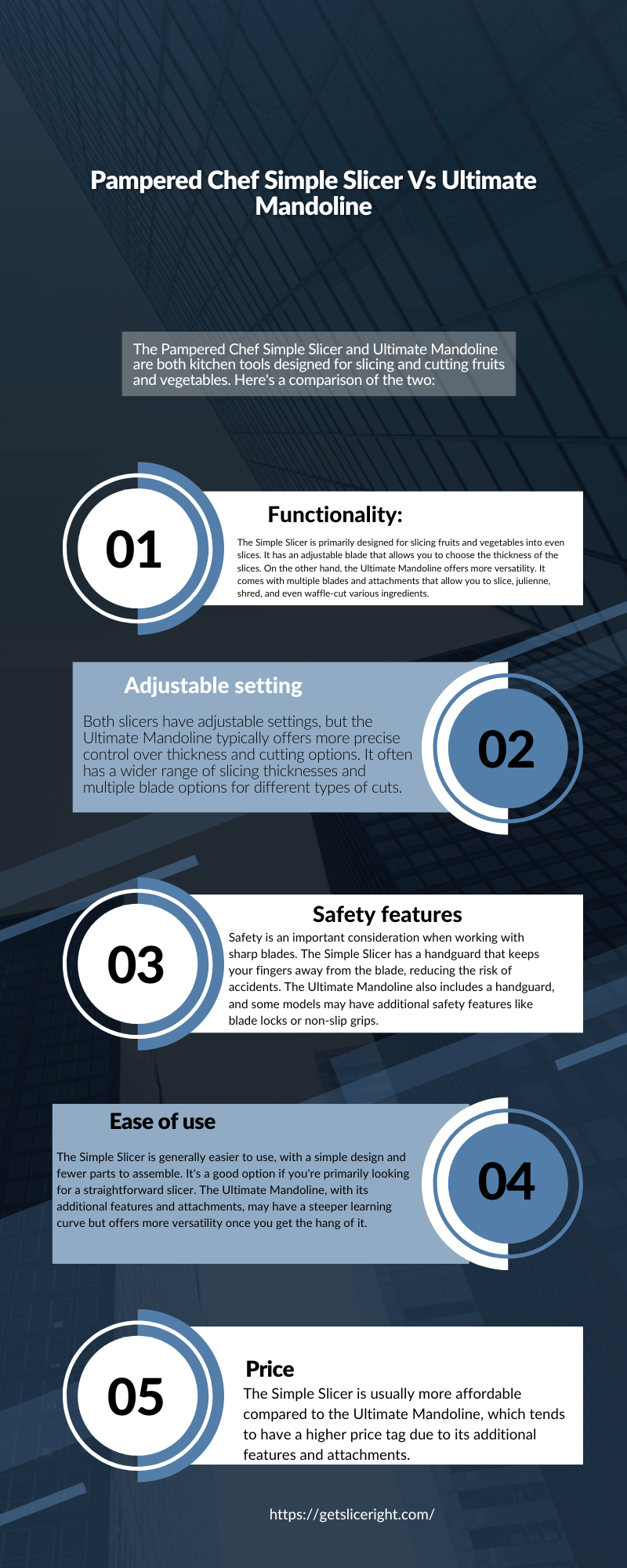 They both are used for slicing and are easy and simple to use. Blades of different thicknesses are attached to them. In conclusion, the Pampered Chef Simple Slicer is a great option for those looking for an affordable mandoline slicer. It is easy to use and produces consistent results. However, if you are looking for a more versatile and durable option, the Ultimate Mandoline is a better choice. It offers more slicing options and is built to last.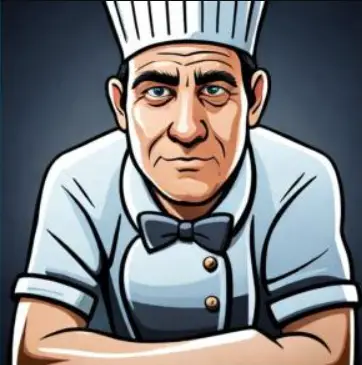 Mario Batali is a renowned author, food enthusiast, and passionate chef who has dedicated his life to exploring the world of culinary arts. With a love for sharing his knowledge and experiences, Mario has become a prominent figure in the food blogging community, inspiring countless readers with his creativity and expertise.
In addition to his culinary prowess, Mario Batali is also a talented writer with a flair for engaging storytelling. He launched his own food blog to share his recipes, cooking tips, and personal experiences in the kitchen. Over time, Mario's blog gained a loyal following of food enthusiasts who appreciate his unique approach to cooking and his dedication to using only the finest ingredients.
Mario Batali's passion for food and his commitment to sharing his knowledge with others have made him a true inspiration in the world of culinary arts. Through his blog, cookbooks, and public appearances, Mario continues to spread his love of food and the joy of cooking with his ever-growing fanbase.