Meat slicer is a tool used to cut and slice raw, cooked, frozen, and semi-frozen meat. You can also cut cheese and other vegetables into thin slices. They are not designed to cut bones. The main types of meat slicers available in the market are manual slicers, electric slicers, and commercial meat slicers. Each Slicer allows you to adjust your desired thickness.
Cutting Thickness of Meat Slicer
For different dishes, we need meat with different cuts. Thickness depends on the model and type of a slicer. Every meat slicer provides a different thickness.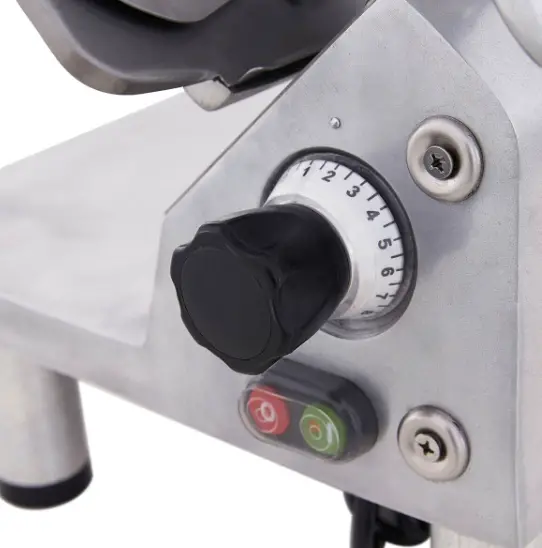 You can adjust your manual meat slicers from 0.6mm to 17mm thickness. Typically, electric slicers can slice from super-thin (0.5mm) to 1-inch thickness. By adjusting the thickness, knob size can be changed easily.
How to Adjust Cutting Thickness of Slicer?
You can adjust the cutting thickness easily.
Step 1: Plug and turn on the slicer button. The blades of the electric meat slicer will start rotating in anticlockwise.
Step 2: Pull the meat slicer carriage towards you. So you can easily adjust it.
Step 3: Place the food on the platform and adjust the food pusher until it holds the food firmly in place.
Step 4: You just need to push the sliding table by touching the food guide handle and rotate the thickness knob for desired slice thickness.
Step 5: When you have done, turn off the machine. Wait for a few seconds until the blades stop running. Again set the thickness to zero.

Set The Thickness To Zero
Thickness Knob Adjustment settings Video
Slicer Maintenance and Safety For Proper Cutting
Do not put it in a dishwasher. It is recommended to use hand wash and non-abrasive cleaner.
To prevent the machine from heating up, the continuous run time is 5 minutes. Turn off the machine for at least five minutes before it can be used again.
Clean the slicer immediately after use.
Wear safety glasses when you sharpen the slicer.
Turn off all switches and unplug the machine when not in operation.
To avoid serious injuries, do not place your hands in the open machine.
Wear cut-proof gloves before working on it.
How thick can you cut the steak into?
On the left-hand side of the slicer, there is a handle that adjusts the slice's thickness up to 15mm (5/8 inch).
How do you clean the adjustment plate?
I use a small brush on parts I can't get to. Then I use a spray bottle with warm water to rinse.
Can I cut the meat thin enough for the Phillies?
Yes, it will cut meat paper-thin. You can turn the knob to your desired thickness.
What is the widest piece of meat I can slice?
6.5 to 6.75 from blade to edge of the slice.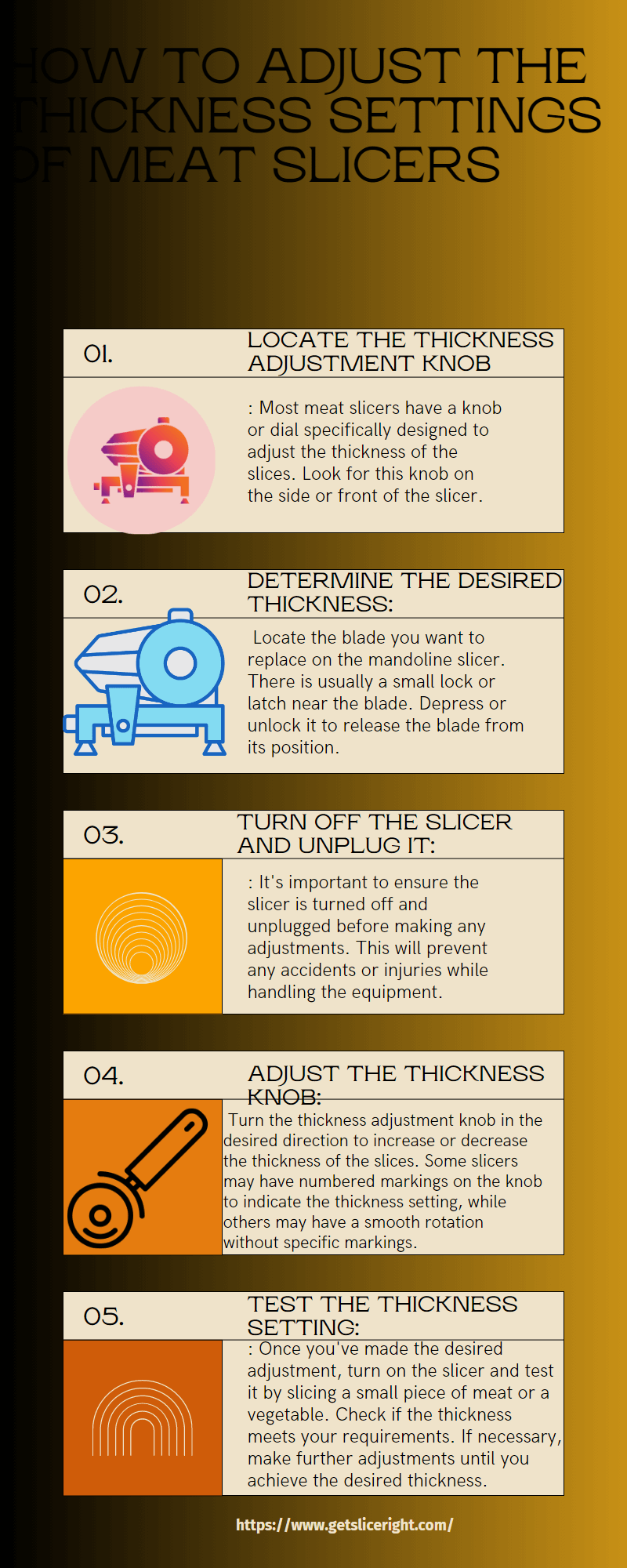 A meat slicer is a multipurpose machine. It can cut various food items to the required thickness and size. You can adjust the thickness by rotating the thickness knob in the anticlockwise direction. Clean the slicer regularly for maintenance and good results.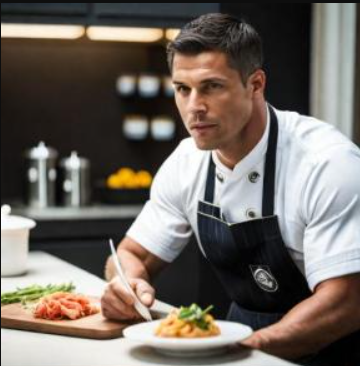 John Hebdon is a food enthusiast, passionate chef, and author of various articles and blog posts related to food and cooking. With a deep love for all things culinary, John's blog serves as a platform to share his extensive kitchen experiences with a broader audience.
In addition to his culinary expertise, John has a flair for writing and a natural ability to share his passion for food with others. His articles and blog posts are informative, engaging, and packed with practical tips for readers of all skill levels.
As a food enthusiast and writer, John is always on the lookout for new and exciting culinary experiences. Whether it's trying out a new restaurant, experimenting with a new recipe, or simply sharing a favorite dish with friends and family, John is always eager to explore and share the world of food with others.