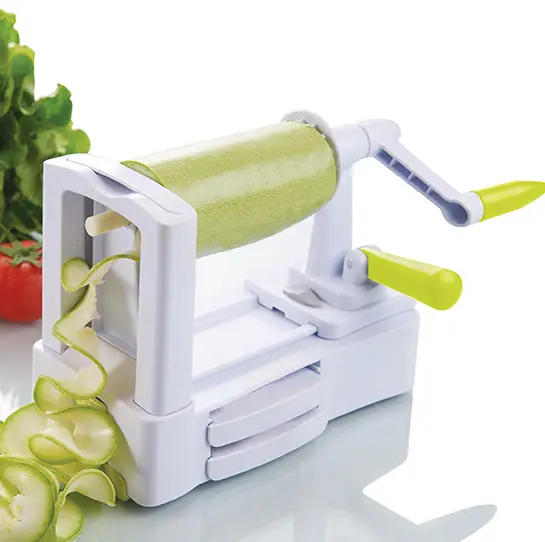 A spiral slice, also called a spiralizer, is a simple kitchen tool used to make vegetable noodles and turn them into a kind of ribbons. You can pretty much use this tool and turn any vegetable, from carrots to beets to even apples and fruits, anything that is hard to turn into ribbons. A spiral slicer requires minimal expertise and promotes a low-calorie intake and weight loss by consuming more fresh vegetables. It is designed to save a significant amount of time preparing while still eating more healthy fruits and vegetables.
Different Parts and Cuts in Spiral Slicer
This tool helps you with veggies, pasta, fries, side dishes, salads, and even waffles with different healthy vegetables. It comes with different interchangeable blades.
Thin spirals
Thick spirals
Potato chips
Onion rings
Straight blade
Slicing blade
Twist cutting
Ribbon cut blade
Shredding blade
Fettuccine cut blade(1/4 – in a spiral)
Fettuccine cut blade(1/8 – in a spiral)

Different Parts and Cuts in Spiral Slicer
What fruits and Vegetables can be Spiralized?
Zucchini is a go-to vegetable when it comes to spiralizing, and it is easy to spiralize for traditional pasta dishes. Spiralized carrots are a great alternative to shedding and slicing for salads.
The following things can be spiralized:
Fruits: Melon, apple, pear, plantains.
Vegetables: Broccoli, zucchini, beets, butternut squash, radish, cucumber, potato, sweet potato, carrot, turnips, bell pepper, and cabbage.
How to Use a Spiral Slicer?
The slicer has fine blades that slice raw vegetables and fruits into various noodles or zoodle shapes. Some slicers work like a giant pencil sharpener, where you stick the vegetable in and turn it against the blades by hand, while other more advanced models allow you to turn a crank and make noodles quickly with the increased leverage.
Choose a smooth, flat surface. There are different blades, and you may like your slices thinner or thicker depending on the vegetable and recipe. Press the spiral down to fix the section based on the surface.
STEP 2: Prepping Fruits/Vegetable Before Slicing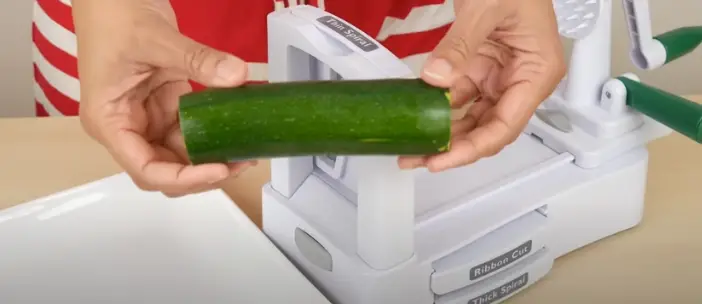 Wash the vegetable and let it dry, then cut both ends of your desired vegetable. Place it in the slicer and attach one end of the vegetable toward the blade until secured in place. Don't forget a plate or cutting board to catch the noodles.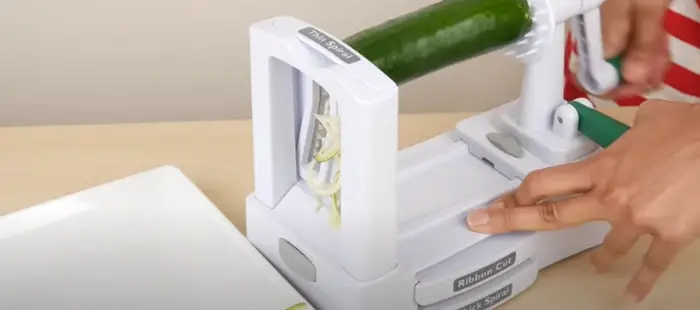 While rotating the handle, apply pressure toward the blade to successfully spiralize your vegetable. Now you are ready to enjoy your nutritious pasta alternative.
Basics Spiral Slicing Video
Precautions to be taken while using Slicer
Keep your hands away from the blades while using them to avoid injuries. Make sure you can see you're both your hands as well as the cutting blades.
Remember to immediately wash your slicer and cutting board after slicing brightly coloured veggies. Always clean the remaining food from the blades with a kitchen brush. Never hand wash blades with a sponge or dish dishcloth.
Are the blades stainless steel?
Several blades are permanently fastened and are rotated to achieve different outputs. They are all stainless steel. Can be the push in the dishwasher if desired.
Would this make curly fries?
You can use it for curly fries.
What is an input voltage for this item?
It has an input voltage of 120V.
Does it make butternut squash noodles?
Yes, peeling just the top cylinder part and also cutting the bottom in wedges.
Does this come assembled and pretty much ready to use?
There isn't much to assemble. Maybe just the piece that snaps on the base. This is meant to be removable for cleaning the blades.
How easy is it to change the blade?
The blades are easy to change, insert, and lock into place. You could change blades using only one hand.
Does it come assembled and ready to use, or do I need to assemble it?
It is already assembled. All you have to do is put in the blade you want to use.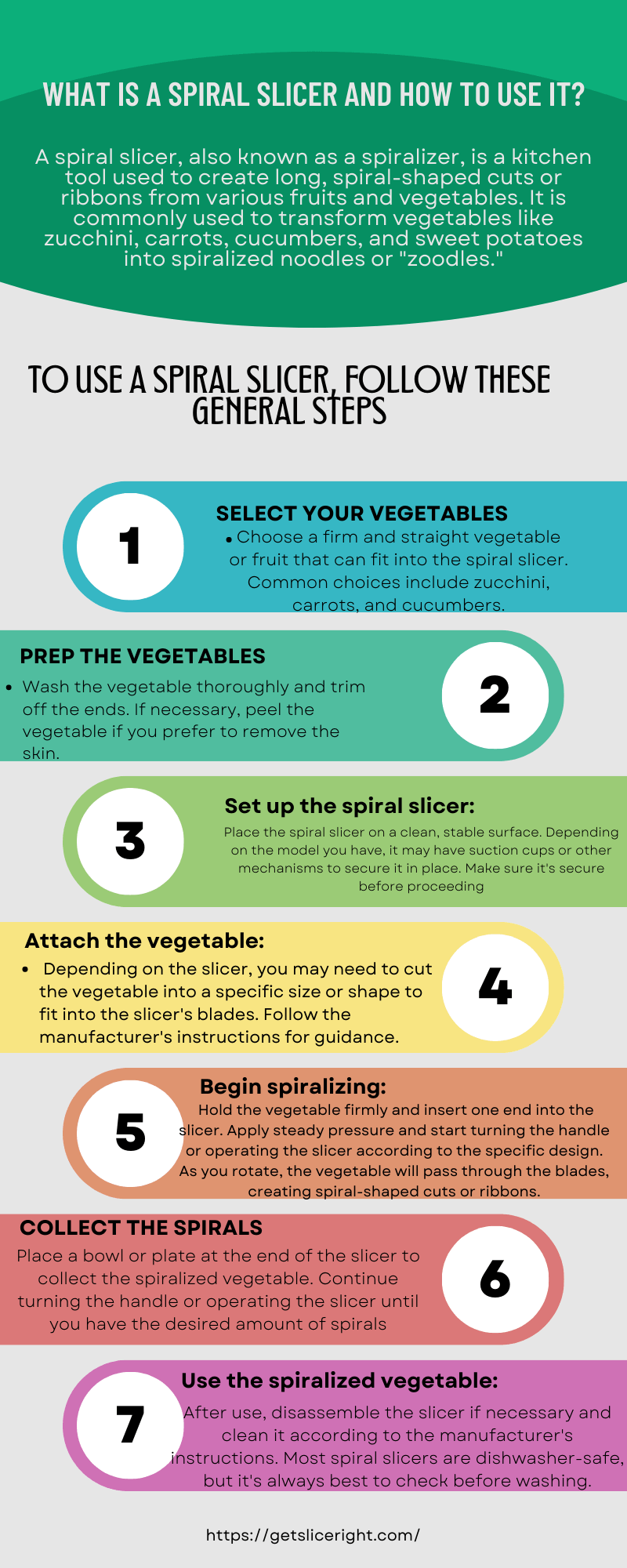 It is a multipurpose machine from beets to radishes, and a spiral vegetable cutter is designed for every season produce. Use this kitchen gadget as a carrot, cucumber, potato, squash, or zoodles spiralizer. You can make fresh, new dishes which you never thought possible. Spiral slicer help retains maximum nutrition in your vegetables. It is simply a perfect gadget for more creative cooking.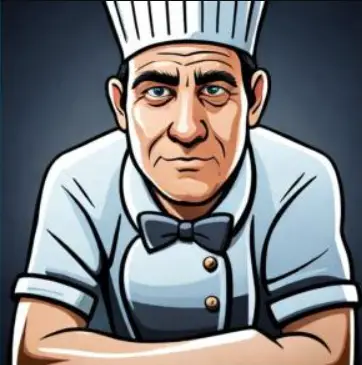 Mario Batali is a renowned author, food enthusiast, and passionate chef who has dedicated his life to exploring the world of culinary arts. With a love for sharing his knowledge and experiences, Mario has become a prominent figure in the food blogging community, inspiring countless readers with his creativity and expertise.
In addition to his culinary prowess, Mario Batali is also a talented writer with a flair for engaging storytelling. He launched his own food blog to share his recipes, cooking tips, and personal experiences in the kitchen. Over time, Mario's blog gained a loyal following of food enthusiasts who appreciate his unique approach to cooking and his dedication to using only the finest ingredients.
Mario Batali's passion for food and his commitment to sharing his knowledge with others have made him a true inspiration in the world of culinary arts. Through his blog, cookbooks, and public appearances, Mario continues to spread his love of food and the joy of cooking with his ever-growing fanbase.