Food and meat slicers are necessary kitchen utensils designed for slicing different types of foodstuff. Slicers are easy to use and efficient for uniform cuts. As they are used regularly for preparing vegetables and meat for dishes, the blades become dull. Often they make noise, take more time to slice, provide uneven and dull cuts and make slicing difficult.
It is a sign that you are not giving proper attention to the maintenance of your slicer. It needs lubrication and cleaning. It's time that you should lubricate your slicer with any good quality oil immediately.
Importance of Food And Meat Slicers Lubrications
Lubrication is most important for slicers to keep running in good condition. The slicer works by moving the knife against the metal discs and food carriage, so it must always be kept in good condition by applying oil.
Food and meat slicers can become quite noisy, making them difficult to cut. Lubrication to slicer blades can help to reduce the noise and keep your hands safe. Lubrication also protects the blades from rust and other damage. It also increases efficiency by keeping the blades moving smoothly.
You can also protect your slicer from excessive heat, friction and wear by applying the oil correctly.
When To Lubricate Food And Meat Slicers?
Slicers require lubrication to perform at their maximum efficiency. They need lubrication periodically. Lubrication of the slicer also depends on the use of the slicer. The more the usage, the more often will be lubrication needed.
It would help if you lubricated your food and meat slicers when changing the blades. All parts of slicers and blades need lubrication to run smoothly and prevent heating up.
When blades make noise.
When you are going to use the slicer after a long time.
Lubricate your heavy-duty slicers every four hours.
How To Lubricate Meat And Food Slicers?
In order to clean and lubricate all parts of the slicer switch OFF the slicer first, disassemble all the parts of the slicer, and refer to the manual which came with the slicer. Unplug and turn your slicer; the selector knob should be in the home position.

Meat Slicer Parts

Slicing table should be fully closed. Remove the food shoot and undo the release knob. Set the food shoot aside and tilt up the slicer exposing the guide rod.
Locate adjusting knobs: Adjust the plate to lowest position so that shafts are showing

Adjusting Knobs

Apply some lubricant to the slide rod. You can use gel for it. You can apply it with your hands.

Lubricant To The Slide Rod

Take the slider and take it up and down to spread and distribute the lubricant in the slicer.
Push the carriage on the one side, clean the grease and dirt with soft cotton .now locate the rods of the slicer on which the slicing tray moves. if your slicer is provided with the holes for lubrication then use the holes to lube the rod. Otherwise slightly tilt the slicer and look at the rod and smear the rod with a finger. Spread the lubrication all over the rod. slide the sliding tray with your hand. REMOVE the blades of the slicer.
Now lubricate the sharpening stones; disassemble the sharpening stone from the slicer. Undo the release knob.

Sharpening Stones

Lubricating Sharpener Shafts: Clean the sharpener axle before sharpening. Sharpener shaft demands lubrication per month. Lift the sharpener cover. Pull up while holding the stone and apply lubricant to the shaft hole. Pull the sharpener lever up and apply the lubricant to the shaft hole. Turn around and slide the axle until the axle works well.
Lubricate shafts while taking the lubrication jar in you hand and dropping oil on shafts drop by drop from upside to downside
Apply the air soft spray; you can use an air gel or aerosol spray. Lubricate behind the stones using the buttons and also lubricate the main shaft.
In the last step, lubricate the food chute slide rod. Apply gel to it.
Recommended Oils For A Meat Slicer
When it comes to lubricating a meat slicer, a few different oils can be used. Many people choose vegetable oil; others may prefer using petroleum-based oil. It depends on the meat slicer you have and what type of food you are trying to slice. Do choose food grade oil to ensure safety of the humans who eat slices .
What not to Use as Lubricant for Slicer Machines
Although Vegetables and mineral oils are cheap, but a very poor choice for your machine. They are not suitable for a meat slicer as they are quite viscous and sticky. Never use vegetable oil as it not only effect the working of slicer but can also give place for bacterial growth which contaminate the food material on contact.
What to Use as Lubricants for Slicer Machines
You must have food-safe lubricant in aerosol and gel forms instead of vegetable oil. Preferably use a food-grade lubricant with an H1 rating. It will not be toxic when consumed, and it is additive-free.
It is recommended to use kinds of oil with following characteristics as lubricants:
Use the oil which provide lowest coefficient of friction.
Always use the lubricant which repel water and other particle.
The lubricants must have excellent penetrating and creeping power.
Always use the lubricant which last longer than typical lubricants.
Here are some of the available lubricants for Meat slicer.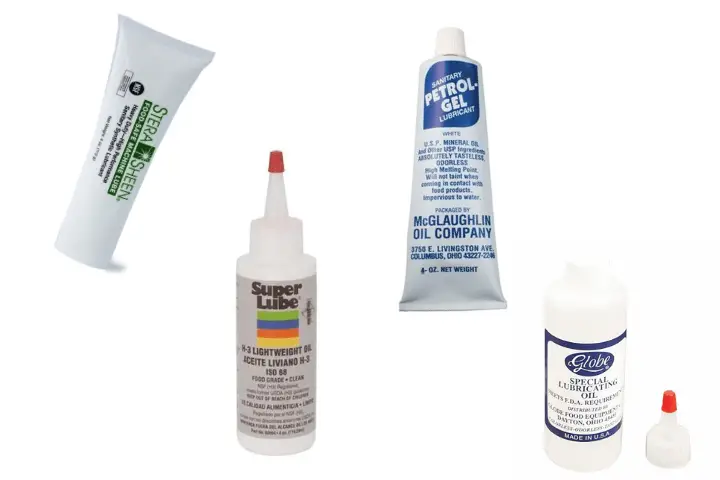 Petrol- Gel lubricant: It is odorless, waterproof, food grade safe and light weighted. It is highly recommended petro gel. its a small 4 ounce tube which goes to long in use. It can be washed out easily with mild soap and warm water.
Super lube 60004 H3: It is food safe lubricant and its application is easy. It provides good sliding to the slicer.
Globe 519 special lubricating oil: The bottle is designed with the pull out nozzle. For more precise spot lubrication . It is basically OEM lube for professional food machines.
Stera sheen food safe lubricant: Its synthetic lubricant which lasts longer then any other lubricant. It repels moisture and other particles. It is odorless clear gel. NSF listed H1 approved for incidental food contact.
Safety And Maintenance Tips For Secure Lubrication
Be sure to read manual instructions to lubricate the slicer.
Before lubricating clean and dry all the parts where lubrication is required.
Avoid contamination during the dispense process.
For good performance, lubricate your slicer regularly. If the slicer in lacks lubrication, it will cause them to become inefficient.
When choosing a lubricant, make sure that it is designed for slicers also.
Avoid applying vegetable oil to the meat slicer. It will seize your slicer on several points.
Use right container for precise lubrication.
Label your lubes for later use better to mention date on the lube or highlight .
The Skin may be sensitive to prolong exposure to lubricants, as they can develop irritation, itching or damage on your skin. So it is best to wear rubber gloves.
Damaged oil pump through the machine can lead to failure of machine.
Pre plan the lubrication activity and do with focus mind. After lubrication recheck the work site and equipment. Look for leaks, spills etc. It is also possible that cap of the container is not properly installed.
After lubrication, run the slicer for a few seconds to keep the slicer in perfect working order.
At last store lubricants correctly, handle them with care, dispose off them properly , follow all the safety guideline for planning, executing and evaluation of the lubrication process.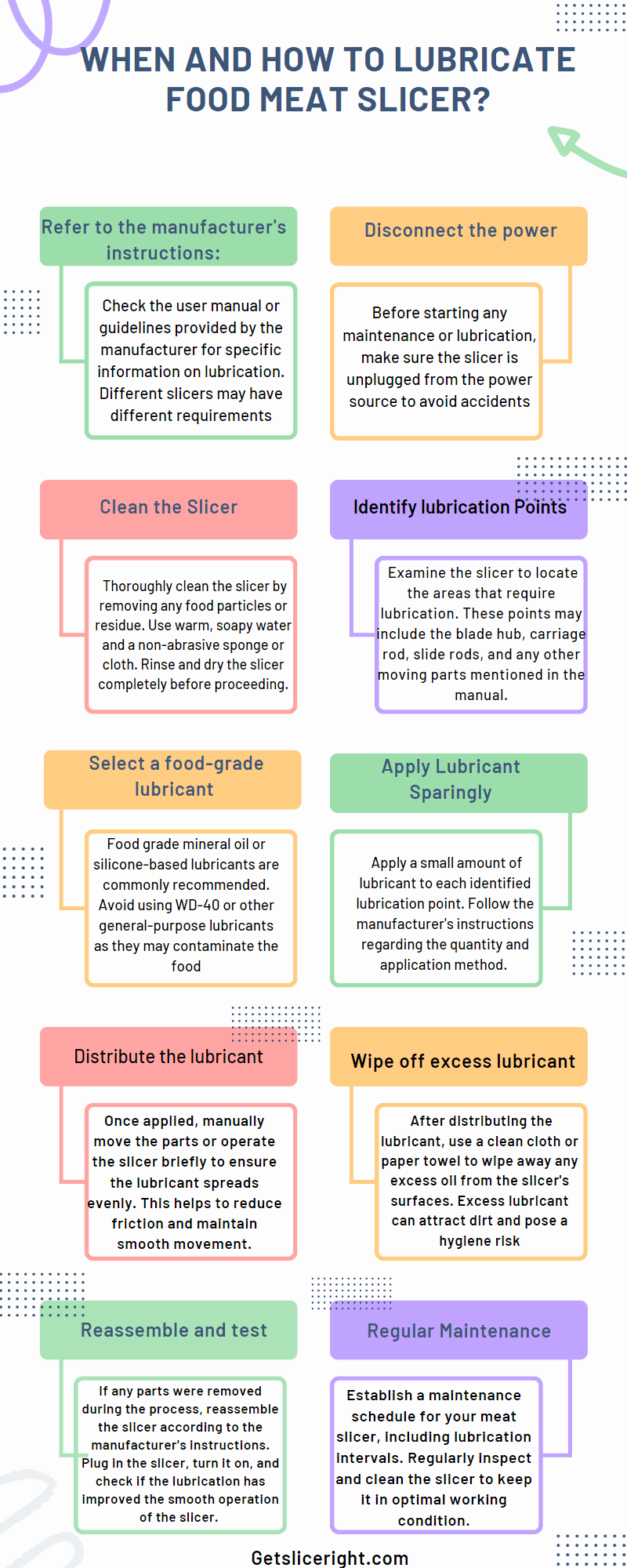 The importance of lubricating food and meat slicers is to extend the lifespan of your machine. You can easily lubricate by lubricating slide rods, sharpening stones and food chute with a good quality food-grade lubricant.
When and How to Lubricate Food and Meat Slicers? (Video Tutorial)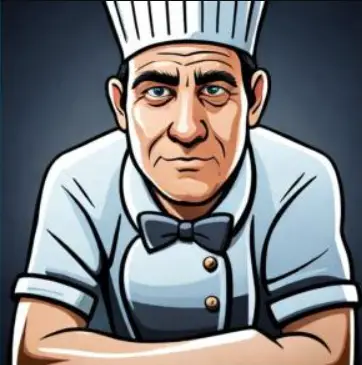 Mario Batali is a renowned author, food enthusiast, and passionate chef who has dedicated his life to exploring the world of culinary arts. With a love for sharing his knowledge and experiences, Mario has become a prominent figure in the food blogging community, inspiring countless readers with his creativity and expertise.
In addition to his culinary prowess, Mario Batali is also a talented writer with a flair for engaging storytelling. He launched his own food blog to share his recipes, cooking tips, and personal experiences in the kitchen. Over time, Mario's blog gained a loyal following of food enthusiasts who appreciate his unique approach to cooking and his dedication to using only the finest ingredients.
Mario Batali's passion for food and his commitment to sharing his knowledge with others have made him a true inspiration in the world of culinary arts. Through his blog, cookbooks, and public appearances, Mario continues to spread his love of food and the joy of cooking with his ever-growing fanbase.