The sliding shaft of a meat slicer is an essential component and must be kept well lubricated to ensure the machine's smooth operation and avoid any potential damage. You can use different types of lubricants. Unplug the meat slicer before lubrication. However, just as improper lubrication can cause problems, using the wrong type or amount of oil or grease can also lead to issues.
When To Lubricate Meat Slicers?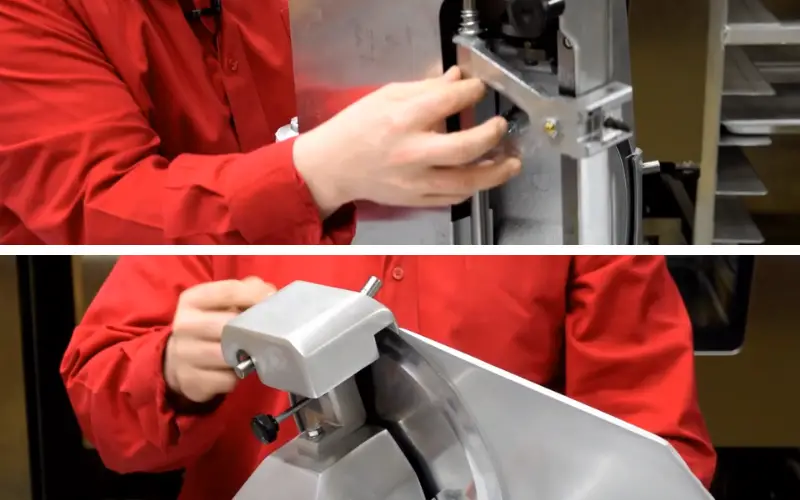 Sliding shafts are found in many types of food and meat slicers. As such, keeping them well-lubricated for optimal performance and efficiency is important. Generally, the sliding shaft should be lubricated at least once a month with a non-petroleum-based lubricant such as silicone spray or vegetable oil. Additionally, if the sliding shaft is used frequently or exposed to high heat conditions, it should be lubricated more often.
Importance Of Lubricating The Sliding Shaft
Smooth operation: Regular lubrication of the sliding shaft of your meat slicer ensures smooth operation, preventing the shaft from sticking or jamming. This not only enhances the efficiency of your slicer but also makes it easier to use.
Loner lifespan: Proper lubrication reduces friction between the moving parts of your meat slicer, minimizing wear and tear. This helps prolong the life of your equipment, saving you time and money in the long run.
Safety: Lubricating your meat slicer's sliding shaft also promotes safety, as a well-maintained slicer is less likely to malfunction or cause injury during use.
Types Of Lubricants Suitable For Meat Slicers
Food-grade lubricants: When lubricating a meat slicer, it's essential to use food-grade lubricants approved for use on equipment that comes into contact with food. These lubricants are designed to be safe for consumption and won't contaminate your food products.

Food-Grade Lubricants

Silicon-lubricants: Silicone-based lubricants are an excellent choice for meat slicers, as they're resistant to high temperatures and won't break down or become sticky over time. They also provide long-lasting lubrication, helping to reduce the frequency of required maintenance.

Silicone Lubricant Spray
How To Lubricate The Sliding Shaft Of A Meat Slicer?
Step 1. Unplug the meat slicer and remove any food residue from the sliding shaft. Clean it with a damp cloth to make sure there is no build-up of dirt or other debris on the surface.
Step 2. Apply a small amount of food-grade lubricant to the sliding shaft, focusing on the metal parts exposed to friction.

Applying Food-Grade Lubricant

Step 3. Use a clean cloth to wipe away any excess lubricant and ensure that it is evenly distributed along the shaft.
Step 4. Re-plug your meat slicer and reassemble all parts correctly, ensuring the sliding shaft moves smoothly without resistance or sticking.
Step 5. Test the movement of the sliding shaft by running the meat slicer for a few seconds.
Tips For Maintaining Your Meat Slicer
Regular cleaning: Wipe down the machine after each use, and perform a thorough cleaning and sanitization at least once a week, depending on usage.
Proper storage: Store your meat slicer in a cool, dry location away from direct sunlight or heat sources to prevent potential damage.
Scheduled maintenance: Establish a routine maintenance schedule, including lubrication, blade sharpening, and inspection for wear or damage.
Use food-grade lubricants: Always use food-grade or silicone lubricants specifically designed for food processing equipment to ensure safety and prevent contamination.
Blade sharpening: Regularly sharpen the blade of your meat slicer to maintain cutting efficiency and reduce strain on the motor.
Inspect belts and gears: Check them for any signs of wear or damage, and replace them as necessary.
Tighten loose components: Regularly inspect the meat slicer for any loose screws or components, and tighten them as needed.
Prevent rust: Use a silicone-based lubricant to provide a protective barrier against moisture and corrosion and keep the machine clean and dry.
Follow manufacturer's guidelines: Always adhere to the manufacturer's recommendations for cleaning, maintenance, and lubrication to ensure optimal performance and longevity.
How often should I lubricate the sliding shaft of my meat slicer?
The frequency of lubrication depends on the usage and manufacturer's recommendations. Generally, lubricating the sliding shaft every 4-6 weeks is sufficient for most meat slicers.
Can I use regular lubricants on my meat slicer?
No, it's crucial to use food-grade or silicone lubricants specifically designed for use on food processing equipment. These lubricants are safe for consumption and won't contaminate your food products.
Do I need to disassemble my meat slicer completely for lubrication?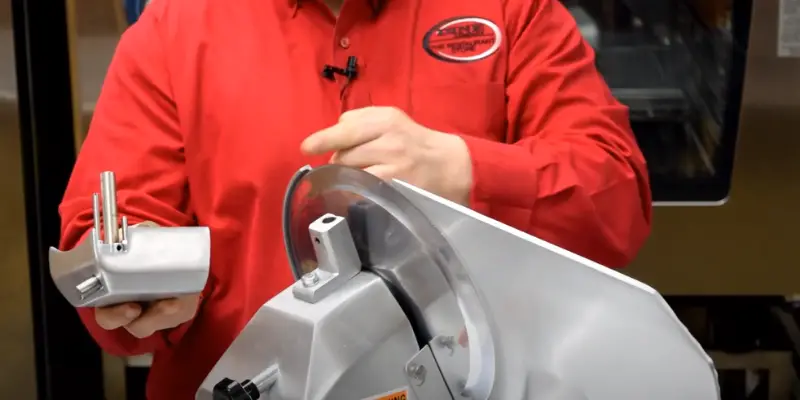 You don't need to disassemble the entire machine, but you should remove the blade and any other parts obstructing access to the sliding shaft.
Why is my meat slicer making a loud noise during the operation?
Loud noises could indicate a lack of lubrication or a worn-out component. Inspect the machine, lubricate the sliding shaft, and replace any damaged parts as necessary.
How can I prevent rust on my meat slicer?
Regular cleaning, proper storage, and scheduled maintenance can help prevent rust. A silicone-based lubricant can also provide a protective barrier against moisture and corrosion.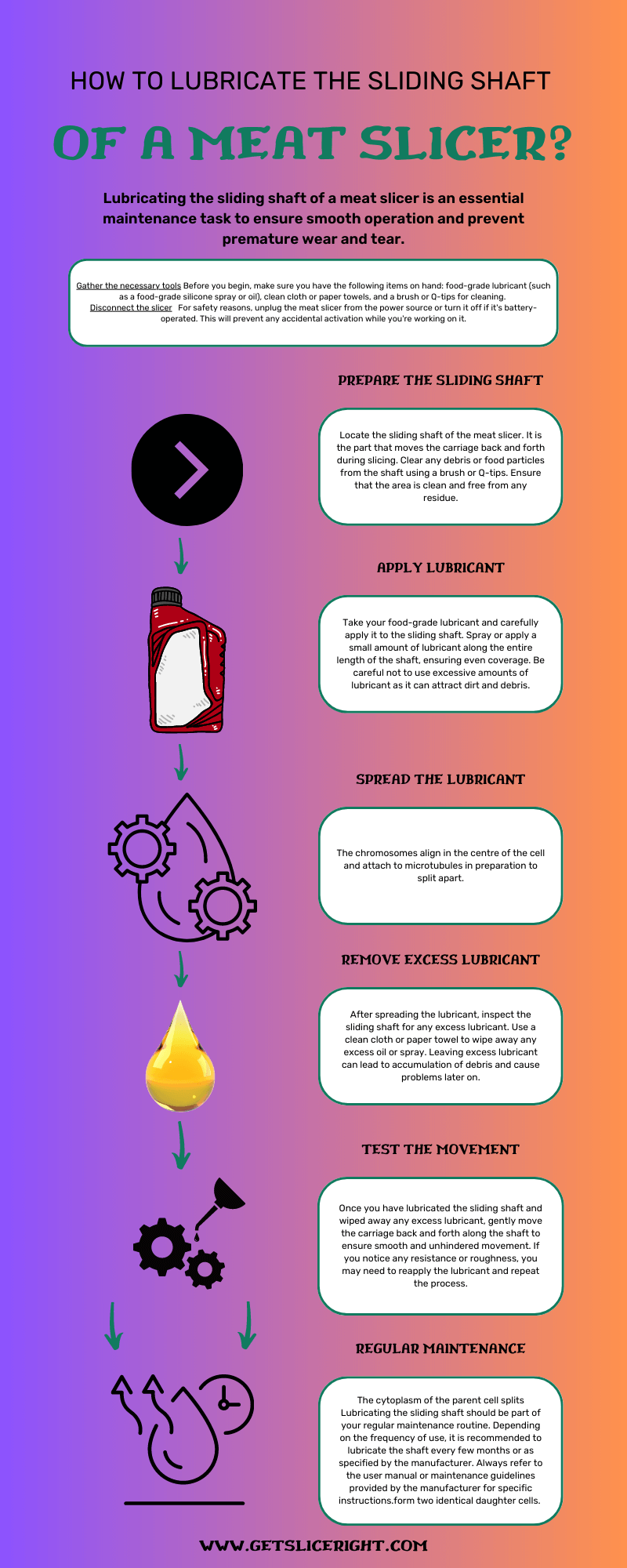 Lubricating the sliding shaft of a meat slicer is an important part of maintenance. It helps ensure the slicer works at its best and extends its life. The process can be done in minutes using grease or oil and requires no special tools. Additionally, it is important to keep the area clean when lubricating to prevent any food particles from entering and causing problems in the future.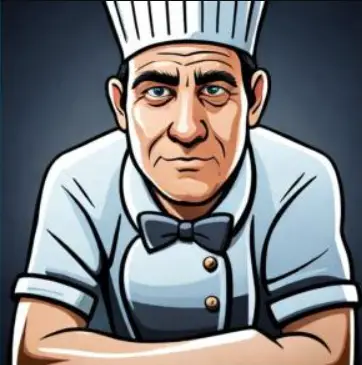 Mario Batali is a renowned author, food enthusiast, and passionate chef who has dedicated his life to exploring the world of culinary arts. With a love for sharing his knowledge and experiences, Mario has become a prominent figure in the food blogging community, inspiring countless readers with his creativity and expertise.
In addition to his culinary prowess, Mario Batali is also a talented writer with a flair for engaging storytelling. He launched his own food blog to share his recipes, cooking tips, and personal experiences in the kitchen. Over time, Mario's blog gained a loyal following of food enthusiasts who appreciate his unique approach to cooking and his dedication to using only the finest ingredients.
Mario Batali's passion for food and his commitment to sharing his knowledge with others have made him a true inspiration in the world of culinary arts. Through his blog, cookbooks, and public appearances, Mario continues to spread his love of food and the joy of cooking with his ever-growing fanbase.