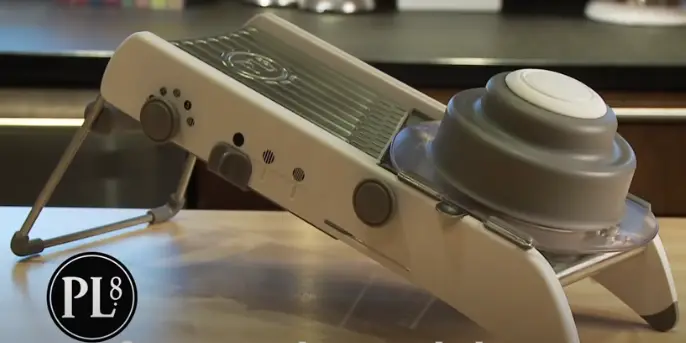 A protective mandoline slicer is an efficient and versatile kitchen tool that can save you time while achieving precise and consistent slices. It offers sharp blades for clean cuts, adjustable thickness settings, and ease of cleaning with dishwasher-safe parts. However, it's important to exercise caution to prevent accidents, and finding replacement blades for specific models can be challenging. Additionally, some leftover scraps may require additional manual cutting. Overall, using a protective mandoline slicer can enhance your slicing skills and bring convenience to your kitchen.
Essential Components and Safety Measures
To ensure a safe and efficient slicing experience, it's crucial to familiarize yourself with the key components and safety measures of the Progressive mandoline slicer.
Thickness Gauge: Adjust the thickness of your slices to your desired preference using the slicing knob.

Adjust The Thickness With Thickness Gauge

Slicing Blades: The mandoline slicer offers straight blades for regular cuts and waffle-cut blades for unique patterns.
Julienne Feature: Easily switch to the Julienne setting to create thin strips of vegetables and fruits.
Finger Guard: Always use the finger guard to protect your hands from the sharp blades.
Cut-Resistant Glove: For added safety, consider wearing a cut-resistant glove to minimize the risk of accidents.
Secure Setup: Ensure the mandoline slicer is stable and doesn't slide during use. Holding the handle while slicing provides extra stability.
Perfect Slices for a Variety of Dishes
The Progressive mandoline slicer empowers you to achieve uniform slices for various culinary creations.
Thin Slices: Set the thickness gauge to the thinnest setting for delicate slices ideal for scalloped potatoes or crispy oven chips.
Medium Slices: Adjust the thickness gauge to a medium setting for versatile slices suitable for sandwiches, salads, and garnishes.

Slicing At Medium Position

Thick Slices: Choose a thicker setting on the thickness gauge to create substantial slices perfect for gratins or hearty vegetable dishes.
Exploring the World of Julienne Cuts
Unlock the art of julienning with the Progressive mandoline slicer. Impress your guests and add a touch of elegance to your dishes with finely cut strips of vegetables.
Switch to Julienne Mode: Set the mandoline slicer to the Julienne setting, aligning the symbol with the corresponding symbol on the device.
Secure the Vegetable: Place the vegetable inside the finger guard and slide it over the blades, creating thin, uniform strips.
Versatile Applications: Use julienne cuts for stir-fries, salads, garnishes, and creative vegetable presentations.
Unleashing Creativity with Waffle Cuts
The Progressive mandoline slicer offers an exciting feature: waffle cut blades. Although it requires a bit of practice, mastering waffle cuts can elevate your culinary skills.
Angle Adjustment: Wear the cut-resistant glove and position the potato at a 45-degree angle for each cut to achieve the waffle pattern.

Angle Adjustment For Slicing

Slice and Turn: Slice the potato, then rotate it, ensuring the blade cuts in two different directions, resulting in a unique waffle shape.
Oven Fries Extraordinaire: Prepare delicious waffle-cut fries for a crispy, restaurant-style treat that will leave everyone impressed.
Straight Cut Blade: Set the mandoline slicer to the straight cut blade mode and align the symbols accordingly.
Use the Julienne Blade: Keep the finger guard in place and switch to the Julienne blade to achieve perfect diced onions effortlessly.
Ready for Salads: Enjoy finely diced onions that are ready to enhance the flavors of your favorite salads, salsas, or other culinary creations.
The Progressive Mandoline Slicer: Features and Functionality
Superior Quality for Superior Results
Stainless Steel Construction: Crafted from high-quality stainless steel, this slicer is built to last. It can withstand the rigors of everyday use and maintain its sharpness over time.
Extra-Wide Slicing Deck: The stainless steel slicing deck of the Progressive Mandoline Slicer is wider than traditional mandolines. This allows your ingredients to glide easily, ensuring precise and consistent cuts every time.
Integrated Blades: Say goodbye to multiple attachments and cluttered kitchen drawers. This mandoline features integrated blades that effortlessly slice through even the most delicate fruits and vegetables with precision.
Dial-Style Settings for Precision Slicing
Manual Settings: With a simple turn of the dial-style knob, you have complete control over the thickness of your slices. Whether you prefer paper-thin slices at 1.0mm or thicker cuts up to 7.5mm, this mandoline can accommodate your desired thickness.
Waffle Cuts Made Easy: Impress your guests with beautifully textured waffle cuts. The Progressive Mandoline Slicer enables you to create both thick and thin waffle cuts effortlessly, adding an extra touch of elegance to your dishes.
Your safety is paramount in the kitchen, and the Progressive Mandoline Slicer takes this seriously. Here's how it ensures a safe slicing experience:
Safety Hand Guard: The slicing deck of this mandoline is equipped with a safety hand guard. It securely holds your ingredients in place while protecting your fingers from the sharp blades.
Non-Skid Feet: To prevent any accidents or slips, the Progressive Mandoline Slicer features non-skid feet. These feet provide stability and grip on your countertop, ensuring the slicer stays in place during use.
Dishwasher Safe: After you're done slicing and dicing, cleaning up is a breeze. The Progressive Mandoline Slicer is dishwasher safe, saving you valuable time and effort.
Tips and Tricks for Mastering the Progressive Mandoline Slicer
To ensure optimal results and a safe slicing experience, consider these expert tips and tricks:
Practice Makes Perfect: Start with slower movements until you gain confidence and precision in your slicing technique.
Choose Firm Produce: Opt for fruits and vegetables that are firm to the touch for cleaner cuts and better results.
Hand Washing: While the slicer's removable parts are dishwasher-safe, hand-washing the blades is recommended to maintain their sharpness.
Store with Care: Utilize the lock position for safe storage, ensuring the blades are protected and out of reach from children.
Experiment and Explore: Let your creativity flow by experimenting with different fruits, vegetables, and cutting styles to discover new culinary delights.
Q1: Is the Progressive mandoline slicer suitable for beginners? A1: Absolutely! The Progressive mandoline slicer is user-friendly and designed to simplify slicing tasks. Beginners can quickly learn the basics and gradually explore its versatile features.
Q2: Can I achieve different thicknesses of slices with the mandoline slicer? A2: Yes, the Progressive mandoline slicer offers adjustable thickness settings, allowing you to create thin, medium, and thick slices according to your preference.
Q3: What are the safety precautions I should take when using the mandoline slicer? A3: Safety should always be a priority. Ensure you use the finger guard provided, consider wearing a cut-resistant glove, and handle the slicer with care to avoid accidents.
Q4: Can I use the mandoline slicer for fruits as well as vegetables? A4: Absolutely! The mandoline slicer is versatile and suitable for slicing a wide range of fruits and vegetables. From apples and cucumbers to zucchini and carrots, let your creativity flourish.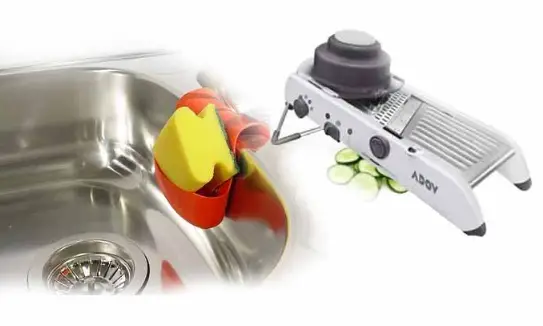 Q5: How do I clean the Progressive mandoline slicer?
A5: The slicer's removable parts are dishwasher-safe, making cleaning a breeze. However, it's advisable to hand-wash the blades to maintain their sharpness and longevity.
Using a progressive mandoline slicer can revolutionize your food preparation experience, enabling you to achieve precise and consistent slices effortlessly. From perfectly sliced vegetables for stir-fries to beautiful garnishes for your culinary creations, this kitchen tool offers versatility and efficiency.
Remember to exercise caution while using the slicer, following the provided safety guidelines and maintaining proper cleaning and maintenance practices. Embrace the convenience and creativity that a progressive mandoline slicer brings to your kitchen, and get ready to elevate your slicing skills to new heights!
Summary: Key Points to Remember
A Progressive mandoline slicer is a versatile tool for achieving perfect slices, julienne cuts, and waffle patterns.
Familiarize yourself with the components, including the thickness gauge, slicing blades, finger guard, and cut-resistant glove.
Experiment with different thickness settings for thin, medium, or thick slices to suit your culinary needs.
Switch to julienne mode for creating fine strips of vegetables for various dishes.
Practice the technique for waffle-cut fries, ensuring a 45-degree angle for each slice.
Dicing onions becomes effortless with the mandoline slicer's straight cut and julienne blades.
Follow safety measures, clean the slicer properly, and embrace your creativity in the kitchen.
| Pros | Cons |
| --- | --- |
| Efficient and time-saving slicing | Safety concerns and potential for accidents |
| Versatile for various ingredients | Difficulty finding replacements for specific model blades |
| Sharp blades for precise cuts | Leftover scraps that may require additional manual cutting |
| Easy to clean and dishwasher-safe | The blade may dull over time without options for sharpening |
| Consistent slices for even cooking | |
Here are some suggested external links for the article: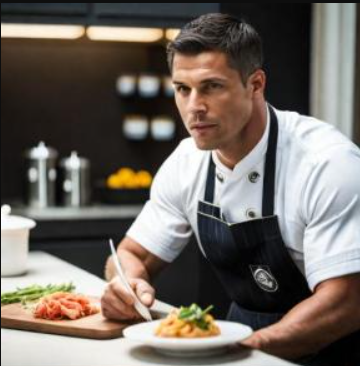 John Hebdon is a food enthusiast, passionate chef, and author of various articles and blog posts related to food and cooking. With a deep love for all things culinary, John's blog serves as a platform to share his extensive kitchen experiences with a broader audience.
In addition to his culinary expertise, John has a flair for writing and a natural ability to share his passion for food with others. His articles and blog posts are informative, engaging, and packed with practical tips for readers of all skill levels.
As a food enthusiast and writer, John is always on the lookout for new and exciting culinary experiences. Whether it's trying out a new restaurant, experimenting with a new recipe, or simply sharing a favorite dish with friends and family, John is always eager to explore and share the world of food with others.