Short answer:  To clean the Dash Safe Slice Mandoline, remove the blade and food holder and wash them with warm soapy water. Wipe down the rest of the mandoline with a damp cloth.
Proper maintenance of kitchen tools is essential for their durability, functionality, and safety. Among these tools, the Dash Safe Slice Mandoline stands out due to its unique design and efficiency in creating a variety of cuts. Despite its high-performance capabilities, cleaning this mandoline is a breeze. Proper cleaning of your Dash Safe Slice Mandoline, will ensure its longevity and performance for many meals to come.
Dash Safe Slice Mandoline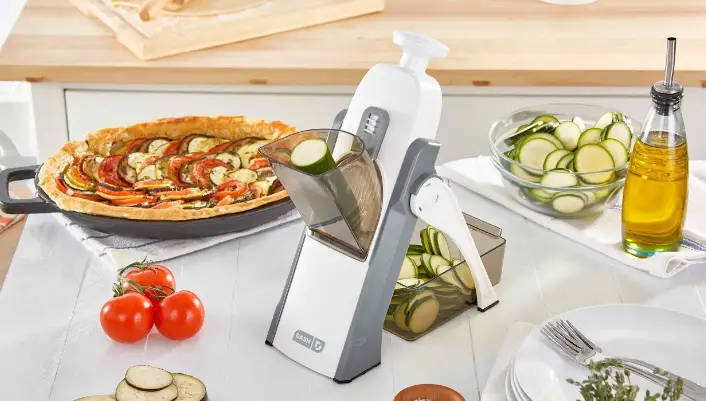 The Dash Safe Slice Mandoline is an innovative kitchen gadget that caters to all your slicing needs. Its safety features, versatile cutting options, and user-friendly design make it a must-have in any kitchen. But like any other kitchen equipment, the longevity and performance of the Dash Safe Slice Mandoline greatly depend on proper care and maintenance.
How To Clean Dash Safe Slice Mandoline?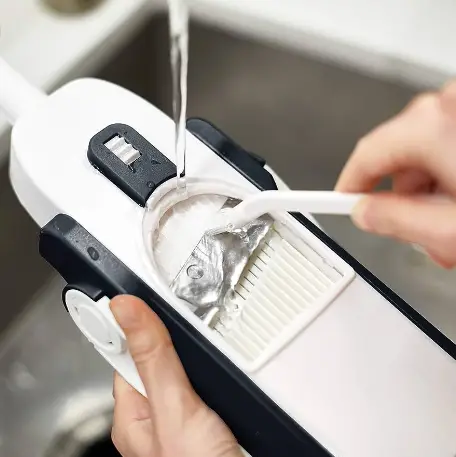 Step 1: Remove the Shoot: The first thing you should do is remove the shoot. This part is easily removable and should be cleaned separately.
Step 2: Empty the Reservoir: The reservoir is where the sliced vegetables fall into. Empty this section after every use to avoid the buildup of vegetable remains.
Step 3: Seal the Blade: To clean the blades safely, ensure that they are completely sealed. This will protect your fingers from any accidental cuts.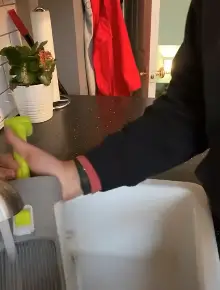 Step 4: Wash with Care: Use warm soapy water and a gentle scrub brush or sponge to clean all the parts of the mandoline. Avoid using abrasive materials to prevent damaging the surface.
Step 5: Dry Completely: Ensure all the parts are completely dry before reassembling and storing. This prevents rusting or any bacterial growth.
Step 6: Reassemble: Put everything back together only after all the parts are clean and completely dry.
Guidelines For Using And Maintaining Your Dash Safe Slice Mandoline
Before using the mandoline, remove any packaging materials and plastic bags.
Always clean your mandoline thoroughly before its first use to ensure optimal performance.
Do not leave your mandoline unattended while it's in operation.
Avoid touching the blades when the mandoline is in operation.
Do not add ingredients to the mandoline while it is still operating.
Always handle the blade with caution. It's sharp and can cause injuries if not handled properly.
Avoid using abrasive cleaners or pads, which can damage the blade and other parts.
Regular cleaning after each use ensures the longevity and optimal performance of your mandoline.
How often should I clean my Dash Safe Slice Mandoline?
Ideally, you should clean it after each use. Regular cleaning helps prevent the buildup of food particles, which can affect the performance of the mandoline and be a potential source of bacterial growth.
Can I put my Dash Safe Slice Mandoline in the dishwasher?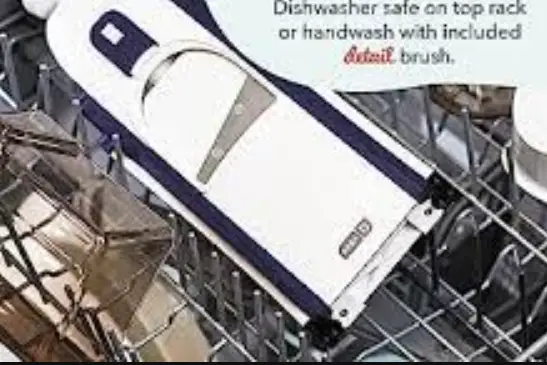 While the parts are easy to clean with warm soapy water, always refer to the user manual for specific cleaning instructions and precautions.
Do Professional Chefs Use a Mandoline?
Yes, professional chefs often use mandolines in their kitchens. The reason is the mandoline's ability to create precise and uniform slices, juliennes, or dices, which is difficult to achieve consistency with a knife. This precision also ensures that food cooks evenly. With a mandoline like the Dash Safe Slice, chefs can also ensure safety while achieving professional-style cuts.
What is a Mandoline Best Used For?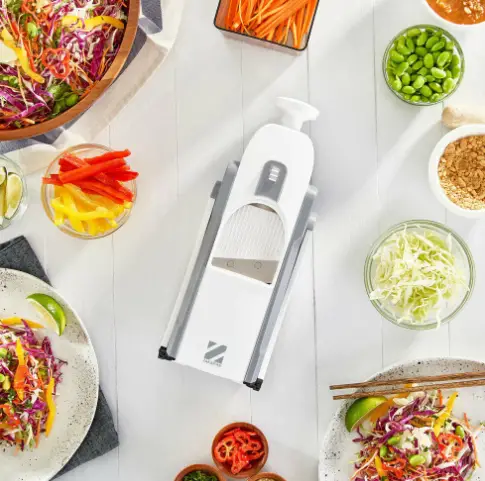 A mandoline is best used for cutting fruits and vegetables with precision. It's ideal for tasks that require uniform slices or specific cuts like julienne, dice, or matchstick. With adjustable thickness settings, you can create thin slices for chips, thicker slices for stews, or juliennes for salads. In short, a mandoline is a versatile tool that's perfect for a wide range of slicing tasks in the kitchen.
What is the thickness of a Mandolin Slicer?
Some basic mandolines might offer a single, fixed thickness, while more versatile ones come with adjustable settings. Mandoline usually allows you to adjust the thickness of your slices from 1-8mm. This flexibility lets you create ultra-thin slices perfect for chips or carpaccio, medium slices suitable for salads and gratins, or thicker slices ideal for stews and stir-fries.
The Dash Safe Slice Mandoline is an incredibly versatile kitchen tool that will upgrade your culinary experience. Its safety features, coupled with the ease of cleaning, make it an appealing choice for both amateur cooks and professional chefs alike. As long as you follow these simple cleaning steps, you can be assured that your mandoline will remain in peak condition for many meals to come.
Disassemble the mandoline before cleaning.
Clean each part under warm water, using mild dish soap for stubborn residues.
Always handle the blade with caution.
Dry each part thoroughly after cleaning.
Regularly clean your mandoline to ensure optimal performance.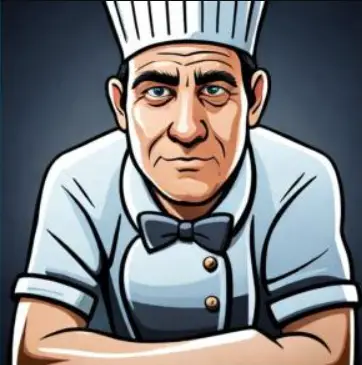 Mario Batali is a renowned author, food enthusiast, and passionate chef who has dedicated his life to exploring the world of culinary arts. With a love for sharing his knowledge and experiences, Mario has become a prominent figure in the food blogging community, inspiring countless readers with his creativity and expertise.
In addition to his culinary prowess, Mario Batali is also a talented writer with a flair for engaging storytelling. He launched his own food blog to share his recipes, cooking tips, and personal experiences in the kitchen. Over time, Mario's blog gained a loyal following of food enthusiasts who appreciate his unique approach to cooking and his dedication to using only the finest ingredients.
Mario Batali's passion for food and his commitment to sharing his knowledge with others have made him a true inspiration in the world of culinary arts. Through his blog, cookbooks, and public appearances, Mario continues to spread his love of food and the joy of cooking with his ever-growing fanbase.