​Suppose you are a food lover, who always loves to cook something for yourself or your family. In that case, you must be aware that chopping vegetables individually every time you cook something is a tiresome and time-consuming effort. To save time, People often use a Mandoline slicer for quick chopping vegetables for cooking or making salads.
What is a Mandoline Slicer?
A mandoline slicer is a device made up of a flat surface fitted with a sharp blade used in the kitchen to slice fruits and vegetables. It is also used for making French fries, salads, and a wide variety of other dishes. A mandoline slicer helps lessen the food prep time and slice vegetables quickly and timely.
KitchenAid Mandoline slicer is used to slice and cut different vegetables and fruit. very quickly. The set comes with multi-share blades fitted on a flat surface, with adjustable knobs to let you adjust the tool setting according to your desire. The simplest model has only one setting. You can adjust the blades to have your desired cutting size. If you struggle with cooking, then it's the best choice to have it in your kitchen. If you want cutting varieties, then a mandoline slicer is the best gift for you.
This article will go through different KitchenAid mandoline slicers and the types of blades we receive with them. These are the products of "KitchenAid", making the major and small kitchen appliances for more than 100 years.
KitchenAid mandoline slicer (KN310BXOBA)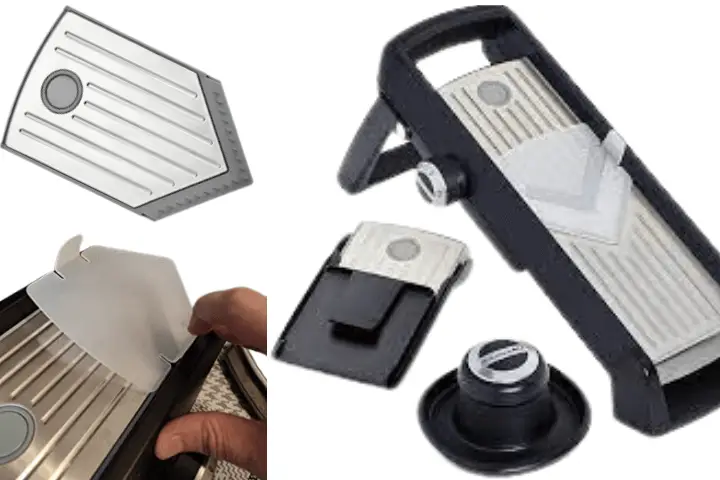 It is a sharp razor blade stainless steel mandoline slicer with a length, width, and height of (17.5,7.5 and 9.4 inches), and weight of 5.19 pounds. It is available in black color.
What comes in the box when you order this model of KitchenAid Mandoline slicer?
The package contains a slicing table; 2 slicing blades, Straight and Julienne; the slicing table made up of stainless steel; over-sided food pusher; cover for slicing blade; storage case for julienne blade, and instruction guide.
With this mandoline slicer, you will receive two types of fine and non rusting slicing blades; straight and Julienne.
Straight: A v-shaped blade is permanently attached to the slicer. According to the recipe, it is used for straight cuts, and the thickness of cutting can be adjusted through the dial. This slicer has five thickness adjustments, 1/16-inch, 1/8-inch, 3/16-inch, 1/4-inch, and 5/16-inch.Thebest feature of this blade is that you can slice extremely soft food with this blade; for example, you can slice a tomato thinly using this tool. It has a firm gripe food holding as well.
Julienne: We also receive a 3/16″ Julienne blade to make thin, long strips with this slicer. It can be used to make French fries or salads. This slicing blade includes a productive storage case. The edges are cutlery-grade stainless steel and show more resistance to rusting. Julienne cutting blades are the best addition to kitchen tools for slicing any food item into match stick strips thickness.
KitchenAid Mandoline Slicer, Red (KC310BXERA)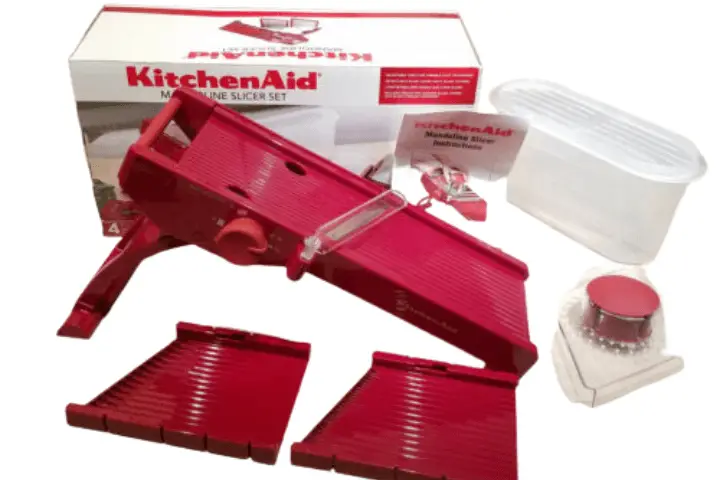 It is used to cut and slice carrots, cucumber, french fries, and other varieties of food. This mandoline slicer is made of ABS plastic with the length, width, and height of (6.75 x 17.19 x 9.25 inches) and weight of 5.2 pounds. It comes with a fixed straight blade, coarse grater blade, thin julienne blade, and thick julienne blade.
Different Types of Blades
Straight blade: This is a v-shaped blade used to cut straight. It is fixed in the mandoline slicer and doesn't need to be removed. This blade can be adjusted according to the desired thickness level of cutting vegetables or salads. The thickness can be adjusted by rotating the knob clockwise or counter clock-wise.
Coarse grater blade: This blade makes small strands of foods or vegetables, which is often used for topping or in different recipes, it is used as an ingredient. Thin and thick julienne blades. These blades are used to make long stripes while slicing vegetables, and they can also be used in slicing potatoes for french fries.
KitchenAid Adjustable Handheld V-Blade Mandoline Slicer, Black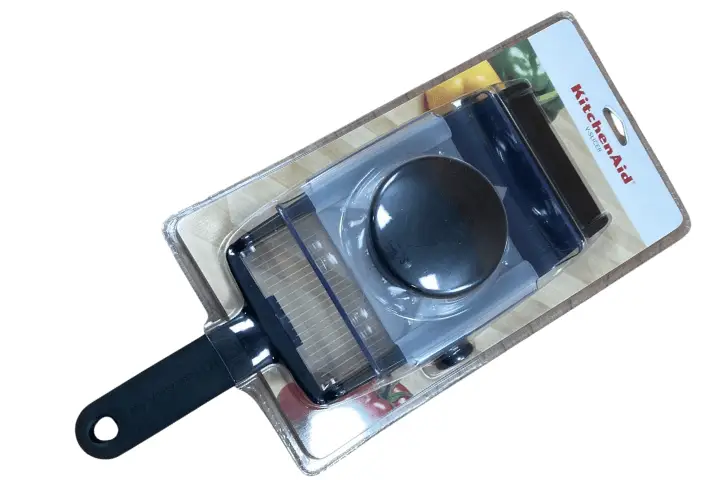 This mandoline slicer is an adjustable v-shaped slicer that helps cut potatoes, onions, cheese, and vegetables. It comes along with fixed stainless steel v-shaped blade, which is adjustable to cut things in different thickness levels of; 1/32 inch, 1/16 inch, 3/16 inch, and 1/4 inch. Julienne blade is not available with this product.
Handling Blades and Care For KitchenAid Mandoline Slicer
Before using the item, clean all its parts but not put your fingers directly on the blades.
Place the slicer box on a clean, smooth, sturdy surface for smooth cutting. Otherwise, you may have an accidental cut on your hand.
Place one hand on the safety food holder for slicing the food and the other hand on the box to resist sliding.
Adjust the knob to expose the prongs on the safety food holder. Put the food on the prongs.
The slicing box should b at an angle of 90 with your body.
Slide the food holder on the bladed surface. The food item should not be too big than the machine's capacity.
Hand washing needs extra care because you are touching blades directly with a high risk of injury.
You can wash the machine with water, although it is dishwasher safe on the top rack, so it is easier to use a dishwasher instead to hand washing.
Most of all, the KitchenAid mandoline slicer is designed to work in a downward motion; going against this may harm you and can also affect the working of the slicer . So for big size vegetables, cut them into smaller pieces, then place them on the cutting box.
You must notice the blade sharpness for the effectiveness of the tool.
Keep spare blades in a cover that is not in use.
Rough blades can be sharpened with the help of a stone. Take a small size stone and insert the stone in the blade. Start moving the stone on the blade surface for five minutes to have sharp blades.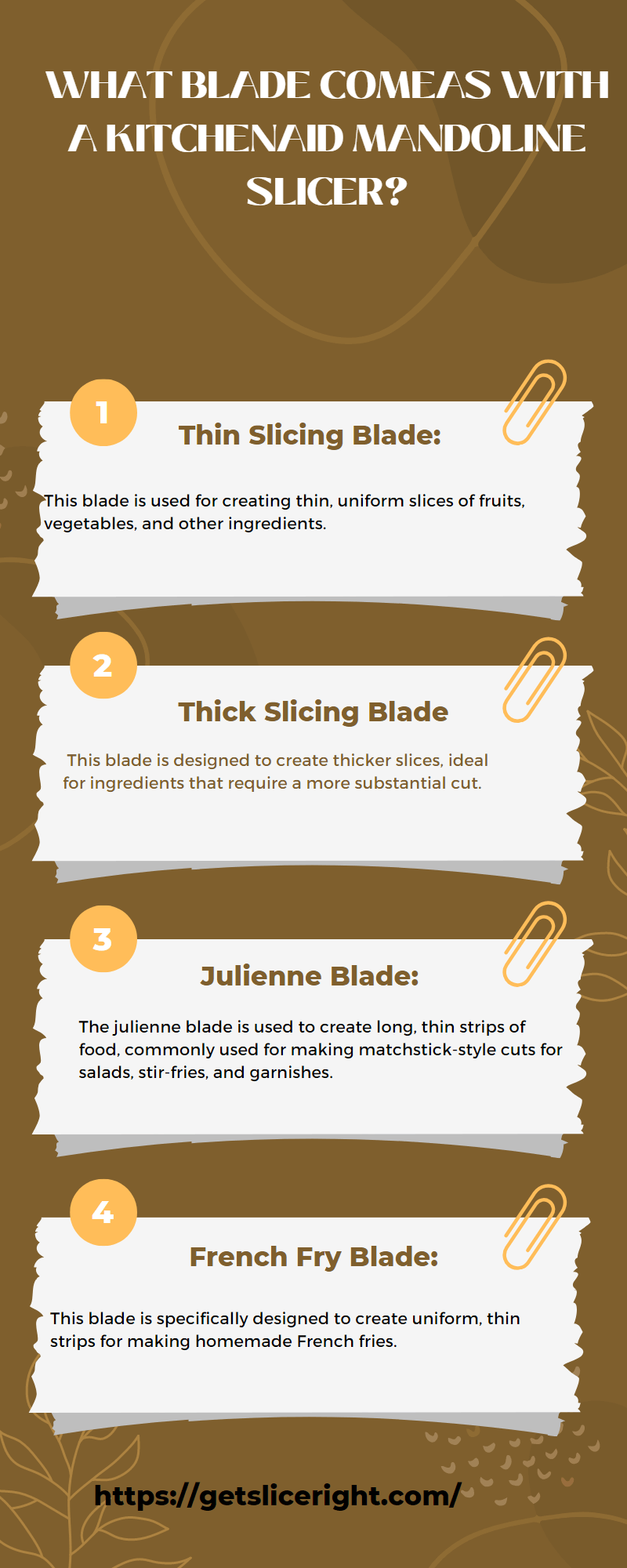 There are varieties of KitchenAid mandoline slicers available. It depends on what the person wants to buy. The prices of these products may vary according to the items available with each product. Each mandoline slicer has one v-shaped blade used for straight cutting. While the first mandolin model includes a 3/16 inch julienne blade, the second model comes with a coarse grater and thick and thin julienne blades. The last one, a handheld v-blade mandoline slicer, does not come with any extra blades.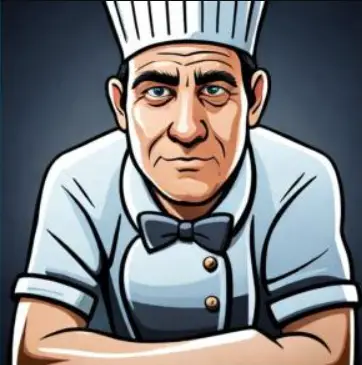 Mario Batali is a renowned author, food enthusiast, and passionate chef who has dedicated his life to exploring the world of culinary arts. With a love for sharing his knowledge and experiences, Mario has become a prominent figure in the food blogging community, inspiring countless readers with his creativity and expertise.
In addition to his culinary prowess, Mario Batali is also a talented writer with a flair for engaging storytelling. He launched his own food blog to share his recipes, cooking tips, and personal experiences in the kitchen. Over time, Mario's blog gained a loyal following of food enthusiasts who appreciate his unique approach to cooking and his dedication to using only the finest ingredients.
Mario Batali's passion for food and his commitment to sharing his knowledge with others have made him a true inspiration in the world of culinary arts. Through his blog, cookbooks, and public appearances, Mario continues to spread his love of food and the joy of cooking with his ever-growing fanbase.