A KitchenAid slicer and shredder is a kitchen appliance used to slice and shred various food items. With a KitchenAid slicer and shredder, you can quickly and easily prepare fresh fruits and vegetables for salads, soups, and other dishes. You can also use your KitchenAid slicer and shredder to shred cooked meat, cheese, and other ingredients for tacos, pizzas, and other recipes. With this handy kitchen appliance, you can save time and effort in the kitchen. You can transform the stand mixture into a versatile appliance with KitchenAid slicer and shredder attachments.
How To Use Kitchenaid Slicer Shredder Attachments?
You can use the KitchenAid attachments by fixing them into the stand mixture. Follow the below steps for slicing and shredding food.
Step 1: Place a large bowl under the attachment to catch the food when it comes out from the tube.

Place Bowl To Catch The Food

Step 2: If food is very large, place it on a cutting board and cut it in half. It can easily fit in the food tube.
Step 3: Turn on the KitchenAid slicer shredder; attach the part you need for slicing or shredding.

Turn On The Kitchenaid Slicer Shredder

Step 4: Adjust the speed on your desired number. It depends on the food.

Adjust The Speed On Desired Number

Step 5: Press the start button and place food in the food tube. The Kitchenaid attachment will slice very quickly. Food will be collected into the bowl.
Step 6: When slicing is finished, turn off the slicer. Disassemble the parts and clean them as soon as possible.

Slice The Vegetable
Kitchenaid Slicer Shredder Attachment Recipes
From shredding cheese for nachos to slicing veggies for stir-fry, the Kitchenaid slicer shredder attachment is a versatile kitchen gadget that can help you create all sorts of delicious dishes. You can prepare several dishes with these attachments. Few dishes are discussed below.
Scalloped Potatoes And Zucchini Recipe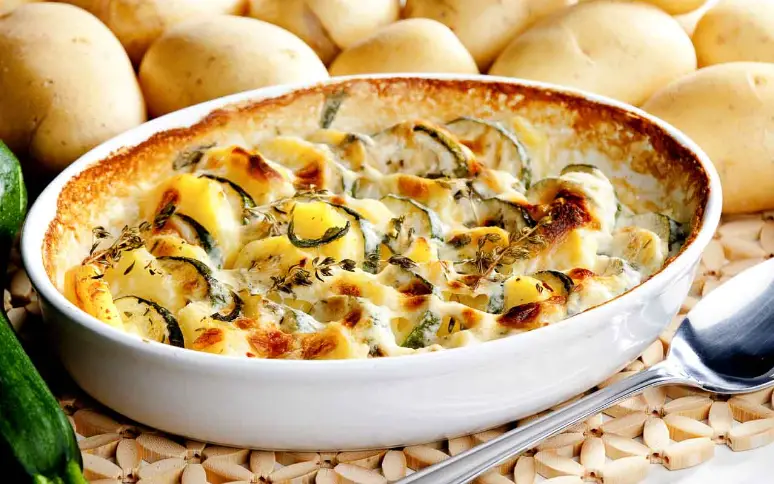 Using Kitchenaid slicing attachments, you can prepare scalloped potatoes and zucchini in less time.
Ingredients:
Potatoes – 1 pound
Zucchini – 1 large
Gruyere 1-1/2 ounces
Parmesan – 1 ounce
Heavy cream – 1 cup
Nutmegs – ½ teaspoon
Garlic cloves – 2 crushed garlic cloves.
Kosher salt – 1 teaspoon
Black pepper – ¼ teaspoon
Thyme leaves – 1 tablespoon
Preparation:
Attach the KitchenAid slicing/ shredding attachments to the stand mixture.
Insert the slicing blades and set them to speed 4.
Put the potatoes in the food tube; it will slice very thinly. Then slice zucchini.
Now insert medium shredder blades and shred gruyere. Also, shred parmesan.
Put heavy cream in a pot and add nutmeg, garlic cloves, kosher salt, black pepper, and thyme leaves. Simmer it for ten minutes on medium heat.
Set the potatoes and zucchini in a baking pan. Add the cream mixture to them and cover with an aluminum sheet.
Place in the oven and bake for 60- 70 minutes. When it is baked, let it cool.
Remove sheet, spread cheese on the pan and broil for 5-10 minutes. The delicious dish is ready to eat.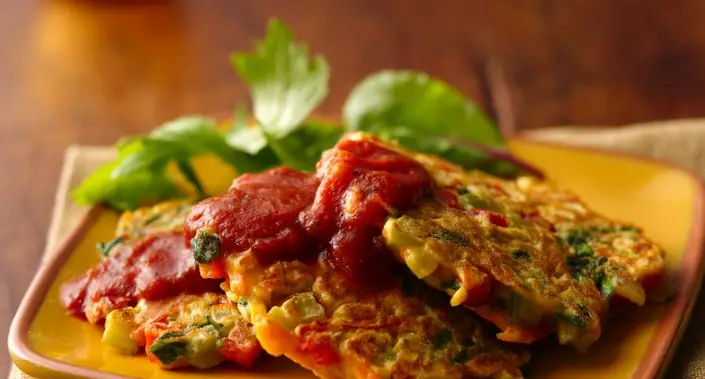 Ingredients:
Carrots – 4, medium
Cabbage – ½ small
Kale leaves – 5
Scallions – 4
Kosher salt – 1 teaspoon
Flour – ½ cup
Eggs – 6 beaten
Pancake mixture – ¼ cup
Preparation:
Insert the medium shredding blades in the blade holder.
Set speed to 4. Turn on the slicer and shred the carrots. Now remove the shredding blades and insert the slicing blade.
Slice cabbage head in the KitchenAid slicer.
Mix in a bowl all vegetables and spices. Also, add slightly beaten eggs and flour.
Take some mixture, give it a round shape and fry in the pan with oil until brown from both sides.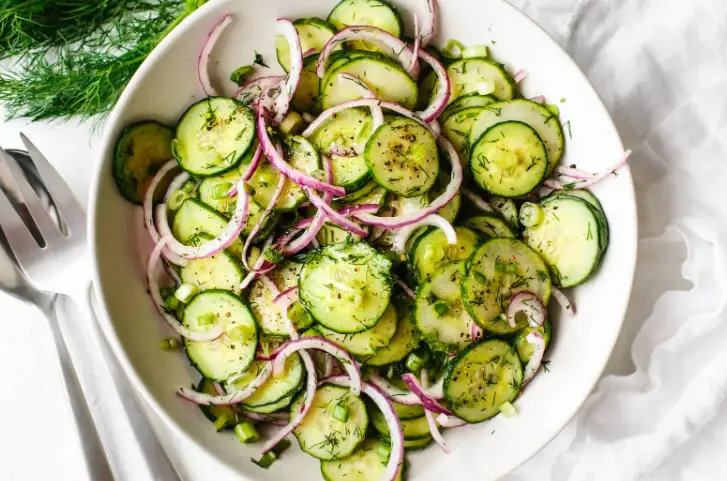 Ingredients:
Cucumber – 2, large
Soy sauce – 1 tablespoon
Vinegar – 3 tablespoons
Sugar – 1 teaspoon
Garlic clove – 1, minced
Ginger – 1 teaspoon, minced
Cayenne – 1/8 teaspoon
Black pepper to taste
Salt to taste
Sesame oil – 2 tablespoons
Sunflower oil – 3 tablespoons
Scallions – 1 bunch
Cilantro – 2 tablespoons
Sesame seeds to taste
Preparation:
Insert slicing blades into the stand mixer and set slicing speed to 4.
Put cucumbers in a food tube, and pace a bowl under the blades. Kitchenaid will slice cucumber evenly.
Turn off the slicer. Add all spices to the bowl and mix them thoroughly. Let the bowl for a few minutes, and eat this delicious salad. It is healthy and nutritious.
Kitchenaid Slicer Shredder Attachments And Blades
Kitchenaid slicer shredder attachments can be used for vegetables and blocks of cheese. These attachments can slice and shred large and small size diameters of vegetables. It is very convenient to prepare for large parties. You can also freeze sliced vegetables for a few days. Food can be processed at different speeds, high or low.
Different sizes of blades are included in the attachments.
3mm slicing blades can be used for cucumbers, celery, zucchini, and carrots.
At the same time, 4mm medium blades are used for shredding firm vegetables, cheese, and carrots.
The 6mm blades are great for shredding cabbages, potatoes, and other vegetables. Blades slice the whole vegetables and blocks of cheese without wasting any part.

Different Blades In The Attachments
Kitchenaid Slicer And Shredder Maintenance
To keep your Kitchenaid slicer and shredder in top condition and get the most out of it, you must follow these simple tips:
Always use the correct attachments for the job at hand.
Be sure to read the instruction manual before using the appliance.
Use a light touch when feeding food into the slicer or shredder.
Never force the appliance to work through tough or fibrous foods.
After each use, disassemble the attachments and wash them thoroughly in hot, soapy water.
Wipe down the body of the appliance with a damp cloth.
Store the appliance in a cool, dry place.
Always use a food pusher to save your hands.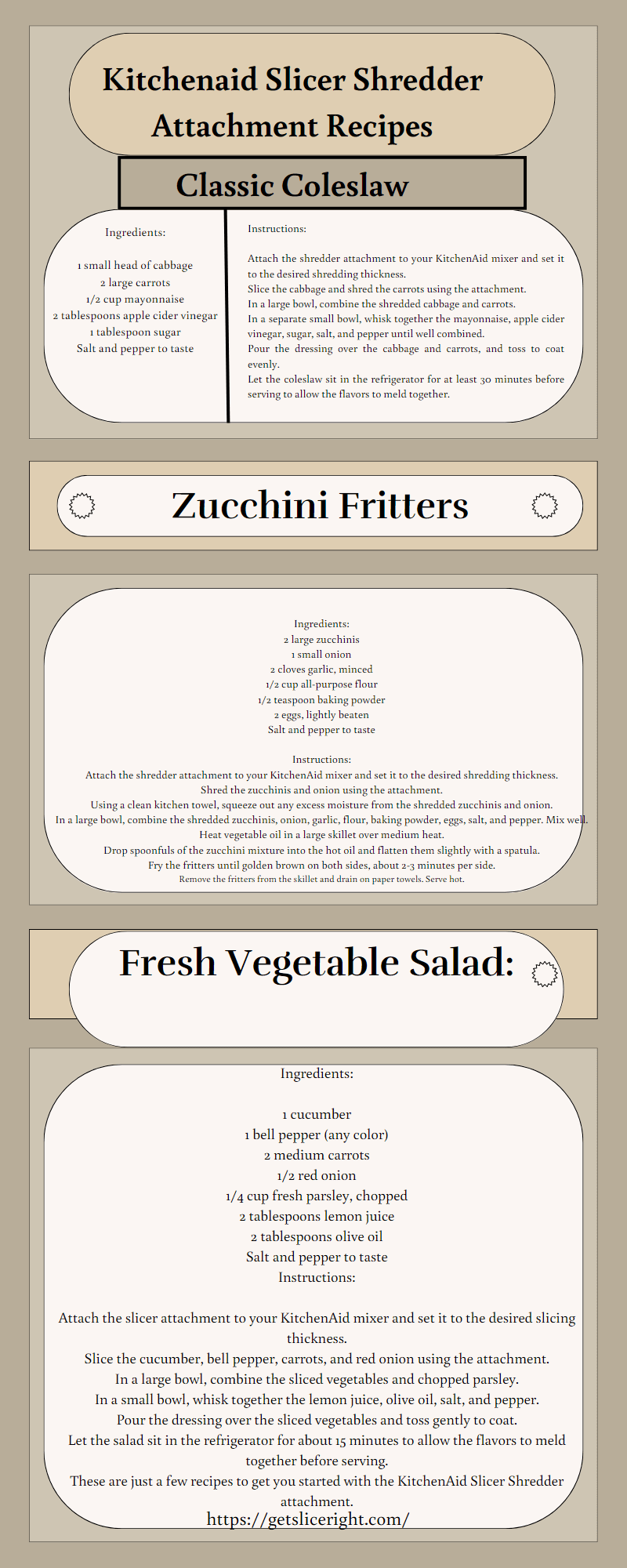 With just a little care, your Kitchenaid slicer and shredder will give you years of trouble-free service. The food pusher of Kitchenaid prevents your fingers from placing food in a food tube and getting injured. In short, It's very easy to clean, maintain, use and store. You can make dozens of recipes using these attachments. It will save time and slice food in a thin, perfect way.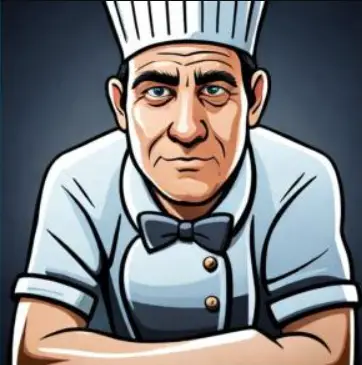 Mario Batali is a renowned author, food enthusiast, and passionate chef who has dedicated his life to exploring the world of culinary arts. With a love for sharing his knowledge and experiences, Mario has become a prominent figure in the food blogging community, inspiring countless readers with his creativity and expertise.
In addition to his culinary prowess, Mario Batali is also a talented writer with a flair for engaging storytelling. He launched his own food blog to share his recipes, cooking tips, and personal experiences in the kitchen. Over time, Mario's blog gained a loyal following of food enthusiasts who appreciate his unique approach to cooking and his dedication to using only the finest ingredients.
Mario Batali's passion for food and his commitment to sharing his knowledge with others have made him a true inspiration in the world of culinary arts. Through his blog, cookbooks, and public appearances, Mario continues to spread his love of food and the joy of cooking with his ever-growing fanbase.