KitchenAid is famous for home appliances throughout the world. Its products are in the form of a stand mixer. Stand mixer comes with a grinder, food processor and whisk. The question arises here can we also slice meat and other food with KitchenAid? Does KitchenAid also provide attachments for slicing and shredding?
KitchenAid slicer has a slicer and shredder attachment for slicing and shredding fruits and vegetables. But you can also shred meat with it. The KitchenAid is designed to help you to save time in the kitchen. The slicer has a powerful motor, and it is excellent for quickly slicing and shredding meat and vegetables. It is easy to assemble and use with every stand KitchenAid stand mixer.
Does Kitchenaid Have A Meat Slicer Attachment?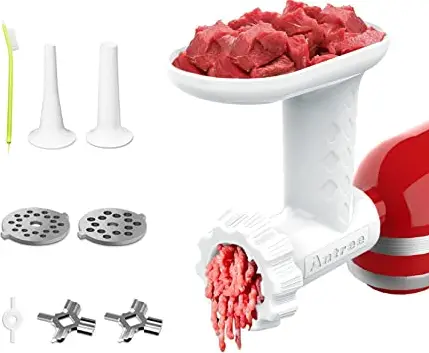 Yes! You can turn your KitchenAid stand mixture into a slice and shred the meat processing machine. It can quickly slice chicken breast, steaks, and other meat for sandwiches. You can attach the Kitchenaid with a grinder attachment. It will make mince of meat quickly. You can select your desired thickness. It will slice meat for you. It is easy to clean, and the entire unit can be taken apart for thorough cleaning. It prepares meals easy and fast and saves your hands and nails from cuts and injuries.
Slicer Blade Attachments Size and Use
It comes with slicing and shredding cones that you can quickly fix according to your need.
3 mm slicing blade: This blade is great for slicing meat, onions, radish, cucumber, celery and zucchini.
4 mm medium blade: It is great for firm vegetables.
6 mm coarse blade: You can shred with it nuts and chocolate.

Slicer Blade Attachments
How To Slice Meat With Kitchenaid Slicer Attachment?
You can attach the KitchenAid slicer accessories to the power hub with a stand mixer. Slicer attachment can slice vegetables, meat, fruits and cheese. Its main quality and benefit are compatible with any KitchenAid mixer. You can easily transform your stand mixer into a kitchen utensil to perform more tasks.
Step 1: Attach the slicer with the KitchenAid stand mixer. Choose the blades and slide them into the attachment until they fix into the place.

Attach the slicer with the KitchenAid

Step 2: Cut meat into the slices to slices to fit inside the feed tube and place a large bowl under the attachment.

cut meat into slices with knife

Step 3: Turn on the stand mixer and select the speed. Place the meat into the feed tube, using the food pusher to guide it into the attachment.

Turn on the stand mixer

Step 4: Press down the release lever of the mixer to remove the blade when the whole meat is sliced.

Slice the meat
Tips while using the Meat Slicer Attachments
Wash all the blades and food pusher in the top rack of the dishwasher.
Dry thoroughly with a soft, damp cloth.
Wash as soon as possible.
The attachment included storage accessories stored after use in the storage case for simple and safe storage.
Do not apply steel wool to wash the slicer. It will make scratches and damage it.
Wear gloves before slicing to keep food away from germs.
Wash your hands before and after slicing.
Keep the slicer in a cool and dry place, away from heat and water. .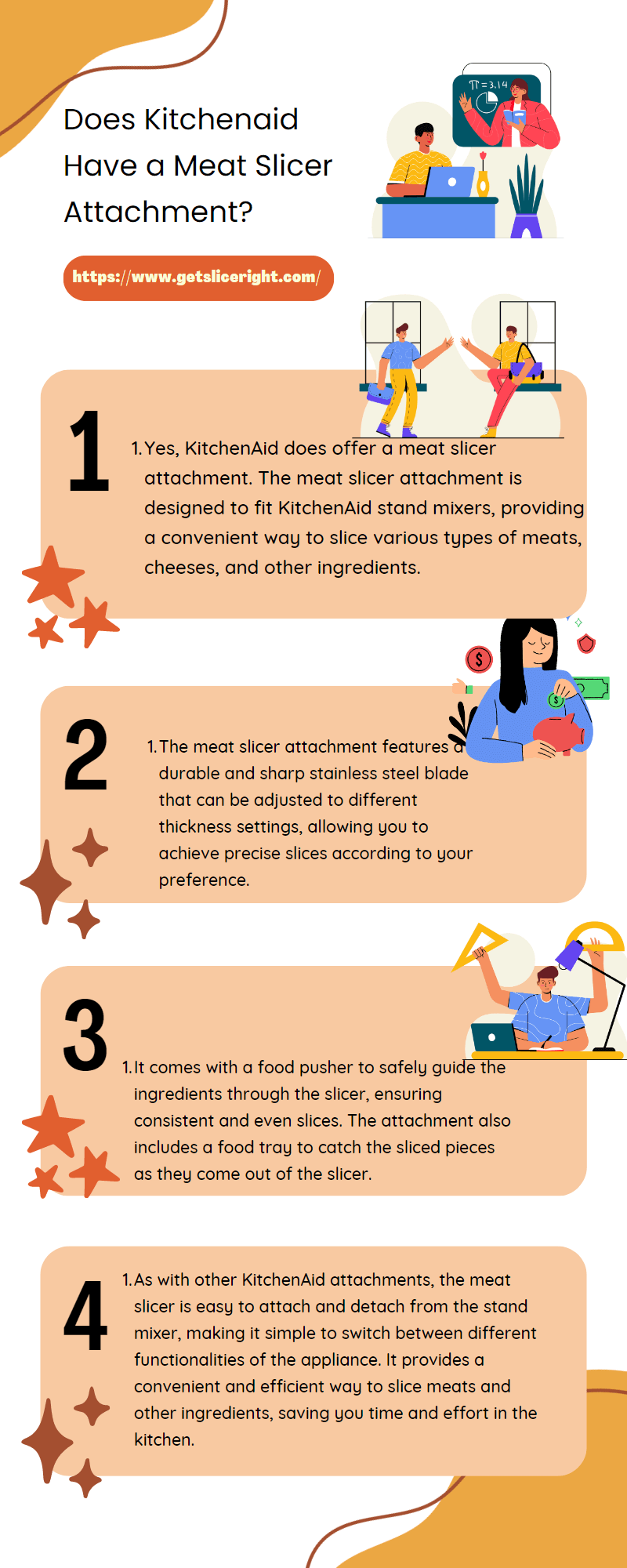 The KitchenAid slicer attachment is a quick and easy way to slice and shred fresh ingredients. It is ideal for all slicing needs. It will give you the best user experience. Slicer attachments will make cooking fast and enjoyable.
Kitchenaid Meat Slicer Attachment Unboxing Video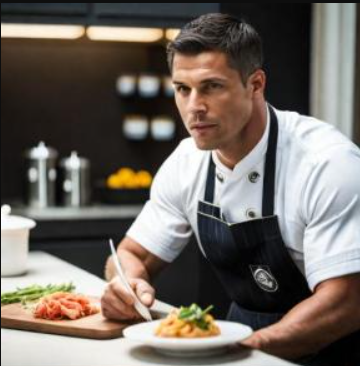 John Hebdon is a food enthusiast, passionate chef, and author of various articles and blog posts related to food and cooking. With a deep love for all things culinary, John's blog serves as a platform to share his extensive kitchen experiences with a broader audience.
In addition to his culinary expertise, John has a flair for writing and a natural ability to share his passion for food with others. His articles and blog posts are informative, engaging, and packed with practical tips for readers of all skill levels.
As a food enthusiast and writer, John is always on the lookout for new and exciting culinary experiences. Whether it's trying out a new restaurant, experimenting with a new recipe, or simply sharing a favorite dish with friends and family, John is always eager to explore and share the world of food with others.