Hotpot is a very popular dish which is eaten in very countries. It originated in China. It consists of many raw and cooked vegetables, noodles, meat, and seafood. Food is added to the hotpot dish with skewers or using chopsticks. Different types of sauces are also served with delicious hotpot dish.
Cutting Meat Thinly For HotPot
Meat is the main and must-have ingredient of hotpot. It is sliced very thinly. Mostly lean cuts of meat like beef flank, brisket, and ribeye are used for adding to hotpot dish. Hot pot meat can be sliced at home with many tools. You can slice with a knife using a mandoline slicer or meat slicer. Meat slices for hot pot are also available in the market.
How to Slice Meat Manually for Hotpot?
Meat for hotpot can be sliced with a knife or on a mandoline. Slicing manually is not complicated. Sliced meat for hotpot is available in grocery shops and supermarkets. Slicing meat at home can save your a lot of money. You can slice thinly with a sharp knife easily following the cutting techniques. Below the slicing method is described:
Step 1: Wash the meat under running water thoroughly. Drain the water and place it in the freezer for 2-4 hours. When meat is firm enough to slice, bring it out and place on a cutting board and partially thaw it.

Place Meat On A Cutting Board

Step 2: Take a sharp knife and start slicing meat. Slice the meat for hotpot against the grain.
Step 3: Slice each slab of meat in 1-2 mm. Hold the meat firmly to get even slices. It is very important to slice thinly so that meat can cook quickly.

Slice With Sharp Knife

Step 4: Slice from one side of meat to the other. Slice using a swing motion.
Step 5: When meat is sliced for the hotpot, remove it from the cutting board and shift it to a bowl. Wash the cutting board and knife as soon as possible.

Sliced Meat For The Hotpot
How to Slice Meat for Hotpot Using a Mandoline?
Mandoline is a simple tool for slicing vegetables, meat chess, and fruit. It can be used for slicing meat efficiently at home for hotpots. Mandoline is a versatile tool and not very expensive. You can prepare vegetables for daily meals on it and save your time. It is a one-time worth investment for your future.
Follow these steps for slicing a hotpot meal on mandoline.
Step 1: Wash the meat and wait until it is dried.
Step 2: Adjust the blades on the mandoline slicer for slicing hotpot meat.
Step 3: Cut meat into small chunks to fit them in the hand guard.
Step 4: Start slicing meat on a mandoline slicer. Push the hand guard on blades back and forth for slicing meat thinly. Place a large size bowl or food container under the blades to collect meat slices.

Slicing Meat On A Mandoline Slicer

Step 5: Slice all the meat chunks by fitting them in hand guard and pushing on sharp blades of mandoline.
How to Slice Meat for Hotpot on Electric Meat Slicer?
A meat slicer is an electronic tool for slicing meat, vegetables, and cheese in different thicknesses. It can also slice meat for hotpot very thinly. You can cut meat with the given steps:
Step 1: Wash the meat and remove the excess fat from it. Fat can get stuck in blades and cause dull slices.
Step 2: Adjust the blades to the thinnest setting and turn on the meat slicer.

Adjust The Blades

Step 3: Place the piece of meat on the food and push it for slicing.

Place Meat And Push For Slicing

Step 4: The meat slicer will start slicing. Check the thickness of the first slice and adjust if needed.

Slicing Meat For Hotpot

Step 5: When slicing is finished, turn off the slicer and remove meat slices for the hotpot from the food carriage tray.
Tips for Slicing Hotpot Meat
Place meat in the freezer for a few hours. It will help to slice meat paper-thin.
Before placing the meat in the freezer for hotpot, cut it into chunks. Once the meat is frozen, it will be difficult to slice.
Cut the meat for hotpot against the grains. If sliced along the grains, it will be chewer and require more cooking time.
Slice meat for hotpot at least 1/8 inch thinner.
Best Meat to Slice for Hotpot
Any type of meat can be used for adding to a hot pot. You can use chicken, beef, or lamb according to your choice.
Beef: Beef is the first choice when selecting meat for adding to a hotpot. Always use fresh beef meat; it will be more tender and quickly cooked. If thinly sliced, it will take just a few minutes to cook.
Chicken: Chicken meat is cooked fastly than other meats. Breast or thigh parts are best for preparing hotpots.
Lamb: Lamb meat is also used in hotpot. It is very delicious meat. Use shoulder and leg parts after slicing thinly.
Chinese Hotpot: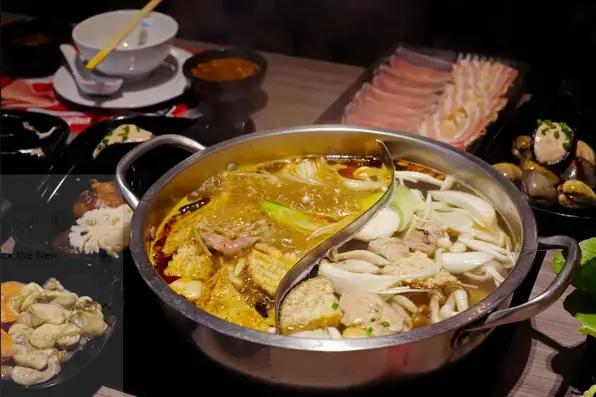 There are many different types of hotpot, each with its unique flavor and ingredients. The most popular hotpot is probably the Chinese hotpot, which is typically made with various kinds of meat, vegetables, and noodles. However, there are also Japanese, Korean, and Thai versions of hotpot, each with its distinct taste.
Shabu Shabu: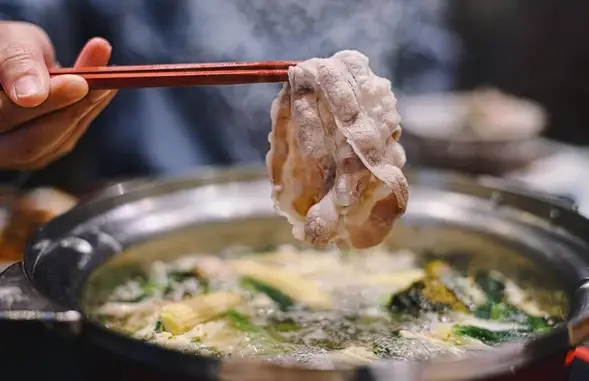 Shabu Shabu is a Japanese hotpot dish that typically consists of thinly sliced beef that is cooked in a broth and then dipped in a variety of sauces. The name Shabu Shabu comes from the sound that is made when the beef is cooked in the broth. It is often served with vegetables and noodles.
Thai suki: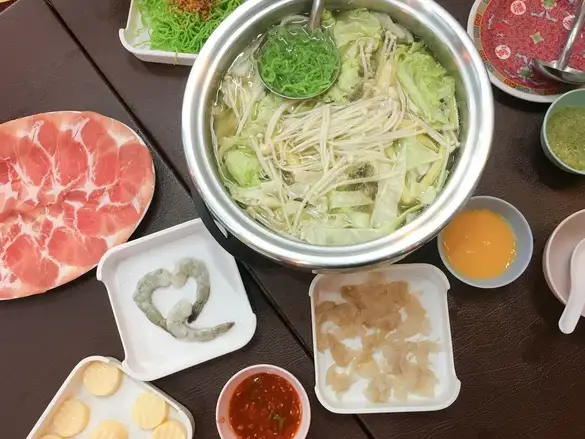 Thai suki is the Thai variant of hotpot. It offers more ingredients than a traditional hotpot. Thai suki is usually made from chili, lime, chili sauces, coriander sauce, and other spices.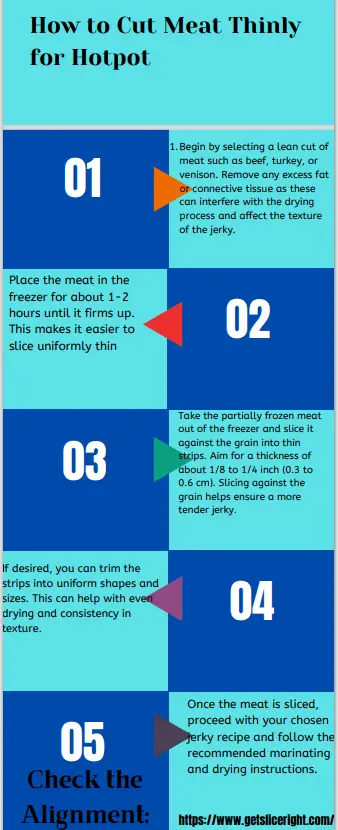 Hotpot is a popular dish which is eaten throughout the world with some variation. This Chinese dish is a mixture of meat, vegetables, noodles, seafood, and spices. Hotpot is a nutritious dish with all types of food items. Meat for hotpot is sliced very thinly to cook quickly. You do not need to purchase expensive pre-sliced meat from shops. It can be easily sliced at home with little care and practice.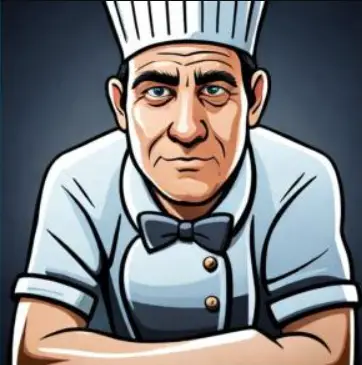 Mario Batali is a renowned author, food enthusiast, and passionate chef who has dedicated his life to exploring the world of culinary arts. With a love for sharing his knowledge and experiences, Mario has become a prominent figure in the food blogging community, inspiring countless readers with his creativity and expertise.
In addition to his culinary prowess, Mario Batali is also a talented writer with a flair for engaging storytelling. He launched his own food blog to share his recipes, cooking tips, and personal experiences in the kitchen. Over time, Mario's blog gained a loyal following of food enthusiasts who appreciate his unique approach to cooking and his dedication to using only the finest ingredients.
Mario Batali's passion for food and his commitment to sharing his knowledge with others have made him a true inspiration in the world of culinary arts. Through his blog, cookbooks, and public appearances, Mario continues to spread his love of food and the joy of cooking with his ever-growing fanbase.