Hobart meat slicer is the preferred choice of restaurants, hotels, and delis worldwide. It is best for slicing and cutting meat and vegetables. It has stainless steel knives and is easy to use. Like other machines, it also troubleshoots for several reasons after frequent use. Like poor slice quality, do not run of automatic operation and making noise. If it is not slicing and running, identify the problem, and solve it with the help of the following tips.
HOBART SLICER Not Working!
Slicer is not starting: Numerous reasons prevent your slicer from starting. Firstly, make sure that you have plugged the slicer correctly into the electric outlet. If there is no issue in plugging, then check that carriage is not in the home position. Then reset the button underneath the unit to start running the slicer.

Plugin the slicer

Don't continue running: When the Hobart slicer stops running during slicing, check that you have correctly installed the carriage tray. Make sure the index box is open, and the gauge plate switch is in place.
Difficult to slice: Dull knives can be a reason behind when you face difficulty in slicing. Check that they need sharpening or replacement. Lubricate the rods and ensure that the slicer is slicing easily.

Solving blade issue

Poor slice quality: If your slicer is producing a poor quality slice, it should be due to knife and other following reasons.

The large or small size knife.
Sharpening stones are a worm.
The carriage tray is not correct.
The top cover is missing.

The automatic operation does not run: Hobart slicers have some automated operations. It can stop when you forget to set it. Reset the unit and check the circuit breaker if required.
Slicer is making noise: The slicer can make noise due to overworking, or it needs to be cleaned. Open and clean the gears and also check the unit rubber footings are clean and on the level. Replace teeth if they are damaged.
The meat slicer is not sliding: Sometimes the slicer stops sliding. To fix the sliding issue, clean the slides and lubricate them with a solvent.
How to avoid Hobart Slicer Problems?
Clean slicer entirely around the ring guard.

Clean slicer with Soft Cloth

Never clean any part with steel wool.

Avoid using steel wool

Wash and sanitize all parts of the slicer regularly in the recommended way.

Sanitize all parts of the slicer

Lubricate slide rods once a month.
Knife guards must be in their position.
Make sure you can see both hands.
Keep hands and arms away from directly touching the slicer.
Always carry a knife and knife remover tool by tool handle.
The Slicer knife is very sharp; exercise extreme caution when working near it.
The meat slicer won't slice?
Clean the slides and lubricate them.
Why the knife stops automatic running?
Circuit breaker needs to be repaired.
Why my meat slicer has stopped running?
May the carriage tray need to be installed properly.
Why my slicer is slicing poorly?
Hobart meat slicer adjustment knob stuck won't adjust! ( Video Solution )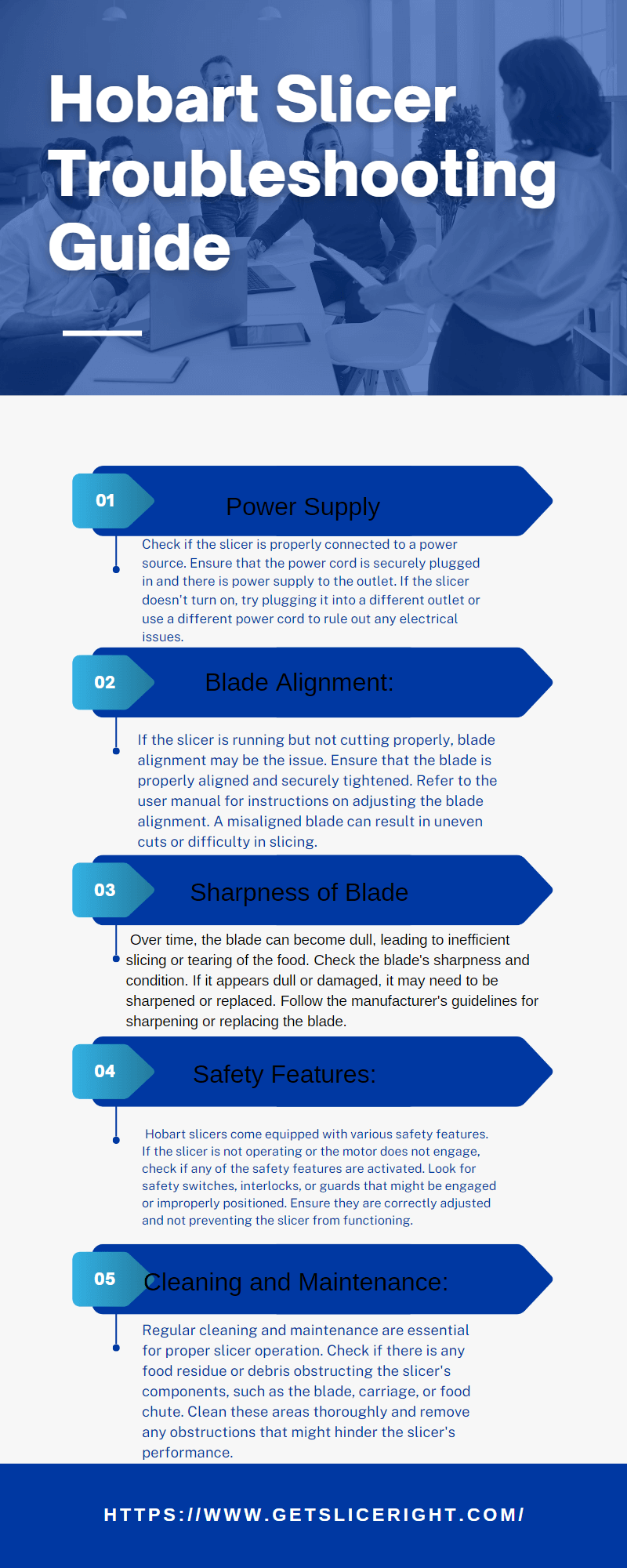 You must be aware of all parts of the slicer so you can feel comfortable working on it. It is also important because you can be able to fix the Hobart Slicer and troubleshoot yourself. The slicer manual will give you more guidance.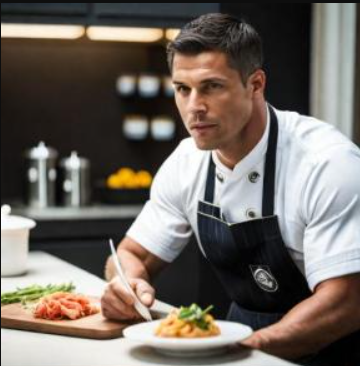 John Hebdon is a food enthusiast, passionate chef, and author of various articles and blog posts related to food and cooking. With a deep love for all things culinary, John's blog serves as a platform to share his extensive kitchen experiences with a broader audience.
In addition to his culinary expertise, John has a flair for writing and a natural ability to share his passion for food with others. His articles and blog posts are informative, engaging, and packed with practical tips for readers of all skill levels.
As a food enthusiast and writer, John is always on the lookout for new and exciting culinary experiences. Whether it's trying out a new restaurant, experimenting with a new recipe, or simply sharing a favorite dish with friends and family, John is always eager to explore and share the world of food with others.