Mercer and Victorinox are both reputable brands known for their high-quality kitchen knives. Mercer offers various collections, designs, and blade materials, making it a popular choice for home chefs and professionals. Their knives are made in Taiwan and are known for their affordability without compromising performance. On the other hand, Victorinox knives are Swiss-made, known for their precision and durability. They have distinct collections and handle materials, catering to different preferences. While Victorinox knives are slightly more expensive, they are highly regarded for their craftsmanship. Ultimately, the choice between Mercer and Victorinox will depend on individual preferences, budget, and specific needs in the kitchen.
Mercer Culinary: Cutting-Edge Kitchen Knives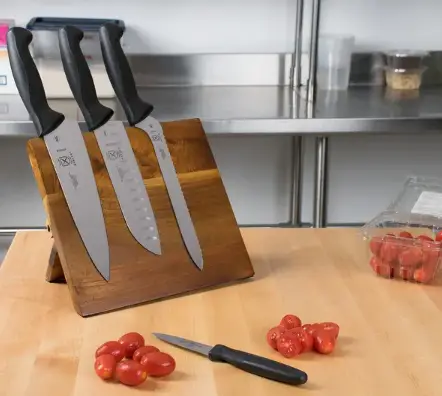 Mercer Culinary is a leading brand in the world of kitchen knives, known for its cutting-edge designs and high-performance blades. With a focus on innovation and functionality, Mercer Culinary offers a range of knives that cater to the diverse needs of both professional chefs and home cooks. From unique design choices to various blade and handle materials, Mercer Culinary knives provide exceptional kitchen sharpness, durability, and comfort. You can elevate your culinary experience with these top-notch kitchen tools from Mercer Culinary.
Design: Unique and Functional
Mercer Culinary knives feature unique design choices that blend aesthetics with practicality. The contrasting combination of German stainless steel blades and matte-finish, non-slip Santoprene handles creates a visually striking appeal while ensuring a secure and comfortable grip. Incorporating the Mercer Culinary logo on the handle, blade, and NSF food safety and sanitation designation adds a touch of authenticity and reassurance.
Blade Material: Optimal Performance
Mercer Culinary offers knives with different blade materials, each catering to specific needs and preferences: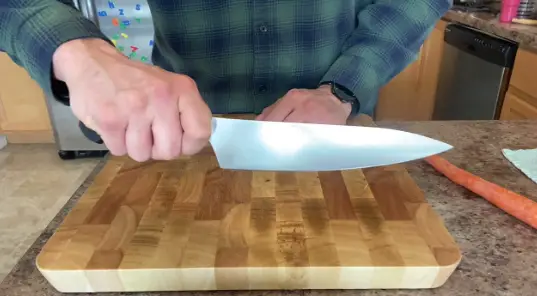 German Steel (X50CrMoV15):
These blades are crafted from an alloy known for their corrosion resistance, durability, and excellent edge retention. The high chromium content makes them resistant to stains, while the carbon and vanadium enhance their strength and longevity.
Japanese Steel (X30CR13):
Mercer Culinary also utilizes Japanese steel for knife blades. This composition results in softer steel, which reduces the likelihood of chipping. These blades are relatively easy to sharpen at home, ensuring convenience for users.
Japanese Steel (VG10):
Mercer Culinary's knives with VG10 steel are crafted from high-quality, hard, and corrosion-resistant Japanese steel. VG10 steel is renowned for its exceptional edge retention, making it an ideal choice for those seeking long-lasting sharpness and precision.
Handle Material: Comfort and Durability
Mercer Culinary offers a range of handle materials to suit diverse preferences and requirements:
Synthetic Options:
Mercer Culinary employs various synthetic materials for handles, including Santoprene, DELRIN, polypropylene, and textured, glass-reinforced nylon. These synthetic options offer durability, ease of maintenance, and a comfortable grip, ensuring a reliable and hygienic kitchen experience.
Natural Handle Options:
For those who prefer a more traditional and natural feel, Mercer Culinary provides handle options made from rosewood and light-colored wood. These natural materials add a touch of elegance and uniqueness to the knives while providing a comfortable grip during use.
Mercer Culinary is renowned for its cutting-edge kitchen knives, offering a diverse range of collections that cater to different preferences and needs.
Exceptional Precision and Sharpness
The MX3 collection from Mercer Culinary is a true testament to precision and sharpness. These knives feature a VG-10 stainless steel core, renowned for its exceptional edge retention and durability. With laminated outer layers, the MX3 knives offer optimal balance, allowing for precise and effortless cutting. This collection is perfect for those who seek top-notch performance in their kitchen tools.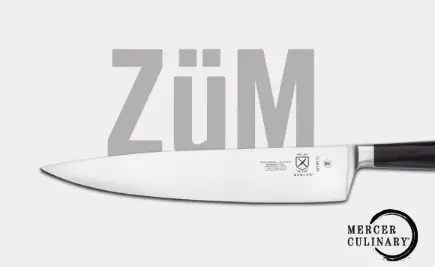 ZüM: Sleek and Sophisticated
The ZüM collection by Mercer Culinary combines sleek design with exceptional functionality. Crafted from forged, high-carbon German steel, these knives boast superior strength and durability. The sophisticated design of the ZüM collection adds an elegant touch to any kitchen, making it a favorite among chefs who appreciate both style and performance.
Renaissance: Classic German-Style Knives
Mercer Culinary's Renaissance collection pays homage to classic German-style knives. Featuring short bolsters and taper ground edges, these knives offer excellent balance and control. The full-tang construction ensures durability and stability, while the German steel blades provide long-lasting sharpness. The Renaissance collection is a timeless choice for those who appreciate traditional craftsmanship.
Genesis: Balance, Sharpness, and Grip
Genesis knives from Mercer Culinary are designed with practicality and comfort in mind. The no-slip Santoprene grip handles offer a secure hold, even when hands are wet. These forged, full-tang knives provide excellent balance and lasting sharpness, making them reliable companions in the kitchen. The Genesis collection is ideal for chefs who value both performance and ergonomics.
BPX: Textured Handle and Ice-Hardened Blades
The BPX collection stands out with its textured handle and ice-hardened steel blades. This collection, designed specifically for butcher knives, ensures durability and blade strength even in rigorous cutting tasks. The textured handle provides a secure grip, allowing for precise control and reducing the risk of slippage. The BPX collection is a trusted choice for those who work with meat regularly.
Millennia: Razor-Sharp Stamped Knives
Mercer Culinary's Millennia collection offers razor-sharp stamped knives with exceptional cutting performance. Designed with a comfortable Santoprene grip, these knives are engineered to reduce hand fatigue during prolonged use. The Millennia collection is popular among chefs and home cooks thanks to its affordability and reliable performance.
Praxis: Eye-Catching Rosewood Handles
Featuring eye-catching rosewood handles, the Praxis collection combines aesthetics with functionality. These knives boast super-sharp stamped Japanese steel blades that ensure precision and accuracy in every cut. The gold-toned rivets add a touch of elegance to the design, making the Praxis collection a stylish addition to any kitchen.
Ultimate White: Stamped, High-Carbon Japanese Steel
The Ultimate White collection from Mercer Culinary features stamped, high-carbon Japanese steel blades known for their exceptional sharpness and edge retention. The white, textured handles offer a secure and comfortable grip, ensuring safety during food preparation. With its combination of functionality and aesthetics, the Ultimate White collection is a favorite among those who appreciate reliable performance and a sleek design.
Asian Collection: Razor-Sharp Japanese-Style Stamped Knives
The Asian Collection by Mercer Culinary offers a range of razor-sharp, Japanese-style stamped knives crafted with precision and designed to meet the demands of professional chefs and home cooking enthusiasts alike. Made with high-quality German steel and featuring traditional wood handles, this collection combines the best Japanese and German knife-making traditions to deliver exceptional performance in the kitchen.
Victorinox: Swiss Precision at Your Fingertips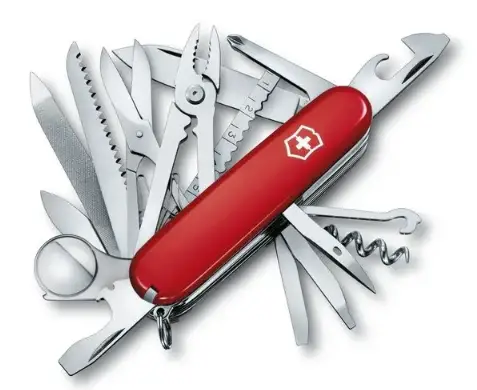 Experience Swiss precision in the palm of your hand with Victorinox knives. With a commitment to quality and craftsmanship, Victorinox offers a range of kitchen knives designed to meet the needs of professionals and home cooks alike. From the functional and grippy handles of the Fibrox collection to the elegance of wood handles in the Grand Maître collection, each knife is meticulously crafted for exceptional performance. With martensitic steel blades for durability and edge retention, Victorinox knives deliver precision cutting and long-lasting sharpness. Discover the perfect tool for your culinary adventures with Victorinox: where Swiss precision meets culinary excellence.
Fibrox Knives Designed for Professional Use.
Victorinox's Fibrox knives are specifically designed to meet the needs of professionals in the culinary industry. These knives offer functionality and reliability, making them a top choice for chefs and cooking enthusiasts. The thermoplastic elastomer handles are grippy and comfortable, ensuring a secure grip. With textured and ergonomic handles, Fibrox knives provide a hygienic experience and excellent control, even when wet. The Victorinox logo, NSF certification, and Swiss Made emblem proudly adorn both the handle and blade, showcasing the brand's commitment to quality and precision.
Martensitic Steel for Durability and Edge Retention
Victorinox knives utilize martensitic steel, a stainless steel alloy known for its exceptional durability, corrosion resistance, and ability to retain a sharp edge. The high carbon content in the steel contributes to its strength and longevity, making it well-suited for demanding kitchen tasks. The inclusion of chromium and molybdenum further enhances the steel's performance, providing excellent hardness, corrosion resistance, and overall blade quality. With the use of martensitic steel, Victorinox ensures that their knives are capable of withstanding rigorous use while maintaining their sharpness and functionality.
Durable Synthetic and Natural Wood Options
Victorinox offers a range of handle materials to suit different preferences and needs. For durability and reliability, they utilize synthetic substances such as polyoxymethylene, thermoplastic elastomer, and polypropylene copolymer. These materials are known for their strength, resistance to wear and tear, and ease of maintenance. They provide a comfortable and secure grip, even in demanding kitchen environments. In addition to synthetic options, Victorinox also offers natural wood handle choices, including modified maple, rosewood, and walnut. These natural wood handles not only add a touch of elegance but also offer a warm and organic feel to the hand. They are carefully crafted to ensure a comfortable grip and precise control during cutting tasks.
Swiss Modern: Straight-Edge Stamped Knives
The Swiss Modern collection by Victorinox offers a range of straight-edge stamped knives with a modern design that combines functionality with aesthetic appeal. These knives feature walnut wood or synthetic-colored handles, providing a touch of elegance to your kitchen. With their sharp blades and sleek design, Modern Swiss knives are a reliable and stylish choice for any home chef.
Swiss Classic: Lightweight, Colorful Stamped Knives
The Swiss Classic collection is designed for everyday kitchen tasks. These lightweight and colorful stamped knives are known for their versatility and ease of use. With their low-maintenance design, they are a practical choice for busy kitchens. Whether you're slicing, dicing, or chopping, Swiss Classic knives offer precision and efficiency.
Fibrox: Professional-Grade Knives for Experts
Victorinox's Fibrox collection is specifically designed for professionals and culinary enthusiasts who demand the highest quality tools. These knives feature non-slip handles that offer a secure grip, even in wet conditions. The ergonomic design ensures comfort and reduces hand fatigue during extended use. The blades are easy to sharpen and maintain, making Fibrox knives a reliable choice for professional chefs.
Wood: Attractive Handles with Precision Blades
The Wood collection by Victorinox combines attractive wood handles with sharp, stainless steel blades. These knives offer a comfortable grip and precise cutting performance. The natural wood handles add warmth and elegance to the knives, making them a stylish addition to any kitchen. With its reliable cutting power, the Wood collection is perfect for those who appreciate both functionality and aesthetics.
Grand Maître: Forged Perfection
The Grand Maître collection stands out as the only forged knife collection by Victorinox. These knives feature high-carbon stainless steel blades that offer exceptional sharpness and durability. The elegant wood or polyoxymethylene handles provide a comfortable grip and add a touch of sophistication to your culinary experience. The Grand Maître collection is a testament to Victorinox's commitment to precision and craftsmanship.
Mercer vs. Victorinox: Making the Cut
Sharpness:
Mercer knives: Edge angle of 15 to 16 degrees per side, offering a total edge angle of 30 to 32 degrees.
Victorinox knives: Edge angle of 15 to 20 degrees per side, providing a total edge angle of 30 to 40 degrees.
Blade Hardness:
Mercer knives: Most score between 53 to 57 HRC, with MX3 collection scoring 60 to 62 HRC.
Victorinox knives: Softer blades, scoring 55-56 HRC.
Warranty and Guarantee:
Mercer: Limited lifetime warranty for home use and a 25-year warranty for commercial use.
Victorinox: Lifetime warranty starting from the original purchase date, guaranteeing defect-free knives made of first-class stainless steel.
Price:
Mercer: Affordable professional-grade knives made in Taiwan with German steel.
Victorinox: Slightly more expensive Swiss-made knives using high-quality steel alloys.
Buying the Perfect Kitchen Knife: A Handy Guide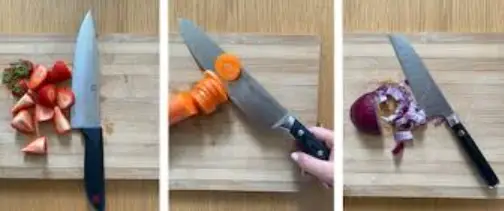 Quality of the Product:
To determine the quality of a kitchen knife, consider these factors:
Sharpness: A high-quality knife should have a sharp edge that allows for precise and effortless cutting. Look for blades that are finely honed and maintain their sharpness over time.
Thickness: The thickness of the blade contributes to its strength and durability. Thicker blades are generally more robust, while thinner blades offer more precision.
Efficiency: A quality knife should be efficient in its cutting performance. It should be able to glide through different ingredients with ease, ensuring clean and accurate cuts.
Lasting Ability of the Knife:
To assess the lasting ability of a knife, focus on the manufacturing of raw materials, particularly stainless steel:
Stainless Steel: Knives made of high-quality stainless steel are more resistant to corrosion, rust, and staining. Look for knives with stainless steel blades that are specifically designed for kitchen use.
Durability: Consider the overall construction and build quality of the knife. Look for features such as full tang (the blade extends into the handle) or forged construction, as these tend to enhance the durability of the knife.
Comfortability of the Knife:
When choosing a kitchen knife, prioritize comfort during use:
Handle Design: Select a knife with an ergonomic handle that fits comfortably in your hand. Look for handles with a comfortable grip and a shape that suits your hand size and grip style.
Ambidextrous Design: Ensure that the knife is suitable for both left-handed and right-handed users. This allows for comfortable and efficient use regardless of your dominant hand.
Pricing of the Product:
Consider the price of the knife and aim to find a balance between affordability and quality:
Budget: Set a budget range that aligns with your preferences and needs. Avoid overspending or compromising on quality by looking for knives that offer good value for money.
Value for Money: Evaluate the overall quality, durability, and performance of the knife in relation to its price. It's worth investing in a knife that will serve you well over time, even if it means paying a slightly higher price.
When comparing Mercer and Victorinox knives, it becomes evident that both brands offer excellent options for kitchen enthusiasts. Mercer stands out with its wide range of knife collections, diverse designs, and affordable prices. Their knives, made in Taiwan, provide professional-grade performance without breaking the bank. On the other hand, Victorinox, known for its Swiss precision and craftsmanship, offers a more focused selection of knives with a strong emphasis on durability. While their knives may be slightly pricier, they are backed by a lifetime warranty and are revered for their quality. Ultimately, the choice between Mercer and Victorinox comes from personal preference, budget, and specific culinary needs.
Mercer Culinary offers a variety of knife collections, each with unique design choices and blade materials.
Victorinox emphasizes Swiss precision and durability, with distinct collections catering to different preferences.
Mercer knives feature German and Japanese steel, while Victorinox uses martensitic steel for their blades.
Both brands offer synthetic and natural handle options, ensuring comfort and a secure grip.
Mercer knives tend to have a sharper edge, while Victorinox knives are slightly softer and easier to sharpen.
Consider warranties, prices, and personal preferences when choosing between Mercer and Victorinox knives.
Are Mercer knives made in the USA?
No, Mercer knives are made in Taiwan.
Where are Victorinox knives made?
Victorinox knives are made in Ibach, Switzerland.
Which brand offers better edge retention?
Mercer knives, especially those with VG10 steel, have excellent edge retention.
Are Mercer knives suitable for professional use?
Yes, Mercer offers collections like MX3 and Genesis that are popular among culinary professionals.
Do Victorinox knives come with a warranty?
Yes, Victorinox offers a lifetime warranty for their knives.
Pros And Cons, Similarities And Differences:
Here's a 5-column table comparing the pros, cons, and similarities and differences between Mercer and Victorinox knives:
| | Mercer Knives | Victorinox Knives |
| --- | --- | --- |
| Pros | – Professional-grade knives at affordable prices | – Swiss precision and craftsmanship |
| | – Wide range of collections and design options | – Range of collections to suit different preferences |
| | – Variety of blade materials and handle options | – Quality stainless steel blades and handle choices |
| Cons | – Limited availability of forged knives | – Relatively higher price point for Swiss-made knives |
| | | – Limited number of collections compared to Mercer |
| Similarities | – Commitment to quality and performance | – Commitment to quality and precision |
| | – Emphasis on ergonomic handle designs | – Emphasis on ergonomic handle designs |
| | – Reputation for durability and sharpness | – Reputation for durability and sharpness |
| Differences | – Manufacturing location: Taiwan | – Manufacturing location: Switzerland |
| | – Price range: Affordable | – Price range: Relatively higher |
| | – Blade materials: German and Japanese steel | – Blade materials: Martensitic steel |
| | – Handle materials: Synthetic and wood | – Handle materials: Synthetic and natural wood |
References And Citations:
Here are some suggested external links related to Mercer and Victorinox knives with corresponding anchor text: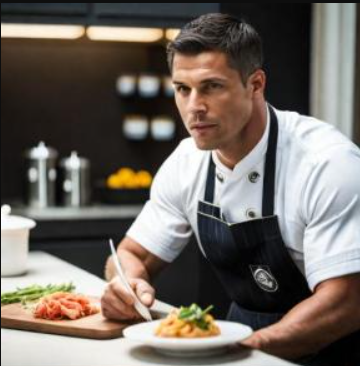 John Hebdon is a food enthusiast, passionate chef, and author of various articles and blog posts related to food and cooking. With a deep love for all things culinary, John's blog serves as a platform to share his extensive kitchen experiences with a broader audience.
In addition to his culinary expertise, John has a flair for writing and a natural ability to share his passion for food with others. His articles and blog posts are informative, engaging, and packed with practical tips for readers of all skill levels.
As a food enthusiast and writer, John is always on the lookout for new and exciting culinary experiences. Whether it's trying out a new restaurant, experimenting with a new recipe, or simply sharing a favorite dish with friends and family, John is always eager to explore and share the world of food with others.