Venison jerky is made from deer meat. It is popular snack food and can be found in many stores. Venison jerky is made by marinating deer meat in a mixture of spices and then drying it. This process gives the meat a chewy texture and a slightly spicy flavor.
Venison jerky is an easy and delicious way to get your daily protein. It can prepare in an oven, dehydrator, or stove. Making deer jerky is a simple process of storing it for a long time. Jerky can be saved for a long time if it is thoroughly dried. You can place it in the freezer or airtight bag at room temperature.
How to Slice Venison Meat for Jerky?
Venison meat can be sliced in a number of ways. It can be sliced with a sharp knife. Before slicing, partially freeze the venison meat for preparing jerky. It will help to cut in desired thickness and provide a firm grip.
If you have an electric meat slicer, deer jerky can be made quickly by using it. With the adjustment knob of the meat slicer thickness of jerky strips can be adjusted. Select always the best cut of meat for jerky, which is from hind legs. Slice the venison meat by applying the below steps:
Step 1 : Place the meat on a large cutting board and trim the fat from deer meat as much as possible. Fat can make the jerky rancid quickly.
Step 2: Start slicing meat with a sharp knife. Make 1 inch long and ¼ to 1/8 inch thick strips.
Step 3: Slice all strips evenly so they can dry and cook at the same temperature. Make sure to slice meat against the grains.
Step 4: When deer meat is sliced, marinate it and dry thoroughly.

Slice Venison Meat For Jerky
How to make Venison Jerky?
Venison jerky can be made in different ways. Venison jerky is a delicious and healthy snack that is easy to make at home. The key to making great venison jerky is to start with high-quality, lean venison. The meat should be trimmed off all fat and then cut into thin strips. The strips can then be marinated in various flavors before being dried in a dehydrator or oven.
When choosing a marinade for your venison jerky, it is important to select one that is both flavorful and will help to preserve the meat. A good marinade will contain salt, sugar, vinegar, spices, and herbs. Once the venison strips have been marinated, they can be placed on a wire rack in the dehydrator or oven. You can also cook it on the stove on a pan. Cook on low heat and check meat continuously.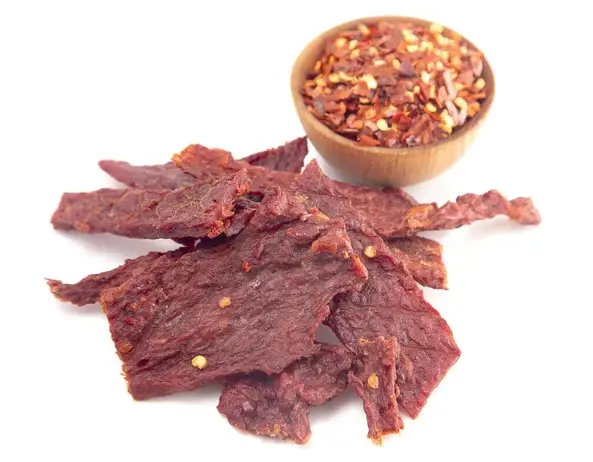 Dehydrating venison jerky is the best way to ensure that it will be shelf-stable and have a long shelf life. However, if you do not have a dehydrator, you can also dry the jerky in an oven set to the lowest possible temperature. Whichever method you choose, dry the jerky until it is completely dry to the touch. Once dry, you can store the venison jerky in an airtightairtight container.
How to make Venison Jerky in Oven?
Venison jerky can be cooked in the oven with ease. The chewed, tasty, savory jerky can be prepared with the recipe.
Soy sauce 4 tablespoons
Worcestershire sauce 4 tablespoon
Ketchup 2 tablespoon
Black pepper ½ teaspoon
Salt ½ teaspoon
Garlic paste ½ teaspoon
Onion salt ¼ teaspoon
Boneless venison 1 pound
Step 1:Take a large bowl and add all ingredients, mix them and set aside.
Step 2: Now place the venison on the cutting board. Start slicing boneless meat into 1 inch wide long strips. The thickness of slices should be around 1/8 inch.
Step 3: Put these strips into a bowl, and apply the mixture to the strips. Cover it with an aluminum sheet and place it in the freezer for 8 to 10 hours.
Step 4: Preheat the oven at 180 degrees centigrade for 20 minutes.
Step 5: Place the strips in a single layer on a foil-lined baking sheet and bake for at least 30 minutes or as long as 2 hours.

Venison Jerky In Oven
Venison jerky is not just for the great outdoors and hunting trips. You can try it at home also. Venison jerky is a healthy snack or meal that you can enjoy on its own, or with other dishes. It can even use as an ingredient in other recipes. Venison is one of the best meats for jerky because it has great flavor, nutrition, and low-fat content. Its leanness makes it easy to grind brisket and cut it into jerky. And you can use venison to make jerky even if you don't know much about hunting or fishing.
Tips To Make Venison Jerky
Making venison jerky is a great way to preserve your bounty from a successful hunt. Here are a few tips to help you get the most out of your venison jerky:
Use a lean cut of meat. Venison is a leaner meat than most, so you do not need to worry about trimming too much fat.
Cut the meat into thin strips. This will help it dehydrate more evenly.
Season the meat to your liking. There are many jerky seasoning recipes out there, so find one you like and give it a try.
Dehydrate the meat using a food dehydrator. This is the best way to ensure that your jerky is dried correctly and free of bacteria.
Store the jerky in an airtight container. This will help it stay fresh for longer.
What cut of meat is best for deer jerky?
Venison jerky can be made from any cut of meat. The best cuts are the eye round and rump roast from the hind legs.
How long does it take to make venison jerky?
It usually takes at least 10 to 12 hours to make venison jerky.
How do you store homemade jerky?
You can store properly dried homemade jerky at room temperature. Store it in an airtight food container. That will last for 15 to 20 days. If you want to store jerky for more time place it in the refrigerator.
Do you cook venison meat before dehydrating it?
Yes, it will be safe to heat the jerky meat of venison before dehydrating at 160 degrees Fahrenheit. It will help to dry meat and kill harmful bacteria.
Can I make deer jerky in an air fryer?
Yes, you can make deer jerky in an air fryer in a short time and with less effort.

Making venison jerky is easy and fun, your family will love it. With only a few ingredients, you can make this tasty snack at home to enjoy right away or preserve the meat in a jar of your favorite marinade. Homemade venison jerky will be fresh and more delicious. You do not need to buy jerky from the superstore if you have venison meat. Venison jerky is favorite of hunters and venison jerky lovers.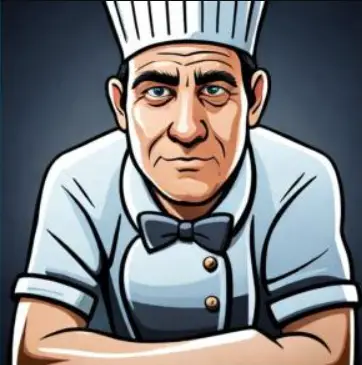 Mario Batali is a renowned author, food enthusiast, and passionate chef who has dedicated his life to exploring the world of culinary arts. With a love for sharing his knowledge and experiences, Mario has become a prominent figure in the food blogging community, inspiring countless readers with his creativity and expertise.
In addition to his culinary prowess, Mario Batali is also a talented writer with a flair for engaging storytelling. He launched his own food blog to share his recipes, cooking tips, and personal experiences in the kitchen. Over time, Mario's blog gained a loyal following of food enthusiasts who appreciate his unique approach to cooking and his dedication to using only the finest ingredients.
Mario Batali's passion for food and his commitment to sharing his knowledge with others have made him a true inspiration in the world of culinary arts. Through his blog, cookbooks, and public appearances, Mario continues to spread his love of food and the joy of cooking with his ever-growing fanbase.