Making the perfect brisket can be a daunting task. To cut a whole brisket into smaller pieces, trim any excess fat. Then, cut the brisket in half along the natural seam to create two smaller pieces. From there, you can cut each piece into smaller sections, such as the point and flat, or into individual serving sizes. Use a sharp knife and cut against the grain for maximum tenderness.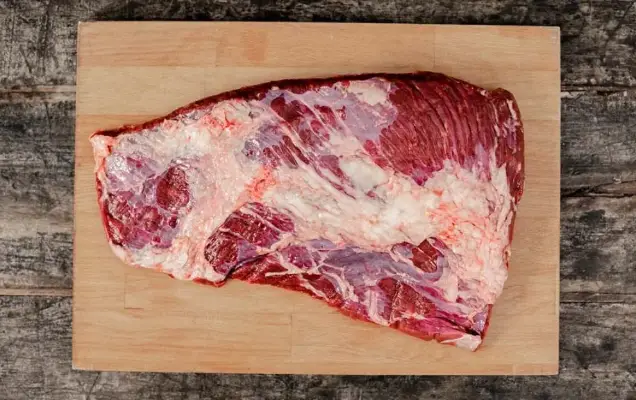 Brisket is a cut of beef taken from a cow's lower chest or breast area. It's usually smoked, grilled, or braised and served in slices for barbecues, sandwiches, stews, and other dishes. Brisket can be difficult to cook because it's made up of two muscles with different textures, one that is tender and one that is tough, so it needs to be cooked low and slow.
How To Slice The Whole Brisket With A Knife?
Step 1: Start slicing by trimming large pieces of fat from the top and sides of the brisket with a sharp knife.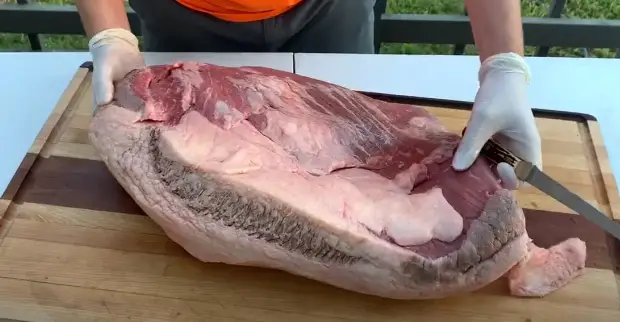 Step 2: Place the brisket flat on a cutting board, fat side down.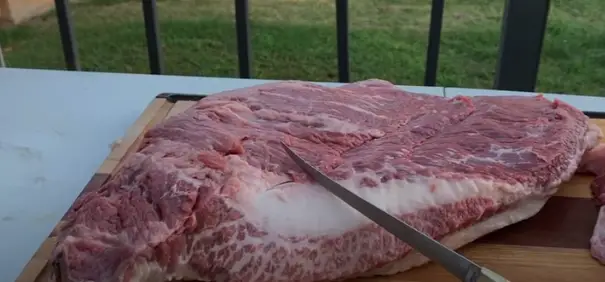 Step 3: Cut the brisket in half lengthwise to have two thinner pieces of meat, each around 2 inches thick.
Step 4: Turn one of the halves over so you have a flat surface to work with.
Step 5: Slice across the top of the brisket in a sawing motion going from left to right, or vice versa, until you reach your desired thickness for your slices (about 1/4 inch).
Step 6: Discard the fat trimmed off at the start and then move on to slicing the other half of the brisket.
Step 7: Once both halves have been sliced, you can cut them in half again, if needed, for smaller pieces.
Step 8: Place your slices on a plate and serve your freshly cut brisket.
With this method, you can easily get thin slices of whole brisket that are great for serving or adding to sandwiches and other dishes.
How To Slice Whole Brisket With A Meat Slicer Into Smaller Pieces?
Step 1: Cut off any excess fat from the brisket and trim it to the desired size.
Step 2:  Place the brisket on a cutting board and ensure it is flat and stable before proceeding.
Step 3. Position the slicer blades parallel to the cutting board surface and adjust them according to the desired thickness.
Step 4: Carefully press the brisket against the blade and push steadily forward, ensuring not to apply too much pressure.
Step 5: Continue slicing uniformly until you have reached your desired thickness.
Step 6: Remove the slices from the cutting board and repeat until you have cut the whole brisket into smaller pieces.
Step 7: Once finished, discard any remaining fat and serve or store as desired.
How To Separate Brisket Point And Flat?
Step 1: Locate the fat cap on the larger end of the brisket, as this will be where you separate the point from the flat.
Step 2: Use a long knife to cut along one side of the fat cap, following it until you reach a layer of connective tissue that separates the two pieces.
Step 3: Insert the knife into the center of the connective tissue and cut through it, creating two separate pieces.
Step 4: Trim away any excess fat around the edges and discard.
Step 5: Separate the point from the flat by cutting along the remaining fat cap until you reach a layer of connective tissue between them.
Step 6: Cut through the connective tissue with a long knife, creating two separate pieces of brisket.
Step 7: Trim away any excess fat around the edges and discard.
Step 8: Repeat the above steps to cut the point and flat into smaller portions, if desired.
How To Find The Grain Of Cooked Brisket?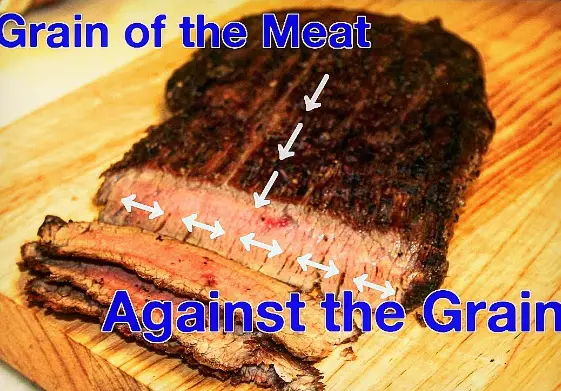 Step 1: Begin by visually examining the cooked brisket for a discernible grain pattern.
Step 2: If the grain is not obvious to the naked eye, use your fingers to feel for raised and lowered segments of the meat.
Step 3: Place your knife at an angle slightly against the meat's grain and make shallow cuts.
Step 4: Make shallow slices until the cooked brisket is chopped into smaller pieces.
Step 5: Check each piece to ensure the grain runs in the same direction throughout all cut portions.
Use a sharp knife with a thin blade when slicing your brisket, as it allows for cleaner and easier cuts.
Cut the brisket against the grain in slices between 1/4 inch to 1/2 inch thick. Cutting against the grain ensures that the meat is tender and not tough or chewy.
Always trims any excess fat before slicing the brisket, as it can make the meat greasy and unappealing when cooked.
 Use a cutting board that is large enough for your whole brisket, so you have plenty of room to slice it into smaller pieces.
 For best results, chill the brisket in the refrigerator before slicing. Cold meat is easier to slice than warm or room-temperature meat.
Slice the brisket into smaller pieces and store them in airtight containers in the fridge for up to three days. Alternatively, you can also freeze them for up to two months.
What equipment is needed to cut the brisket into smaller pieces?
For this task, you will need a sharp chef's knife and a cutting board. A meat cleaver can also be helpful when separating large slabs of meat from the main piece.
How should I store the cut pieces of brisket?
Store the cut pieces in an airtight container in your refrigerator for up to 5 days. For longer-term storage, wrap each piece tightly with plastic wrap and freeze for up to 3 months.
What is the best way to reheat pre-cut brisket?
The best way to reheat pre-cut brisket is to place the pieces in a baking dish, cover with foil, and heat in a 350-degree oven for 15 minutes. Alternatively, you can use the microwave and cook on high for 3-4 minutes or until heated through.
What is the proper way to trim the fat off a brisket?
When trimming fat off a brisket, use a sharp knife and slice away any large pieces of visible fat. Use kitchen shears or tweezers to remove any remaining fat for smaller or harder-to-reach areas carefully.
How long can I marinate brisket?
Brisket can be marinated anywhere from 30 minutes to overnight, depending on your recipe. Store a non-reactive container such as glass or stainless steel in the refrigerator when marinating.
What are some tips for cooking a brisket?
When cooking a brisket, it is important to sear the meat on both sides before adding any additional ingredients like vegetables, seasonings, and liquid. This will help lock in the meat's flavor and result in a more tender cut of meat after cooking.
Monitor the internal temperature of the meat throughout the cooking process and remove it from heat once it reaches an internal temperature of 165 degrees Fahrenheit.
What can I do with leftover brisket?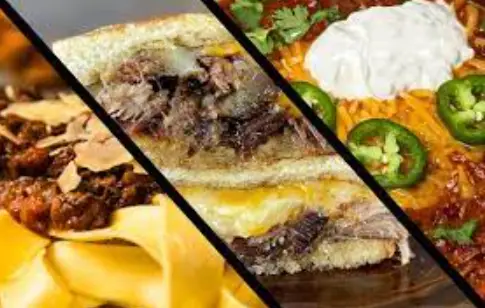 Leftover brisket can be used in various dishes such as sandwiches, salads, tacos, and casseroles. You can also freeze the leftover meat for up to 3 months and thaw it out when you're ready to use it.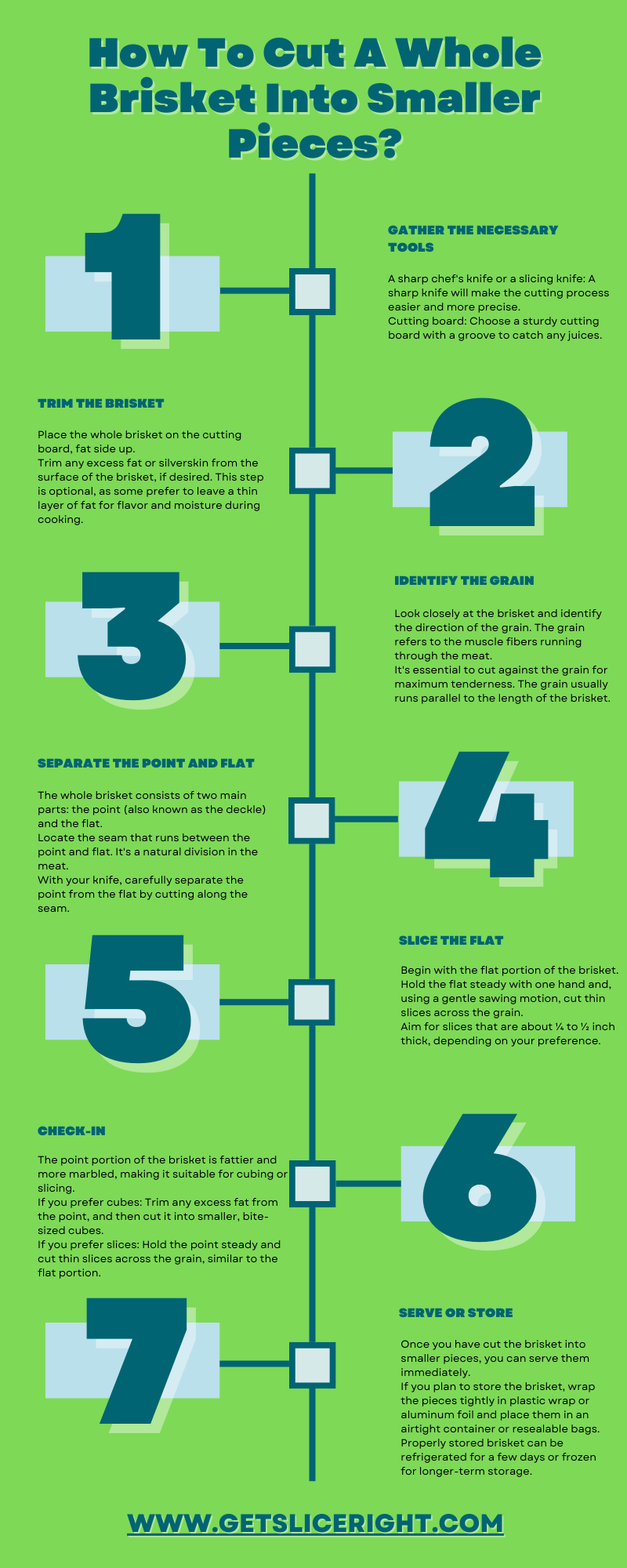 Once you have completed slicing the brisket into smaller pieces, take the time to store them properly. Depending on your preference, you can wrap each piece in butcher paper or freezer-safe plastic wrap and freeze it for up to 6 months. Alternatively, you can store them in a sealed container in the refrigerator for up to 4 days. With proper storage, your brisket pieces will keep their flavor and texture.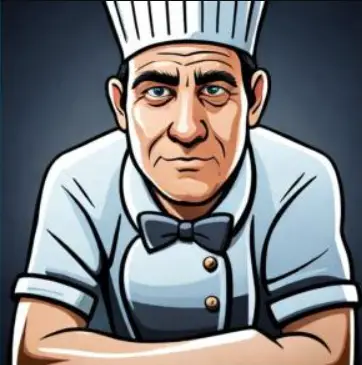 Mario Batali is a renowned author, food enthusiast, and passionate chef who has dedicated his life to exploring the world of culinary arts. With a love for sharing his knowledge and experiences, Mario has become a prominent figure in the food blogging community, inspiring countless readers with his creativity and expertise.
In addition to his culinary prowess, Mario Batali is also a talented writer with a flair for engaging storytelling. He launched his own food blog to share his recipes, cooking tips, and personal experiences in the kitchen. Over time, Mario's blog gained a loyal following of food enthusiasts who appreciate his unique approach to cooking and his dedication to using only the finest ingredients.
Mario Batali's passion for food and his commitment to sharing his knowledge with others have made him a true inspiration in the world of culinary arts. Through his blog, cookbooks, and public appearances, Mario continues to spread his love of food and the joy of cooking with his ever-growing fanbase.