Eggs are an essential part of our food and rich which nutrition. Hard-boiled eggs are eaten in breakfast primarily and used in salads, plates of pasta, topping and filling of many dishes and sandwiches.
Slicing boiled eggs with a knife can be tricky. When you are in a hurry to run for office in the morning, the knife may cut unevenly and create a mess.
An egg slicer is a small kitchen tool that can slice eggs in even thickness. Egg slicers have sharp wires to cut eggs in a single pr ss. It is a handy tool and ready to use and cuts in many slices.
Helpful Information and Guide About Egg Slicer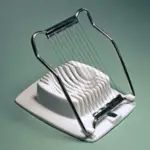 An egg slicer is a food preparation utensil used to slice hard-boiled eggs quickly and easily. The Egg slicer consists of a slotted dish for holding the egg and a hiked of wires or blades that can be closed and pressed to slice eggs. The Egg slicer provides you with egg slices without crumbling the egg yolk. It makes the presentation of eggs beautiful and perf ct. It can cut eggs in half, round shape vertical and horizontal cuts very fastly.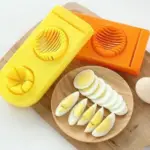 Egg slicers have different types of cuts. Some slicers have wires in one direction so that they will slice eggs in only one kind of cut. At the same time, the other slicers can cut eggs in multiple ways. Slicers that are cut in halves, wedges, slices and even dice will be perfect to choose. If you want an egg slicer for eating just boiled one, you can select a single-cut slicer. If you have to slice eggs for toping or presentation, then the slicer offering multiple cuts will be better.
Single Vs Multi-Cut Slicer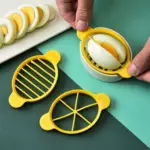 Egg slicers have different options for cutting eggs. Some are single-cut slicers, and others are multi-cut. You can select according to the dishes you prepare. Single-cut slicers are typical or traditional slicers that cut the egg directly. It cuts eggs in a round shape o ly. Rotating single-cut slicers can cut eggs in vertical or horizontal directions. Multi-cut egg slicers have removable slicing plates to slice in multiple w ys. These slicers cut eggs in half and cut them into slices and wedges.
Benefits And Ease Of Egg Slicer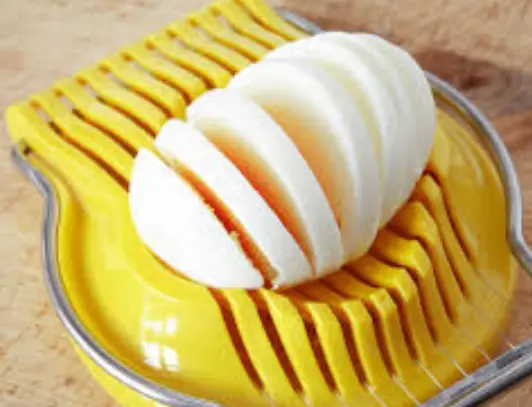 An egg slicer can slice eggs and strawberries.
It can be cleaned with a quick little wash.
Constructed properly, have thick wires with good tension and lost long.
The kitchen counter remains clean, and there will be no mess to clean.
Save time a large slice quantities in significantly less time.
Cut eggs in even and perfect size.
It does not require much space and can be stored in a drawer.
Most of the egg slicers have three in one or more functions; eggs can be sliced in many shapes.
It makes food fun for both children and adults.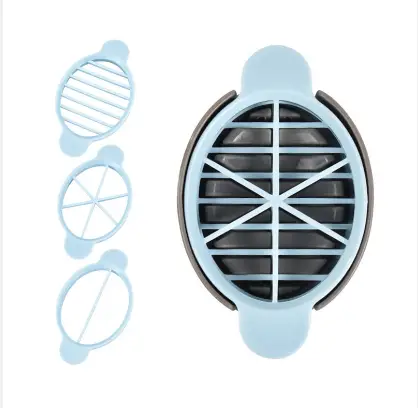 Egg slicers are made with different types of material. They can be plastic, metal, stainless steel, cast aluminium or any other.
Plastic: Plastic-made egg slicers are cheap and non-durable. They have low weight, and everyone can afford them. Plastic is used in the base and handle of the slicer. The plastic used in egg slicers is BPA-free and hygienic for food. It cannot cause to spread of food illness or any disease.
Stainless Steel: Stainless steel is the top choice for all kitchen tools and gadgets. Its main quality is its durability because it resists the rust and corrosion. Wires of slicers are made with stainless steel because it is easy to cl an. The whole slicer can also be made with stainless steel material.
Cast Aluminium: Cast aluminum is different from aluminum. It is food safe and the healthier option for kitchen items. Cast aluminum slicers are expensive and made for heavy-duty work. It is used in the base and handles of the egg slicer. The slicers made with this material are durable and do not break early.
What To Look For When Buying An Egg Slicer?
There are plenty of egg slicers in the market, and it is very clear to select the best among them. You have to look for many things like size, sharpness, wires, and n ed. Consider the following things before buying an egg slicer.
Purpose: Consider whether you are looking for slicing boiled eggs only or slicing fruits.
Material: Egg slicers have stainless steel wires and cast aluminum in the base and handle. Slicers are usually made with plastic and are BPA-free.
Slicing Wires: Slicing wires of egg slicers can be made of plastic, stainless steel, steel, or any other mater al. High-quality slicers usually consist of stainless steel. These are rust-proof, sharp and easy to clean.
Versatility: Most slicers are designed to slice eggs only. Some of them are versatile and can slice strawberries, kiwi, bananas, mushrooms, and other fruits.
Ease Of Use: Egg slicers have a straightforward design. It slices eggs very easily. You can cut eggs using one hand only.
Ease Of Cleaning: Eggs slicers are pretty easy to wash and clean. The slicer should be washed by hand with soapy water.
Non-Slip Foot: Egg slicers are stable with a non-skid base. No-slip foot, make a firm grip and stay on the kitchen counter.
Clean cut: Egg slicer cut in a super-clean way and does not drag through the edges at all.
Durability: Egg slicers are small and not expensive, but still, you must look for durable mater al. A good quality egg slicer will lose long and not damage even if you use it daily.
Size: Look for the size of the egg slicer because eggs are different in s ze. Slicers that can accommodate the size will be best.
Price: Egg slicers are reliable and budget-friendly. You can find slicers between 10 to 15 dollars.
Comparing the Top Egg Slicers of 2023
Westmark Germany Multipurpose Stainless Steel Wire Egg Slicer (Grey)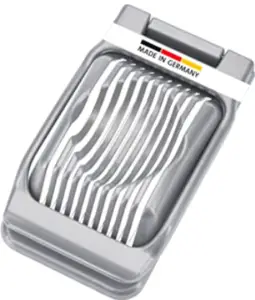 I'm absolutely in love with the Westmark Germany Multipurpose Stainless Steel Wire Egg Slicer. It has made slicing eggs a breeze, and I can also use it for other food items such as mushrooms, strawberries, kiwis and more. The high quality material used to make this product – stainless steel wires and cast aluminum for the base and handle – make it extra durable. It's also really easy to use; the ergonomic handle ensures that my hands remain comfortable while using it.
The best thing about this egg slicer is its ease of cleaning, which makes my life so much easier. All I need to do is put it in the dishwasher after I'm done using it; no more scrubbing! Plus, because of its stainless steel construction, there's no risk of rusting or corroding over time due to constant contact with water.
Westmark Germany Multipurpose Stainless Steel Wire Egg Slicer (Grey)
MADE IN GERMANY HIGH QUALITY KITCHENWARE: Westmark's Egg Slicer is among the best in the world and is rated to be one of the best kitchenware brands available today.
MATERIAL: Each product is made using high quality stainless steel wires and high quality cast aluminum for its base and handle. See below for more details.
EASY AND READY TO USE: This easy to use product slices not only your eggs, but can also manage other Food items such as mushrooms, strawberries, kiwis and much more!Equipped with an ergonomic handle, Westmark's product is fast and comfortable to use.
I have only positive things to say about Westmark Germany's egg slicer. Its sturdy design ensures that it won't break easily even if you drop it or accidentally hit it against something while using it. And since they're made in Germany, you can be sure that you are getting a high quality kitchenware product that will last you a long time.
Downsides:
Price might be an issue for some people as this is not a budget friendly item; however, considering its durability and practicality, I think it is worth the investment. The only other downside I have experienced with this product is that sometimes the edges of my slices aren't perfectly smooth or straight. This isn't a huge issue for me personally since I usually make omelets or scrambles with shredded cheese anyway but if you're looking for something that produces perfectly uniform slices every time, then this might not be the best option for you. However, if you're looking for an egg slicer that's reliable and easy to clean, then look no further than Westmark's Germany Multipurpose Stainless Steel Wire Egg Slicer (Grey).
FAVIA Egg Slicer for Hard Boiled Eggs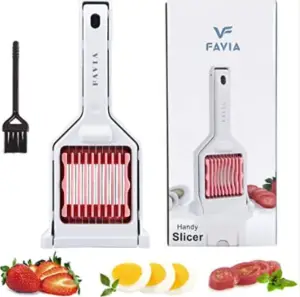 This great kitchen gadget features nine stainless steel blades that are perfect for slicing hardboiled eggs into even pieces quickly and easily. It is also BPA free and dishwasher safe, so you can be sure it won't rust or degrade over time. The egg slicer measures 23 cm / 9 inches long by 10 cm / 3.9 inches wide by 4.8 cm / 1.9 inches high and weighs only 197 g / 7 oz, making it light enough to move around your kitchen easily.
This handy kitchen gadget comes with many advantages for the user. You can save time in the morning by quickly slicing up ingredients without having to use a knife or other kitchen tools. The nine stainless steel blades are perfect for evenly slicing items like boiled eggs into uniform pieces in no time. With its lightweight design and compact size, this slicer can fit easily into any drawer or cabinet in your kitchen for easy storage when not in use. Its BPA free construction makes it safe to use with food items as well as dishwasher friendly so it's easy to clean after each use.
Sale
FAVIA Egg Slicer for Hard Boiled Eggs Mushroom Strawberry Cherry Tomato Kiwi Fruit with 9 Stainless Steel Blades Multipurpose Handy Kitchen Gadgets BPA Free Dishwasher Safe (Green)
PREMIUM QUALITY AS WE PROMISED - High quality 420 stainless steel sawtooth shape blades, firmly ABS plastic material for its base and handle, BPA free, LFGB standard.
AMELIORATE DESIGN - Our slicer has included 9 stainless steel blades, which have more blades than other handle egg slicers on the market, sturdy and not easily break like wires. Press the lock-up button in the closed position can have compact storage with less space, also prevent the blades contact with fingers.
MULTIFUNCTIONAL EGG SLICER- It is not only hold with one hand when slicing food, but also stably set on the table just simply press the upper handle to get a beautiful sliced ingredient. Perfect for slicing hard-boiled egg, mushroom, strawberry, banana, tomato, kiwi fruit, soft cheese and other soft ingredients, slicing more quick, easy and neat, make food looks nice and cook evenly.
However, there are some downsides to consider before purchasing this product. Some users have noted that the blades are somewhat sharp and may require extra caution when handling them safely around children or pets. Additionally, due to its smaller size, some foods such as onions may not be able to fit within the slicer's frame properly depending on their size.
New Star Foodservice 36459 Commercial Grade Aluminum Egg Slicer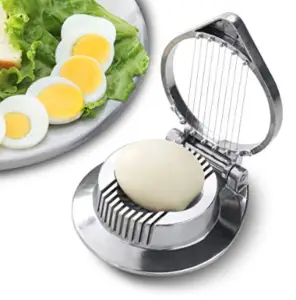 This egg slicer produces clean and even slices, ensuring that your salads and noodles look great every time. Measuring approximately 4.5-inches by 4.25-inches, this slicer is compact enough to fit in any kitchen drawer or cabinet without taking up too much room. The aluminum frame construction is sturdy, while the stainless steel wires are strong and durable.
When it comes to advantages, the New Star Foodservice Egg Slicer makes perfect egg slices every time, so you don't have to worry about uneven or sloppy slices ruining your presentation. It won't take up too much space in your kitchen either since it's relatively small compared to other slicers on the market. Additionally, its aluminum frame construction ensures that it's strong enough to handle daily use without showing signs of wear and tear right away.
The only downside of the New Star Foodservice Egg Slicer is that it can only be hand washed – it's not dishwasher safe. Despite this minor issue, this slicer still gets the job done quickly and efficiently, so it's definitely worth considering if you're looking for an easy way to slice eggs and soft fruits on a regular basis.
Egg Slicer Egg Cutter Egg Wedger For Hard Boiled Eggs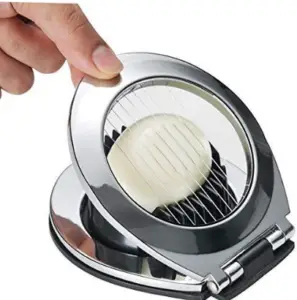 This egg slicer is made of durable and attractively chrome-plated zinc, with cutting wires constructed from stainless steel for easy slicing. It's perfect for creating chef's salads or egg-based appetizers, making it an essential tool in any kitchen.
The three slicing styles are incredibly useful. You can create picture-perfect round or oval slices as well as wedges, making it easier than ever to dress up your favorite egg dishes. The stainless steel wires make it easy to slice through even the hardest boiled eggs without much effort. Plus, the slicer is dishwasher safe for quick and easy clean up when you're done.
One thing to keep in mind though is that after your eggs have been boiled and cooled down completely, it's best to cut them out into their desired shape so they look better on the plate. If you don't do this first step, your slices may end up looking a bit messy or uneven compared to if you'd taken the time to prepare them beforehand.
Disadvantages of Egg Slicer:
1) Not suitable for soft boiled eggs – You must wait until the eggs are completely cooled before using the slicer to get the best results
2) Limited functionality – The slicer only cuts in two directions which limits its potential uses
Egg Slicer, BIBURY Egg Slicer for Hard Boiled Eggs, Egg Cutter Heavy Duty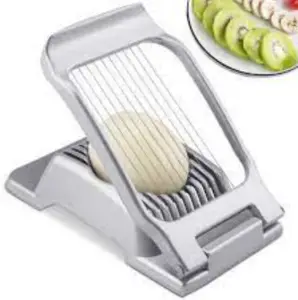 The BIBURY Egg Slicer is a must-have kitchen tool for anyone who loves to cook with eggs. This versatile slicer features three slicing styles (round, oval and wedge) to create perfect slices of hard-boiled eggs for salads, appetizers and other dishes. The heavy-duty stainless steel wires make it easy to clean and the chrome plated zinc construction is both stylish and durable.
The BIBURY Egg Slicer is ideal for creating beautiful plate presentations. The round or oval slices are perfect for garnishing platters and making chef's salad, while the wedges can be used as a topping on breakfast dishes, such as omelettes or scrambles. The unique design also makes it easy to get even slices every time, which means you don't have to worry about having unevenly sliced eggs in your dish. The slicer is also compact enough to fit into any kitchen drawer or cupboard without taking up too much space.
When it comes to cleaning up, the BIBURY Egg Slicer couldn't be easier. All you need to do is rinse off the blades with warm water and soap before putting them in the dishwasher for a thorough cleanse. Plus, because it's so compact, you can easily store it away until you're ready to use it again!
Overall, this slicer is an excellent choice if you want a quick and easy solution for slicing boiled eggs without having to worry about uneven pieces or manual knife work. It's also very affordable compared to other egg slicers on the market with similar features.
However, there are some downsides worth noting when considering the BIBURY Egg Slicer. For one, it doesn't offer any additional cutting options beyond round slices, oval slices and wedges – so if you're looking for something more creative than that then this isn't going to be suitable for your needs. Additionally, because it only uses two cutting wires instead of three like many other models do – there's a chance that they could become dull over time if used regularly – meaning that you'd need to replace them periodically in order to keep getting the same high-quality cuts each time you use it.
Ortarco Egg Slicer for Boiled Eggs Strawberry Cutter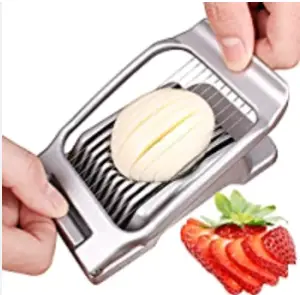 The Ortarco Egg Slicer for Boiled Eggs Strawberry Cutter with Stainless Steel Wire (Green) is an amazing kitchen tool, and I'm so glad I have it! Slice hard boiled eggs into perfect slices with stainless-steel wires in just a few seconds – no more struggling to cut the eggs evenly. Plus, it's great for other soft fruits like strawberry and kiwi, which can be tricky to cut. The slicer features easy opening and closing due to its raised handle, and the safe, durable PP plastic ensures it lasts for years.
Cleaning is a breeze as well – just a light rubbing with some dish soap and a rinse of water does the trick. And if you don't want to clean by hand, you can even pop it in the dishwasher! Overall, this product makes my life so much easier and saves me time when prepping meals – I would highly recommend it.
Some advantages include its ease of use – the slicer is super easy to open and close due to its raised handle; plus the stainless-steel wires make slicing through hard boiled eggs effortless. In addition, cleaning is extremely simple: either hand wash or put it in the dishwasher! Furthermore, this product is made from durable PP plastic that should last you years.
However, one potential downside might be that it's not suitable for cutting harder fruits or vegetables – only soft ones such as strawberries and kiwis. Also, some users might find the price slightly on the steep side depending on their budget.
NVTED Luncheon Boiled Egg Fruit Soft Cheese Slicer Cutter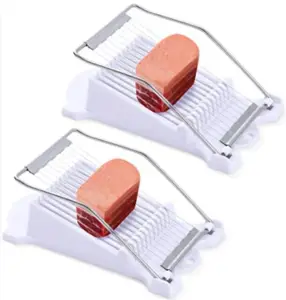 The NVTED Luncheon Meat Slicer is a great tool for anyone who wants to quickly and easily slice luncheon meat, boiled eggs, fruits, soft cheese, and more. This slicer is made of sturdy BPA free ABS material that can resist heat up to 230F (110C), so it can handle even hotter food items with no problems. The stainless steel wires make a total of 10 equal slices each time you use the slicer. This makes it easy to prepare mouthwatering salads, sandwiches, and platters that are all the same size and look great on the plate.
Using this slicer is a breeze – just place your food item in the holder and push down on the bar until everything is sliced up. Cleanup is also hassle-free as this slicer is dishwasher-safe. All in all, this slicer allows you to quickly create perfectly sliced dishes without having to worry about uneven cuts or other issues that cutters may have.
NVTED Luncheon Meat Slicer, Boiled Egg Fruit Soft Cheese Slicer Cutter, Stainless Steel Wires, Cuts 10 Slices (White)
Designed with 10 cutting stainless steel wire, Easily cut 11 slices at a time, all equal in size, for a nice presentation and even cooking.
Made of sturdy, BPA free ABS, resist heat of temperatures up to 230F (110C), Slice hotter food items with no fear.
Easy to use, just simply place the food item in place and push down the bar until completely sliced.
One of the biggest advantages of using the NVTED Luncheon Meat Slicer is that it's incredibly versatile. Not only can it handle most of your everyday slicing needs such as eggs and lunch meats, but it can also take care of softer items like fruit or cheese with ease. This allows you to have an all-in-one slicing tool without needing multiple gadgets in your kitchen cupboard.
Another advantage of this slicer is how easy it is to use since all you need to do is simply push down on the bar until everything has been chopped up into equal pieces. This makes preparing meals much faster than trying to slice things by hand with a knife or other cutting tools.
The only downside I could find with this product was its somewhat limited range when compared to other slicing tools on the market. It won't be able to cut through harder items like potatoes or carrots as easily as other choices out there; however, if you mainly need something for softer foods then this should still work well for you.
Egg Slicer for Hard Boiled Eggs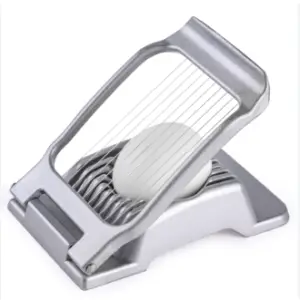 The egg slicer is great for cutting hard-boiled eggs into neat slices, but it can also be used to slice soft fruits like strawberries and bananas. It works quickly and efficiently, allowing you to get neat slices every time. The stainless steel wire is sharp enough to slice through the food without too much effort.
One of my favorite features of this egg slicer is how easy it is to use – just lower your food into the card slot and press gently to get nice, even slices each time. This saves me a lot of time compared to slicing things by hand. Another great thing about this slicer is that the handle has a comfortable grip which makes it easier on my hands when I'm using it for longer periods of time.
The only downside I found with this product was that the price tag was a bit steep – however, considering how well-made this product is and how long it should last me, I think the price is worth paying in the end.
Egg Cutter for Hard Boiled Eggs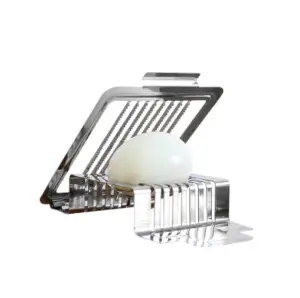 It is equipped with a strong stainless steel wires, non-slip base and soft grip handle. This high-quality egg slicer can be used for slicing single hard boiled eggs into perfect 5mm slices and 6 wedges, as well as cube them. What's more, it can also be used for other soft food and fruits like dragon fruit or butter.
The ABS plastic material is both lightweight and durable, making it easy to store away when not using. Additionally, this egg slicer is BPA free and top rack dishwasher safe, so it won't get dirty easily and can be cleaned quickly without any effort.
One of the great advantages of this egg slicer is that it allows you to quickly slice your eggs into uniform slices or wedges, without having to spend valuable time cutting them by hand. This makes preparing meals much simpler and faster which saves time in the kitchen. Plus, the stainless steel wires provide a good performance every time you use it so you always get consistent results with minimal effort.
Egg Slicer for Hard Boiled Eggs,Easy to Cut Egg into Slices, Wedge and Dices, Sturdy ABS Body with Stainless Steel Wires,Non-slip Feet,Dishwasher Safe, BPA Free(RED)
High-Quality Egg Slicer: This egg slicer is made with high-quality stainless steel wires,a non-slip base, and soft-grip handle, durable ABS plastic.
Multi-purpose Egg Cutter: Using an egg slicer to quickly and easily slice a single hard-boiled egg into perfect 5mm slices and 6 wedges, also perfect to slice egg dice.
Good Function Egg Slicer for Boiled Eggs: Tough stainless steel wires have a very good performance Not Only slicing hard-boiled eggs But perfect for other soft food or fruit such as Dragon Fruit, Butter as well.
Another great advantage of this product is its non-slip feet which provide extra stability when slicing your eggs. This ensures that your hands are not slipping during the process which prevents accidental cuts or injury from occurring.
However, one downside of this Egg Slicer for Hard Boiled Eggs is that it does not come with an instruction manual or guide on how to use it properly and safely. This means users will have to do some research online or consult an expert before using this product correctly, as incorrect usage may cause harm or damage to yourself or others around you.
How To Use The Egg Slicer Effectively?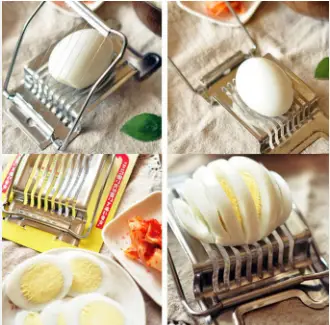 Slicing eggs on an egg slicer may be the easiest thing. It is a very fantastic tool for slicing and chopping eggs. Follow the below steps for perfectly slicing eggs.
Step 1: Boil the egg and peel its outer co er. After peeling the egg, just place it on the centre of the slicer.
Step 2: Press the cover with wires on the egg. Press firmly to cut all slices in the same thickness.
Step 3: With a simple press, wires will come down to slice the egg.
Step 4: For making egg dice, place the egg in the holder of the slicer and slice vertically and horizontally one after another. The great dice will be perfect for adding to soups and salads.
Step 5: Remove the egg slices from the wires of the slicer and shift in a plate. Wash the slicer as soon as possible.
Tips When Using An Egg Slicer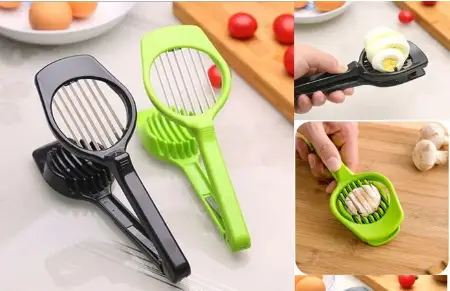 The below tips will help you in slicing eggs perfectly and safely.
Keep the egg slicer on a level surface to avoid slipping.
Must bile the egg fully. Half-boiled or soft eggs will not be cut precisely.
If you have to slice fruits, peel them first and then slice.
For slicing, the kiwi uses a spoon to separate the fruit from the skin.
Make sure that your slicer is dishwasher safe before washing it.
Ensure skin removal; otherwise, the slicer will not slice the egg.
How To Clean The Egg Slicer In The Right Way?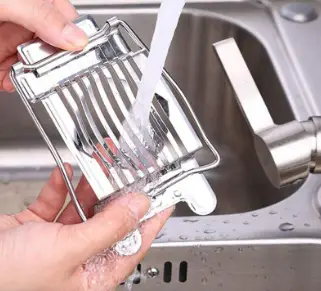 You can clean the egg slicer in so many different w ys. The egg slicer can be washed by hand and in the top rack of the dishwasher. When you want to hand wash the slicer, be careful and keep your hands away from sharp wires. The wires of egg slicers are commonly stainless steel and sharp.
After slicing eggs, clean the remaining parts of the eggs and small egg particles. Now place it under a water tap and apply water press re. Pour some soap and use a kitchen brush to clean the wires of the slicer. Rub brush firmly in back and forth mot on. Repeat the step a few times until the wires get clean and start shin ng. Now wash with lukewarm water and let it to dry.
How To Fix The Egg Slicer When It Has Trouble?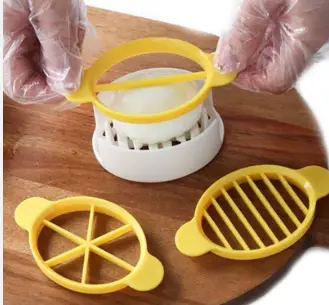 Fixing an egg slicer is not a problematic task. Wires of slicer can be loose after daily use. The stainless steel wires can be tightened with simple eff rt. If you find trouble fixing the slicer and are confused about the problem, read the manual guide thoroughly. Sometimes the metal coating chipping off into the food, or the wires bend, then contact the seller. If the slicer has a warranty, then replace it and solve the trouble.
Maintenance Of Egg Slicer
Push the wires on the egg slicer lightly; too much pressure can damage the wires of the egg slicer.
Clean the slicer after washing with a cloth and then store it.
Do not try to slice too hard fruits.
Wash in the top rack of the dishwasher only.
Do not wash metal parts with steel wool.
Frequently Asked Questions (FAQs) & Facts About Egg Slicer
What Else Can You Slice With An Egg Slicer?
Egg slicers can be used to slice different fruits. You can cut avocado, bananas, cheese, butter, strawberries and other soft food items.
May I Cut Tomatoes With The Egg Slicer?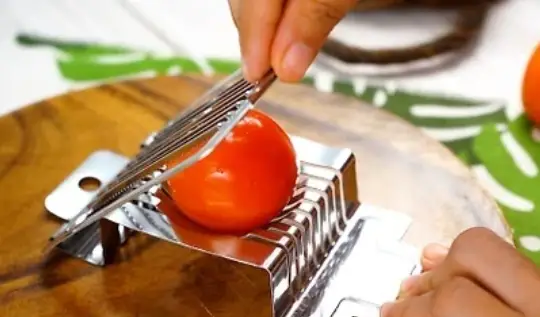 Yes, you can use a wedge egg slicer to cut tomatoes precis ly. Tomatoes of the same size as a slicer can be placed and sliced in them.
What Is The Best Type Of Material To Buy?
Stainless steel is the best material for buying an egg slicer. Stainless steel wires are strong, do not break and are lost for a long time.
How Do You Cut An Egg For The Salad?
You can cut eggs for salads or desserts in an egg slicer. A kitchen knife can also be used if you do not have an egg slicer.
Can I Use A Sliced Banana?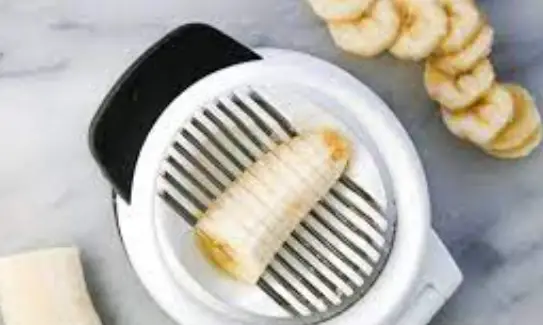 Yes, you can use this egg slicer to slice bananas as. Banana is larger than an egg slicer, so cut it in half, then place an egg slicer. It will cut the banana into even slices.
Can I Cut Wedges And More?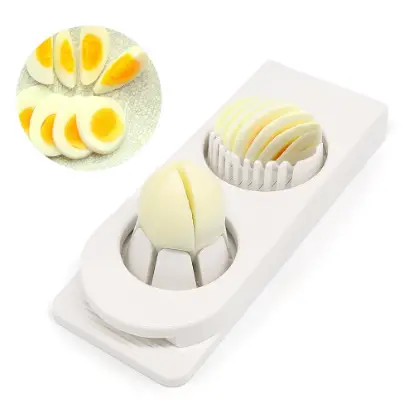 Yes, some slicers can cut eggs in wedges and other shapes. For wedges, buy the slicers, which provide different cuts.
What Is The Best Egg Slicer Size To Buy?
There is a variety of egg slicers. It is up to you to choose one that is your requirement and suitable for all your needs.
Egg slicer is a handy tool for slicing eggs and firm vegetables and fruits of small s ze. It is constructed with safety, versatility, ease of use and maintenance. Among so many slicers, you can select which you find more suitable for you. Egg slicers make cooking fast and enjoyable. Egg slicer will save your time, slice ideally and provide a pleasant look on your table.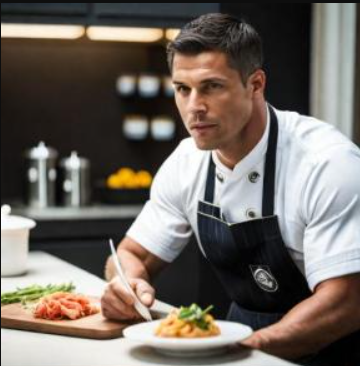 John Hebdon is a food enthusiast, passionate chef, and author of various articles and blog posts related to food and cooking. With a deep love for all things culinary, John's blog serves as a platform to share his extensive kitchen experiences with a broader audience.
In addition to his culinary expertise, John has a flair for writing and a natural ability to share his passion for food with others. His articles and blog posts are informative, engaging, and packed with practical tips for readers of all skill levels.
As a food enthusiast and writer, John is always on the lookout for new and exciting culinary experiences. Whether it's trying out a new restaurant, experimenting with a new recipe, or simply sharing a favorite dish with friends and family, John is always eager to explore and share the world of food with others.