Beef liver is meat that comes from beef. It is a rich source of nutrients, including iron, vitamin A, and copper. Beef liver is also a good source of protein and fat. Eating beef liver can help to improve our health.
Slicing beef liver is entirely different from other meat. It is the softening part of beef and should be sliced with proper care. One must know before slicing how to slice it in the best way. Otherwise may, liver damage during slicing or dull and uneven cuts. You can cut beef liver with a sharp knife on a good cutting board.
Beef liver is very soft, so it should be sliced very carefully. Slicing it is different from meat because it contains fluid. You need to hold it softly without applying much pressure. When cutting beef liver, it is important to use a sharp knife. A dull knife will crush the liver and make it difficult to get clean, even slice. Follow the given steps for slicing beef liver:
Step 1: Trim the excess fat from the liver and clean it. Place the cutting board on the kitchen counter. Put beef liver on it lengthwise.

Trim the excess fat from the liver and clean it

Step 2: Take a sharp knife and place its tip on the beef liver. Hold it firmly from one hand and start slicing with the other hand.

Slice Beef liver with knife

Step 3: Firstly, cut it into half width-wise. If you want to cut in strips, slice into half-inch wide strips. If you need to cut in cube shape, then slice equally in length and width.

cut Beef liver into half width-wise

Step 4: Cut from one side of the liver to the other end in the swing-on. After cutting, wash it with fresh water. Put the pieces in a bowl and dip them underwater. Change the water until it is cleaned.

Cut Beef Liver
Some Useful Information You Might Also Be Looking For
The beef liver can be cooked in various ways and is often used in traditional dishes worldwide. Some of the most popular dishes featuring beef liver include liver, onions, pate, and haggis.
The easiest way to cook beef liver is to fry it in a pan with little oil. Cover the pan and cook until the colour of beef liver changes and you feel a pleasant odour. Add the salt, spices of your choice and black paper to it. It is a delicious dish that can only be ready in a few minutes.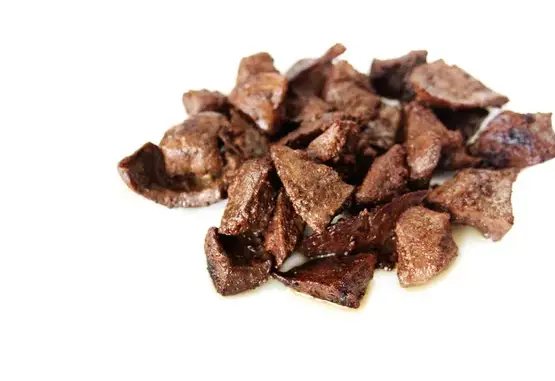 No matter how you cook beef liver, it is essential not to overcook it. The overcooked liver can be tough and dry. Sliced beef liver is best enjoyed when cooked until it is tender and juicy.
What To Look For When Buying A Beef Liver?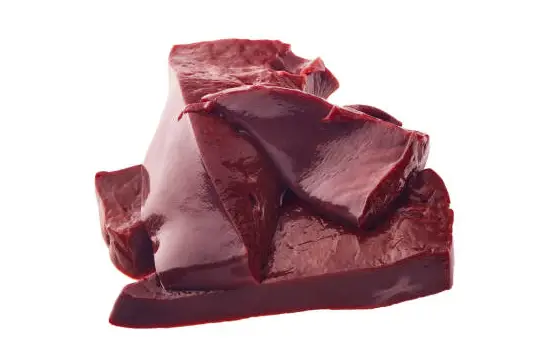 There are a few key things to look for when purchasing beef liver. Firstly, you should want to ensure that the liver is a deep, and rich red. It is likely not fresh if it is pale or has any brown spots. Second, you should want to give the liver a sniff. It should not have any strong or unpleasant odour. Make sure it is firm to the touch. If it is mushy or has any liquid, it is not fresh and should not be purchased. The fresh liver will be more delicious when cooked.
The liver is an excellent source of many nutrients, including protein, vitamin A, iron, and copper. It is also a good source of vitamin B12, niacin, and selenium. Beef liver is especially rich in vitamin A, providing more than twice the RDA in a 3-ounce serving. Vitamin A is essential for vision, bone growth, and reproduction. It also helps to keep the immune system functioning properly.
Iron is another important nutrient found in beef liver. Iron is necessary for the production of haemoglobin, which carries oxygen in the blood. It is also important for the proper function of the immune system. Selenium, another mineral found in beef liver, is essential for the proper function of the thyroid gland, and it also has antioxidant properties.
Beef liver is a nutrient-dense food; including it in the diet can have many health benefits. It is an excellent source of protein, vitamins, and minerals and can help keep the immune system functioning correctly.
How To Store Cooked Beef Liver?
If you have cooked beef liver that you need to store, there are a few things you need to do to ensure that it stays fresh and edible. First, you need to ensure that the liver is completely cooled before storing it. It will spoil more quickly if it is even slightly warm. Once it is cooled, you can store it in a covered container in the refrigerator for up to 3 days.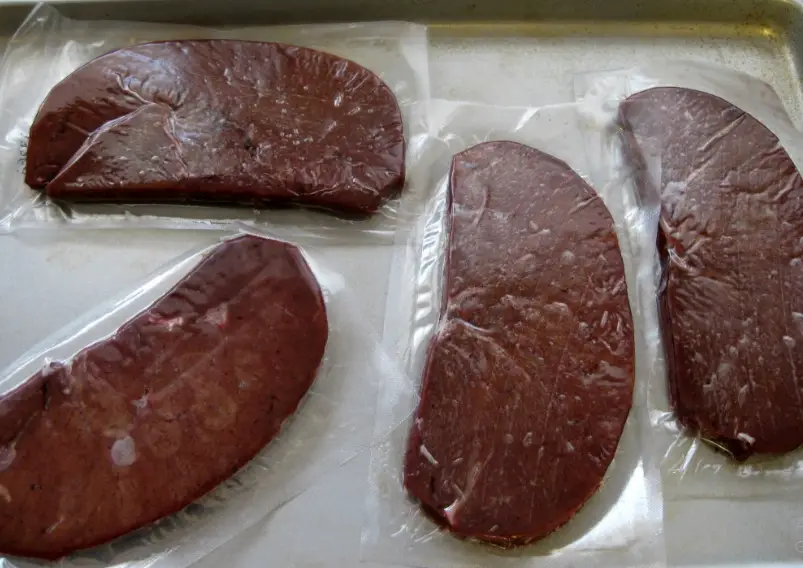 If you need to store it for longer, you can freeze it. Wrap the cooked liver in freezer-safe wrap and store it in the freezer for up to 3 months. When ready to eat it, thaw it in the refrigerator overnight and reheat it before serving.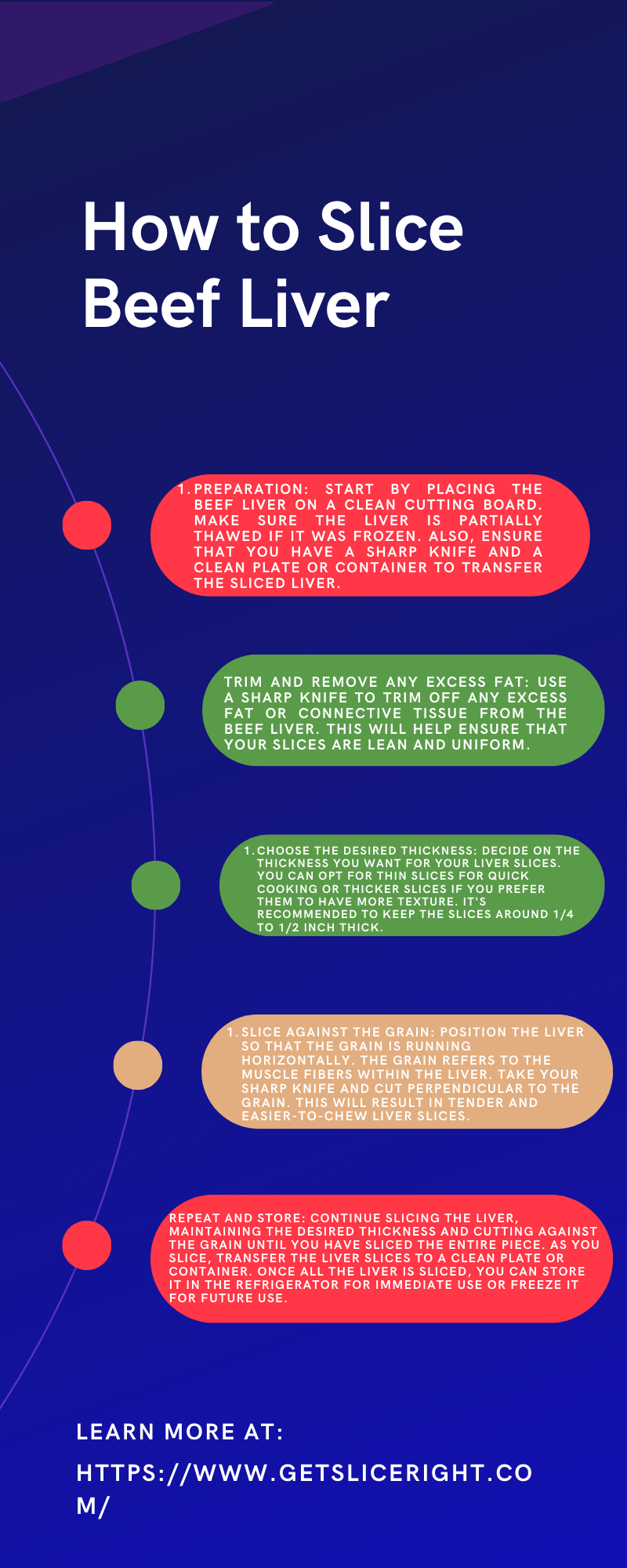 Beef liver is delicious and nutritious food that can be enjoyed in many different ways. One way to enjoy beef liver is to slice it thin and cook it quickly. This allows the liver to retain its nutrients and flavour. You can slice in different shapes, like strips, cubes, slices etc. The beef liver contains blood so it may spread on the cutting board during slicing. Putting a cloth or kitchen towel under the board will be better.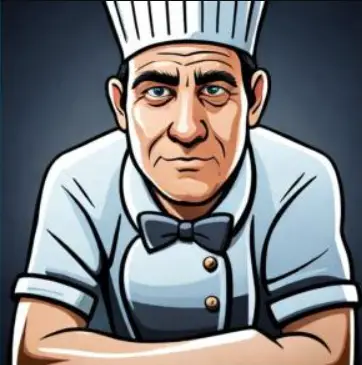 Mario Batali is a renowned author, food enthusiast, and passionate chef who has dedicated his life to exploring the world of culinary arts. With a love for sharing his knowledge and experiences, Mario has become a prominent figure in the food blogging community, inspiring countless readers with his creativity and expertise.
In addition to his culinary prowess, Mario Batali is also a talented writer with a flair for engaging storytelling. He launched his own food blog to share his recipes, cooking tips, and personal experiences in the kitchen. Over time, Mario's blog gained a loyal following of food enthusiasts who appreciate his unique approach to cooking and his dedication to using only the finest ingredients.
Mario Batali's passion for food and his commitment to sharing his knowledge with others have made him a true inspiration in the world of culinary arts. Through his blog, cookbooks, and public appearances, Mario continues to spread his love of food and the joy of cooking with his ever-growing fanbase.