Cheese is a dairy product and uses widely in many dishes. It provides nutrition like protein, calcium, and vitamins along with the growth of our bodies. Cheese has different types and forms. Some kinds of cheese are hard; some are soft or semi-hard. When it comes to slicing cheese, it is hard to slice evenly. Sometimes cheese melts enough during cutting that it becomes difficult to continue slicing. Hard cheese is also difficult to cut with a knife. A knife can't cut through it if not sharp.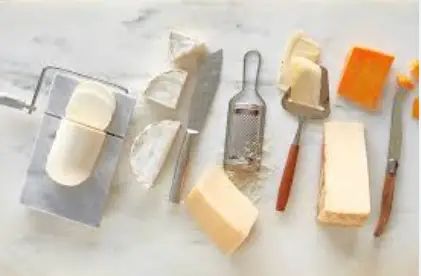 A cheese slicer can easily cut all types of cheese. It cut cheese into equal size slices very quickly. The wire cheese slicer is a cheese slicer to cut soft cheese with the help of a wire.
Helpful Information and Guide About Wire Cheese Slicer
What is a Wire Cheese Slicer?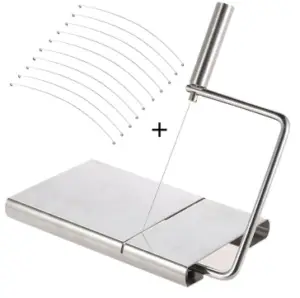 Wire cheese slicer slices cheese with a wire. The wire cheese slicer is very simple with a straightforward design. It consists of a cutting board, handles, and a wire. The cutting board can be made of marble or wooden surface. It slices both hard and soft cheese with stainless steel wires. It has replacement wires for long-lasting use. Cheese can be sliced by pressing the wire on it. It is perfect for cutting other food items also.
Uses of Wire Cheese Slicer
A wired cheese slicer is used to slice soft and semi-hard cheese. A wire slicer can also be used to cut other food. It can slice butter for use in bread. The wire cheese slicer is also handy for slicing fruit gel, soft vegetables, and fruits.
How Do You Cut Cheese With Cheese Wire?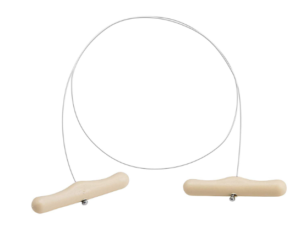 You can slice the cheese block with a wire cheese slicer in equal parts. Wire cheese slices have marble or wooden cutting board, which is used to place cheese. The cheese with less moisture is best cut with a wire slicer.
Step 1: Place the block of cheese on a wire slicer.
Step 2: Marked thickness with a butter knife for equal size slices.
Step 3: Start slicing cheese by pressing wire with even pressure on all sides of the cheese.
Step 4: Make sure that the wire is reached the end of the cheese to cut the slice.
Blade Cheese Slicer Vs Wire Cheese Slicer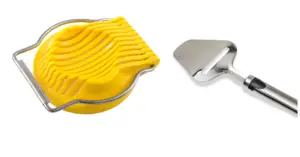 Blade cheese slicers are stainless steel with a single blade small handy tool. Most blade slicers have a triangular head with no chance to break like wires. The hard handle of the blade slicer made it easy to hold firmly. To slice cheese with it, you have to pull a slicer on a block of cheese. The blades cheese slicer is suitable for slicing semi-hard cheese.
The wire slicers are large if they have a cutting board. Some wire slicers are small and shaped like vegetable peelers. Wire slicer slices with the help of wire, while blade slicers need a sharp blade to cut. Both can cut cheese into equal size slices.
Handheld Vs Base Model Wire Cheese Slicers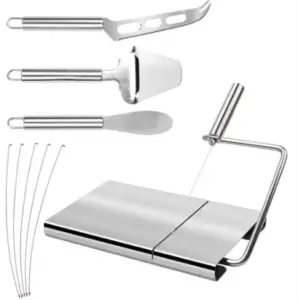 Handheld slicers have adjustable stainless steel wire. Handheld slicers are small and light. It can be used by pushing over a block of cheese. Handheld slicers need low maintenance, care, and cleaning. The wires can be replaced when they become dull. The thickness of slices can be adjusted from thin to pretty fat. Of course, it is best for slicing for appetizer plates and sandwiches. You can cut cheese from different angles and adjust the distance from the roller to the wire.
Base model cheese slicers, as the name shows, have a base. It consists of a base, cutting wires, and a handle. This wire slicer is reliable for the kitchen and helps you slice perfectly. It comes with extra strong and durable wires. With a wire cheese slicer, you can cut cheese into cubes, squares, and wedges, thick and thin. Easy to install and use.
The base slicer base can be wood, marble, or any other metal. A large block of cheese can be sliced perfectly on it. For the base slicer, you must put cheese on the surface and then push the wire on it. At the same time, the handheld slicer can slice from either side of the cheese.
Different Types of Wire Cheese Slicers
Wire cheese slicers have multiple types. They are small, large, and medium in size. Some types of fire cheese slicers are below.
Rollschnitt cheese slicer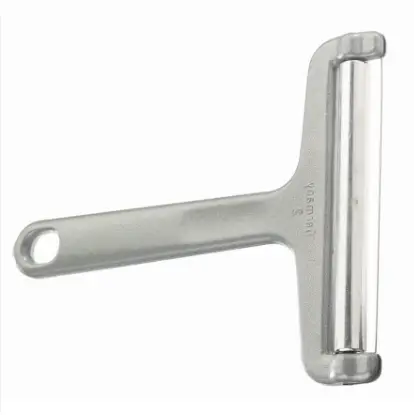 These slicers are made with aluminum with a stainless steel wire. It is excellent for slicing cheese for platters or sandwiches. This slicer can cut all sorts of cheese, from mozzarella to cheddar.
Handheld wire cheese slicer
Handheld slicers are small and can be old with one hand to slice. They look like a vegetable peeler and slice from one edge of cheese to other.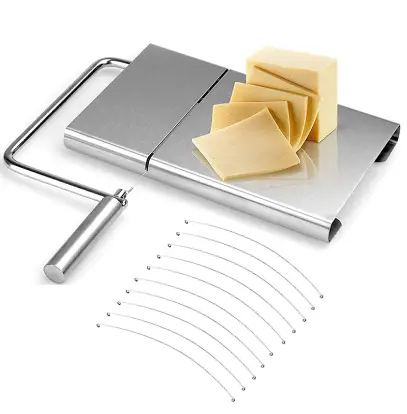 :
Base model cheese slicers have a base to place and cut cheese. Slice cheese with a wire by pushing the wire down to the end of the cheese. Base slicers have a handle to hold them firmly during slicing.
Aeon design cheese slicer
This slicer can cut semi-hard or hard blocks of cheese. It has a wire and handles, is entirely made with metal, and cannot be broken or harmed easily. Suitable for slicing butter, fruits, and vegetables. It slices the cheese without breaking it.
Comparing the Top Wireless Cheese Slicers of 2023
Zulay Cheese Slicer With Adjustable Thickness
Sale
Zulay Kitchen Stainless Steel Wire Cheese Slicer - Adjustable Hand Held Cheese Cutter with 2 Extra Wires - Premium Cheese Shaver For Mozzarella, Cheddar, Gruyere - Cheese Cutter with Wire (Silver)
SLICE CHEESE LIKE A PRO: You no longer need to buy processed cheese slices, as this wire cheese slicer can cut cheese from paper-thin to ¼" thick slices and can also slice up cheese blocks up to 3.5" wide. Manually adjust the thickness of the wire slicer to get cheese just the way you prefer.
HEAVY-DUTY BUILT: We have designed this one-piece cheese cutter with zinc-aluminum alloy and 304 stainless steel wire for extra sturdiness and durability that will last you through multiple slicing sessions. Slice cheddar, swiss, brie, pepper jack, mozzarella, or provolone like butter with this block cheese slicer. (Not suitable for extra hard cheeses like parmigiano reggiano, grana padano, and pecorino romano)
MUST HAVE CHEESE LOVER'S TOOL: From slicing cheese for assembling a charcuterie board or making a gooey grilled cheese sandwich, this cheese slicer will make your recipes extra delicious. It also makes a great gift for your special ones who have immense love for evenly sliced cheese at home.
This premium slicer is made with a zinc-aluminum alloy handle that is comfortable to hold, and a 304 stainless steel cutting wire that makes slicing any type of cheese a breeze. The heavy-duty ergonomic design makes slicing easier than ever before. With its adjustable slice function you can easily adjust the thickness of your slices with just a screwdriver or even a dime! Even with repeated use, this slicer will last for years without any problems.
I can honestly say that this cheese slicer lives up to its claims. It not only makes it easy to create perfect slices every time, but it is also extremely durable and long lasting. Cleaning up is also quick and easy as all you need to do is hand wash the slicer after each use.
The only downside I could think of when using the Zulay Cheese Slicer is that it does take some practice to get used to how far down you will need to press the lever in order for it to make perfect cuts. Other than that small learning curve though, this product works wonderfully!
Westmark Germany Heavy Duty Stainless Steel Wire Cheese Slicer
Westmark Germany Heavy Duty Stainless Steel Wire Cheese Slicer Angle Adjustable (Grey),7" x 3.9" x 0.2" -
MADE IN GERMANY HIGH QUALITY KITCHENWARE: Westmark's Wire Cheese Slicer is among the best in the world and is rated to be one of the best KITCHENWARE brands available today. Thickness of slices varies from the angle at which the slicer is held.
MATERIAL: Each product is made using a high quality stainless steel wire with a high quality cast aluminum handle. See below for more details.
EASY AND READY TO USE: This easy to use product slices not only your soft and semi hard cheeses, but can adjust the thickness of your slices by modifying the angle at which you hold the product. Equipped with an ergonomic handle, Westmark's product is efficient and comfortable to use.
The Westmark Germany Heavy Duty Stainless Steel Wire Cheese Slicer Angle Adjustable (Grey),7″ x 3.9″ x 0.2″ is the perfect tool for any home chef looking to add a little more precision to their kitchen game. This high quality slicer is made with a stainless steel wire and an aluminum handle, making it both durable and easy to use. It slices not only soft and semi hard cheeses, but can also adjust the thickness of your slices depending on the angle at which you hold the product. It's ergonomic handle makes it comfortable to use, and cleaning is a breeze as all you need is soap and water.
This slicer has many advantages for the home chef. One of its main benefits is its durability; made with high-quality stainless steel wire, it's designed to last through countless uses in the kitchen. The adjustable slicing angle allows for greater precision when cutting your cheeses, making sure each slice is exactly how you want it every time. And because of its ergonomic handle, using this slicer is comfortable and effortless – no more struggling with bulky handles while making dinner!
One potential downside of this specific cheese slicer could be its size – at 7″ x 3.9″ x 0.2″, some might find that it takes up too much room in their kitchen drawer or countertop space. Additionally, while it can cut both soft and semi-hard cheeses, those looking for something that can tackle harder cheeses may have to look elsewhere – this slicer isn't specifically designed for that purpose so results may vary when attempting such tasks.
Overall, Westmark Germany Heavy Duty Stainless Steel Wire Cheese Slicer Angle Adjustable (Grey),7″ x 3.9″ x 0.2″ is an excellent choice for any home chef looking for added precision in their slicing skillset or just an easier way to get through all those grilled cheese sandwiches! Highly durable and adjustable slicing angles make this an invaluable addition to any kitchen set-up – just be aware of its slightly larger size when considering storage options!
Adjustable Thickness Wire Slicers for Mozzarella, Cheddar, Gouda Cheese, And Block Cheese
Cheese Slicer with Wire Stainless Steel Cheese Cutter for Cheddar, Gruyere, Raclette, and Mozzarella Cheese Block Adjustable Shaver for Thick & Thin Slices Strong and Durable Zinc Alloy One Extra Wire
✪ HIGH-QUALITY MATERIAL CHEESE SLICER TOOL: The Cheese Slicer is made of premium quality (zinc alloy) metal material, with high-quality 304 stainless steel wire and a smooth roller that can provide a very sturdy durable, and comfortable handle. The cheese slicer with wire product is a delicately elegant design that will accompany you for a long time. It comes with 1 extra replacement stainless steel wire. The nice look makes you want to use it right away.
✪ CUSTOMIZE YOUR CHEESE JUST THE WAY YOU LIKE IT: The adjustable thickness wire cheese cutter gives you complete control over the thickness of your cheese slices. From paper-thin slices to thicker ¼-inch cuts, you can enjoy beautiful slices of cheese just the way you want them. Adjust the spacing between the roller and the wire to get the perfect thickness for any cheese block up to 3.5 inches wide.
✪ EASY TO USE THE WIRE SLICER: The Cheese slicer is equipped with an ergonomic handle, which is efficient and comfortable. The solid body makes it easy to slice for soft and hard cheeses, especially for semi-hard cheeses. The adjustable slice function is easy to modify by using a screwdriver, swiss army knife, or even a dime to make the different thicknesses of cheeses.
I have to say that this slicer is an absolute game changer in my kitchen. The high-quality zinc alloy metal material and 304 stainless steel wire provide a very sturdy and durable product that will last a long time. The adjustable design allows you to easily control the thickness of every slice so you can get thin or thick cheese slices exactly as you want them.
The handle feels comfortable in your hand and has a nice look to it, making it enjoyable to use. The extra replacement stainless steel wire is also a great bonus because it ensures that no matter how much cheese I'm slicing, I know I always have extra just in case. Clean up is also simple since all the parts come apart for easy washing.
The only downside that I can think of is that the wire can be difficult to adjust–it sometimes takes some force before it moves from one position to another. However, this is only a minor inconvenience compared to how much time and effort this product saves me when slicing cheese.
Fox Run Brands Marble Cheese Slicer
Fox Run Brands Marble 1 Replacement Cheese Slicer, 2 Wires, White
PERFECT FOR PARTIES: The ideal choice to hold your small appetizers, sandwiches, or cheese displays. You can also use it as a charcuterie board, with the sleek wire slicer ensuring an easy cut for any type of cheese.
QUALITY CONSTRUCTION AND DURABLE DESIGN: This board is made from pure marble, which has natural no-stick properties that make it the ultimate surface for many foods without having to worry about a difficult or messy cleanup.
STAINLESS STEEL WIRE NEVER NEEDS SHARPENING allowing this wire to easily slice through all cheese at any width or precision, from wafer thin to thick chunks, and is easily adjustable thanks to the marble handle.
The Fox Run Marble Cheese Slicer is a great tool for those who love to have freshly sliced cheese. The slicer is made of high quality zinc alloy metal material and has a smooth roller handle, providing a comfortable grip. It also comes with two extra replacement stainless steel wires, allowing you to switch out the wire when it needs to be replaced.
The best feature of this cheese slicer is its adjustable design which allows you to control the thickness of your cheese slices from paper thin to thick. You can easily adjust the wire position freely and get any slice thickness that you want. The nice look of the slicer makes it easy and fun to use with its elegant white marble finish.
One advantage that I found in this cheese slicer is that it will last a long time due to its durable construction materials used in building it. Another advantage is that you get two extra replacement stainless steel wires so that you can switch them out when necessary.
However, one downside to this product is that it can sometimes be difficult to adjust the wire depending on how tight or loose the handle knob becomes when adjusting the wire position. Therefore, users should be careful when adjusting the wire as it can become too tight or too loose if not handled properly.
Overall, the Fox Run Marble Cheese Slicer with 2 Replacement Wires is an excellent choice for anyone looking for an adjustable cheese slicer with a stylish marble finish. The product's durability and adjustable thickness settings make for an efficient kitchen tool for slicing different types of cheeses at different thicknesses quickly and easily.
OXO Cheese Slicer with Replaceable Wires
The OXO Cheese Slicer with Replaceable Wires is well made and sure to last many years without issue. It's definitely worth the investment!. This slicer is a great kitchen essential and it makes slicing cheese of any thickness an absolute breeze. The die-cast zinc body is strong and sturdy, while the soft handle ensures a comfortable grip.
The tension wheel allows you to tighten the wire when it gets loose over time, which is very convenient. On top of that, additional stainless steel wires are included for easy replacement if needed. So not only does this slicer make slicing cheese super easy, but you know it will stay sharp for many years to come.
The one downside I noticed is that the wire can be a bit difficult to change out at first, but after watching some tutorials online that problem was quickly solved. Other than that, there have been no issues so far and I've been using this slicer on a regular basis ever since I got it.
What is a Wire Cheese Slicer Also Called?
Wire cheese slicers are called cheese cutters. Some slicers can also be great for the cheese. They are called cheese graters. Cheese slicers have different forms and shapes, so they are named for these shapes.
How Do You Tighten a Cheese Slicer Wire?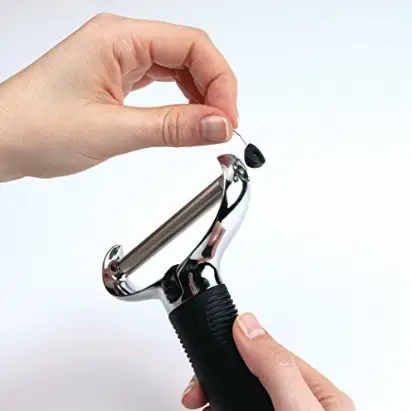 The wires of the cheese slicer can be tightened simply by turning the screws of the slicer in a clockwise direction. On both sides of the slicer, two screws hold the wire. With the help of these screws, you can adjust the wires and loosen or tighten the wire.
In some wire slicers tightening is too easy with the adjustment knob. Wires can be tight without any tool. For tightening, turn the screw clockwise, and if you want to lose them, turn counterclockwise.
Things to Consider Before Buying a Cheese Slicer
Wire cheese slicers are in different styles and shapes, with other food qualities also cutting. Figure out the following things before buying a wire cheese slicer.
Adjusting the thickness: Adjustable thickness of the slicer is the essential thing to consider. The base slicers have more flexibility in thickness. In some wire cheese slicers, you can change the thickness according to cheese or your desire.
Flexibility: Best wire cheese slicer must have the flexibility to slice both soft and hard both types of cheese. It must cut cheese thoroughly.
Safety: Wired cheese slicers must be safe to cut cheese. The wires of cheese slicers are usually secure because they are not as sharp as blades.
Easy cleaning: Cleaning of cheese slicer must be easy and straight. The parts of the slicer should be removed without extra effort to clean.
Warranty & Durability: Warranty must last at least one or two years. Slicers without warranty have not good quality. Slicers should be made of high-quality, durable material.
Wires and Handle: Wires should be durable and preferably stainless steel. The handle must be strong and can be held firmly during slicing.
Durability: Select the slicer which is more durable. Slicers made with durable material can work for more than five years. It must be rust-resistant.
Versatility: A wire cheese slicer must be versatile to cut all types of cheese and food items.
Maintenance: Slicers should be easy to maintain, clean, and store.
Type, size, and length of wire: Wire made of stainless steel will be perfect, and its size should be according to your need. If you have to do heavy work, then choose large size slicer. Wire length should be around 5 inches.
Frequently Asked Questions (FAQs) & Facts About Wire Cheese Slicer
Why do you cut cheese with a wire?
Cheese can be sliced easily with a wire. For cutting with a wire slicer, place the cheese on the cutting surface of the slicer. Set the thickness of the wire if possible. Then push the wire on the cheese to slice it. Start slicing from the one edge of cheese and cut to the other end.
Are wired cheese slicers safe?
Wired cheese slicers are safe completely. They are safe to slice cheese for hands. The wires will not cut your hands or figure. Wires are made for slicing soft cheese. They are not sharp enough to harm us.
Are wire cheese slicers dish wash safe?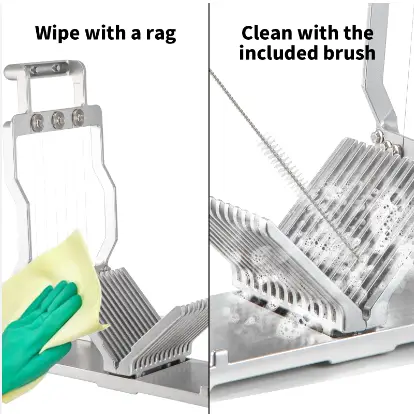 Yes, the cheese slicer wires are safe to wash in the dishwasher. They are soft and comfortable, with no risk of cleaning in the dishwasher.
How long does a cheese slicer last?
It depends on the use of a cheese slicer. If the material, blades, and construction are of good quality and durable, they will be lost for a long time. Maintenance also matters for getting more out of the slicer.
What kind of cheese slicer is best?
Cheese slicers have several types and kinds. Some slicers can slice hard cheese, and others can soft cheese. Few of them can slice more than one type of cheese. So it depends on the type and thickness of cheese which slicer will best slice it perfectly.
Why are there holes in a cheese knife?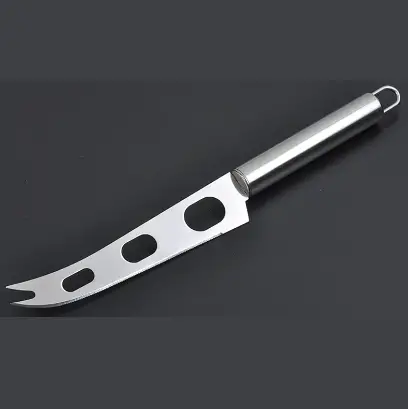 There are little holes in the cheese knife. The purpose of these holes is to reduce friction and help cut cheese thoroughly.
How do you clean a cheese slicer?
For cleaning the cheese slicer, wash it after use as early as possible and dry immediately. Wash with soapy water. If there are holes in the slicer, use a kitchen brush to clean and remove cheese particles completely.
How do you use a rolling cheese slicer?
For slicing with a rolling cheese slicer, you need a block of cheese, a cutting board, and a rolling slicer. Place the cheese on the cutting board and the slicer on the edge of the cheese. Hold cheese with one hand and slicer in the other hand press down the slicer applying even pressure. Slice the cheese horizontally.
What is cheese wire made of?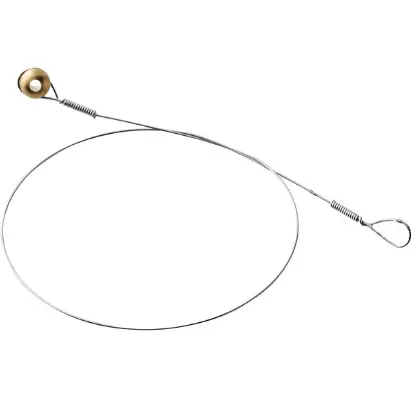 Wire of cheese slicers is made of stainless steel.
Can you sharpen a cheese slicer?
Yes, the cheese slicer can be sharpened. Cheese slicers with blades can be sharpened with a file. While in the wired cheese slicer, you have to replace the wire because it cannot be sharpened.
What is the best way to store cheese?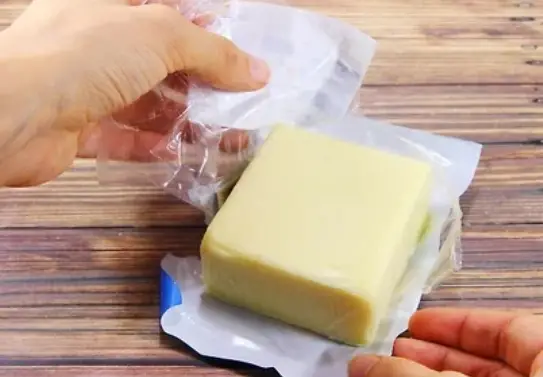 The best way to store cheese is to place it in the fridge. The cheese will not spoil and can be used for a long time.
Wired-slicer is better for soft or hard cheese?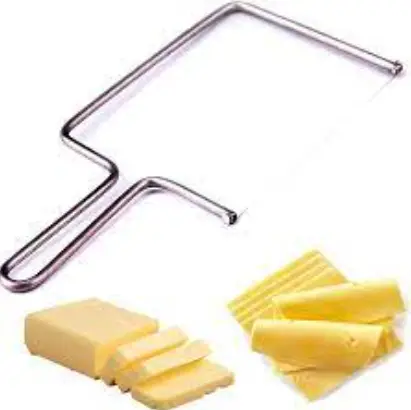 Wired-slicer is better for slicing soft cheese.
There is no more need to get injured your hands while slicing cheese. The cheese slicer will cut cheese into equal size slices perfectly. It is up to you to select the best wire slicers among all. Select the slicers which fulfill your all cheese-related requirements.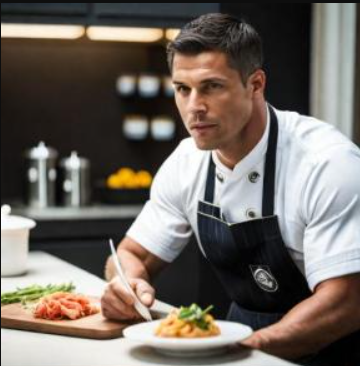 John Hebdon is a food enthusiast, passionate chef, and author of various articles and blog posts related to food and cooking. With a deep love for all things culinary, John's blog serves as a platform to share his extensive kitchen experiences with a broader audience.
In addition to his culinary expertise, John has a flair for writing and a natural ability to share his passion for food with others. His articles and blog posts are informative, engaging, and packed with practical tips for readers of all skill levels.
As a food enthusiast and writer, John is always on the lookout for new and exciting culinary experiences. Whether it's trying out a new restaurant, experimenting with a new recipe, or simply sharing a favorite dish with friends and family, John is always eager to explore and share the world of food with others.